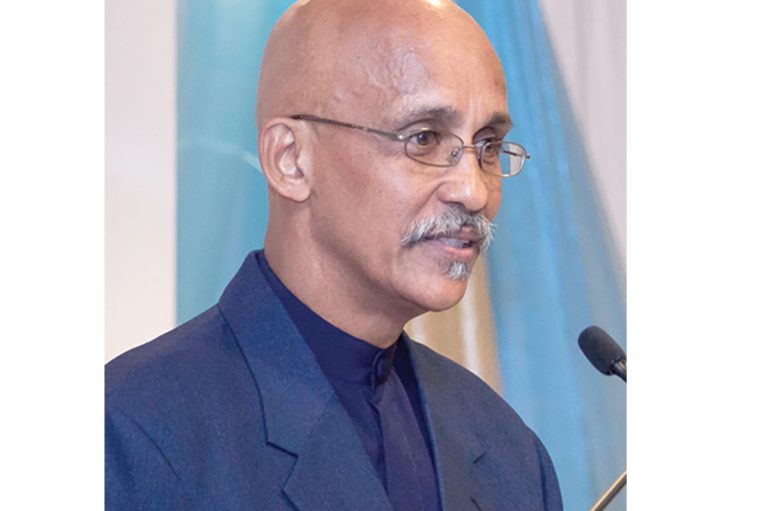 Sulphur smell not dangerous
While there is a strong sulphur smell in communities located near La Soufriere, it is not concentrated enough to cause harm to residents in these areas.
This is according to geologist, Professor Richard Robertson, who gave an update this week on the ongoing effusive eruption taking place in the volcano's crater.
Robertson is a part of a team from the University of the West Indies Seismic Research Centre (UWI-SRC) which arrived in St Vincent and the Grenadines (SVG) on New Year's Eve to monitor the volcanic activity taking place.
"The volcanic gases, which are sulphur rich, they are not so much dangerous because they get diluted; the concentration in the atmosphere, when it gets to people are diluted. It has a strong smell, but the smell is not going to cause you harm…concentration is too small to cause you harm…" Robertson said in a video posted on the UWI SRC's YouTube channel.
The geologist said sulphur is always being emitted from the volcano and that the flow of sulphur smelling gases in the atmosphere is because of the presence of fresh magma flowing slowly out of the earth.
Robertson added that while the sulphur smells pose no harm to persons in surrounding communities, it may be harmful to persons who venture to the summit of the volcano.
He explained that in this stage of effusive eruption, the danger of the volcano is confined largely to the crater floor and the immediate surroundings – the upper third of the volcano.
"If you go on the crater floor and if you go on the rim, you're putting yourself at danger. The danger would be the smells that you have and if you're in the wrong place, the sulphurous smells can make it very difficult and very uncomfortable for you to breathe…the danger is still summit area and not the surrounding areas, not the communities," Robertson said.
In light of the ongoing effusive eruption, authorities have prohibited the access to La Soufriere volcano at this time.
Since their arrival, Robertson and the UWI SRC team have embarked on the installation of new seismic stations and GPS stations, which monitor the changes in shape of the volcano, which serve as indicators for various things.
The geologist said a camera was installed at Belmont to allow the team to see the volcano from that area. The intention is to install at least two other cameras to continue monitoring La Soufriere.
The current Volcano Hazard Alert Level at La Soufriere is Orange, meaning eruptions may occur with less than 24 hours notice.
Up to press time, no evacuation notice had been issued.
Persons have been urged not to worry and to listen to notices from the relevant and credible authorities.
Robertson said the UWI SRC team is working towards giving the National Emergency Management Organisation (NEMO) sufficient warning to move people out of harm's way, should there be an indication of an explosive eruption.