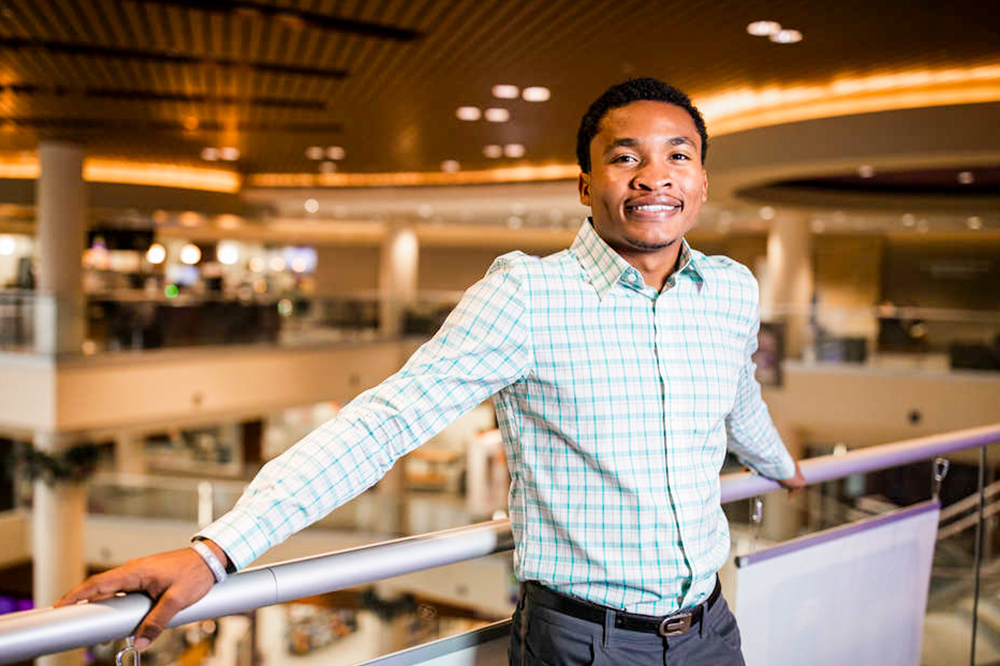 Vincentian student spreads joy to the world
A Vincentian Student studying in Minnesota took on a huge charitable project this year, working with Catholic Organizations/Institutions to inspire thousands to donate towards "Boxes of Joy" for children this Christmas.
This December, the boxes that had been filled via the efforts of 22-year-old Josh Mounsey, as well as thousands of other toys, were shipped out to places like Haiti, Guatemala, and Africa by the Catholic non-profit organization based in Florida: Cross Catholic Outreach.
Mounsey is a full-time student at the Catholic University of St Thomas located in St Paul and Minneapolis. He arrived on the campus at the beginning of 2020, before the Covid-19 pandemic began to rage.
The young man has a track record of accomplishing the things he sets his mind to. He first appeared in SEARCHLIGHT in May of 2019, due to his innovation in supplying establishments with produce, in order to save his Grandmother's fruits and vegetables before they became too ripe and had to be dumped.
From this business and his job at the Argyle International Airport, Mounsey was able to save enough to journey to the United States of America, and alleviate some of his University expenses. He is also on a scholarship from St Thomas University, and says that Prime Minister Dr Ralph Gonsalves, then-Minister Cecil McKie, and permanent secretary Angie Jackson, were instrumental in securing tuition funding.
Mounsey, who wanted to study Environmental Science, is now double majoring in Political Science and Environmental studies at the University, and is on a course to complete his Bachelor's Degree in 2023.
This year, in the midst of his studies, Mounsey took on yet another challenge.
"During the summer, I conducted some research about the potentiality of what is going to happen during the Christmas season and I saw there will be thousands and thousands of people who are gonna be evicted from their homes," he commented.
Many lost their jobs this year, and had to endure pay cuts, and Mounsey thought about the children whose parents wouldn't be able to afford presents.
"All that was going through my mind was to do something very, very special for kids," he said.
He conducted more research about non-profit organizations who help children in poorer and less developed countries, before narrowing it down to five.
Ultimately, the Catholic student picked Cross Catholic Outreach, and was interested in their Christmas initiative called Boxes of Joy. From June to August, Mounsey was in discussion with them, arranging the logistics of having the boxes sent to Minnesota, etc.
His goal was to fill 5000 boxes, and admits "there were a lot of hiccups along the road filling these."
Nonetheless, many were inspired by what he was seeking to do and chose to help. The Publication, the Catholic Spirit, wrote an article on his endeavours, which was sent across the twin cities, St Paul and Minneapolis.
"A lot of people, a lot of Catholics and non-Catholics started to reach out to me, so the boxes started to be filled really quickly," he revealed.
One of his major supporters was one James Barthel, the President of a non-profit organization based in Minnesota.
In the first instance, Barthel donated 4000 toys, but three weeks later he was inspired to donate another 2100 toys.
"As the Fall semester began, I started fostering more connections around the University campus, with the cross country team, with Campus Ministries and they started filling hundreds of boxes for me," Mounsey stated.
Outside of the University, he was also assisted by the Knights of Columbus, who distributed 1000 boxes to a specific parish, and solicited donations.
It took from August to December to fill the boxes. Although he met 3200 of his goal, the extra toys would have contributed to the filling of thousands more.
Mounsey says he feels very happy for the children who are going to get the toys. "I remember when my mom will shop maybe at Jax or Budgmart and purchase a remote-controlled car, I was extremely happy. I know the amount of joy that brought inside of me," he recalled.
Consequent to his actions, the newsroom at St Thomas University reached out to Mounsey and featured him on Humans of St Thomas, an honour given to inspiring students.
Mounsey is a person with multiple life goals, but one of them is to spread light.
"I just think this world right now, it's fragile, it's very broken, it's dark and there is not a lot of light in this dark world and I want to increase the magnitude of that light by doing acts of kindness being a very kind person to everyone around me, and I want to spread joy."
In 2021, Mounsey wants to establish a relationship between Cross Catholic Outreach and St Vincent and the Grenadines(SVG), so that SVG can benefit from the initiative.