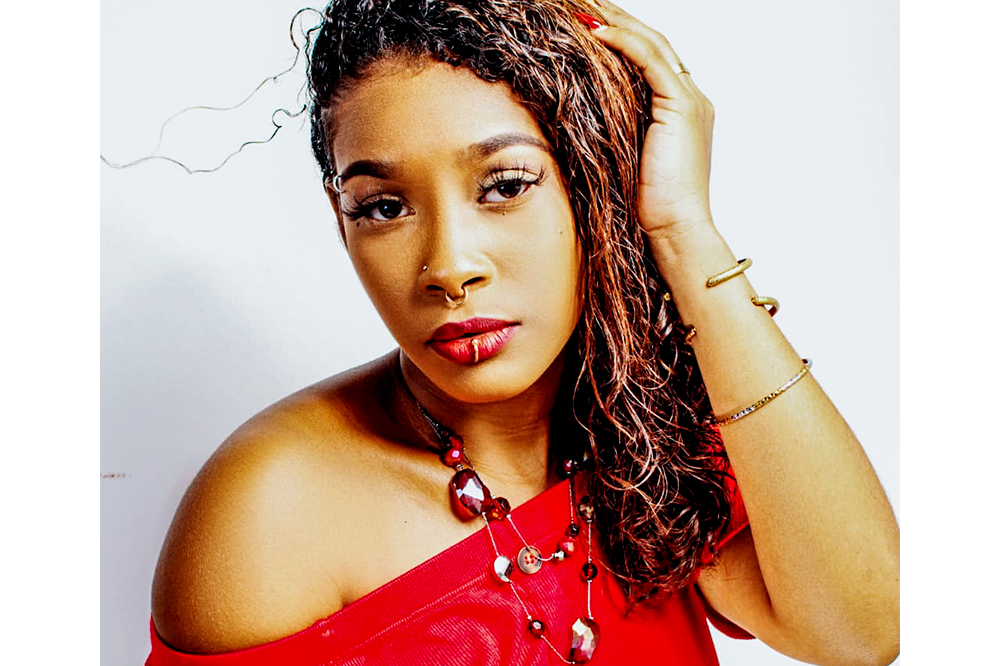 Artiste tells story of sexual and physical abuse
by Lyf Compton
Social media is ablaze with an allegation of the sexual assault of a three-year-old.
But while some persons have expressed anger and others disgust, the scenario brought back bitter memories for local song bird Judi "Bossgyal Judi" Cordice.
So much so, that Cordice decided to tell her own story. This she did on Tuesday, December 15, during an Instagram live broadcast that has since been removed from the social media platform.
SEARCHLIGHT spoke to Cordice one day after her live broadcast was reported and removed from Instagram, supposedly because her truth, of her own sexual assault and beatings that plagued her formative and teenage years, offended at least one of the alleged abusers.
"I was raped when I was seven and beaten throughout my teenage years," Cordice told SEARCHLIGHT.
She said the rape was at the hands of a family friend and it was covered up, so she never got justice, while the beatings, one of which saw her hospitalized, came at the hands of another family member, an alcoholic.
Cordice said she and her younger sister were sometimes beaten by that relative for minor infractions when the person was drunk.
"Sometimes he did not have a reason…"
"It traumatized us and I reported it to the counselor at school who went to the headmistress, but that made it worse," Cordice said.
She revealed that when the issue was reported, the relative and the police were called in and the adults decided that it was because she and her sister wanted their own way why they had reported that they were being beaten.
She said no one took her seriously until one night she was beaten so badly that she ended up with a head injury that required stitches.
"I am surprised I am alive. The nurses called the police," Cordice recalled, while adding that the relative was charged with wounding with intent, attempted murder and child abuse.
"Not until he almost kill me they believed me," Cordice said while adding that the authorities need to take the abuse of women and children more seriously and act with professionalism.
The singer said she dropped out of the West St George Secondary School in form five because she was not being given any support and she began working at a bar to support herself.
"People who should have been more understanding use to bully me, teachers, students, tell me I was lying…. I felt suicidal and I dropped out in form five and I never did any CXC's. I had to become a beast out here," Cordice told SEARCHLIGHT while noting that her music is a symbol of who she became.
She said she later ended up in a relationship where her boyfriend would beat, starve and rape her and bring other girls to the house where they lived.
"He used to do me wickedness and he knew what I had gone through. I used to get abused a lot. There is a lot of stuff that I don't really speak about because it's emotional.
"He was manipulative and he made me drop everybody I was close to," Cordice said of her abusive lover.
She added also that when the court case with her relative was called, she was not on the mainland and the charges were dismissed because she was not in court.
"People watch you and not know what you been through. I didn't put my situation out there before but now I want to because what happened to that three-year-old," Cordice said.
She started singing in 2018 as a way of escaping her demons and has gained a social media following with songs like "Original Gangsta", "Nature is Calling" and one of her latest, "Granted", a collaboration an artiste named "Kilo" which she says was inspired by her last abusive relationship.
"I think a lot of slackness going on in the system. The country is so small. A lot of things happen, a lot of rapes behind closed doors and people with clout get away with a lot of wrongs.
"People need to stop shaming others for what they been through. People are quick to judge and point fingers and act like judge and jury.
"People need to show more concern and spread awareness because if we don't fix this generation, if we don't fix it now, we going to end up with broken girls on top of broken girls," Cordice stressed while adding that she is working on a song called "Broken child."
Cordice said her boyfriend Diego Baptiste, a DJ at Hot 97.1 FM, has helped her overcome many of her demons and encourages her daily.
"I don't do music by chance," Cordice said, "I will be alright. Diego encourages me and motivates me," she stressed while encouraging others to speak out and not be ashamed of what others did to them.