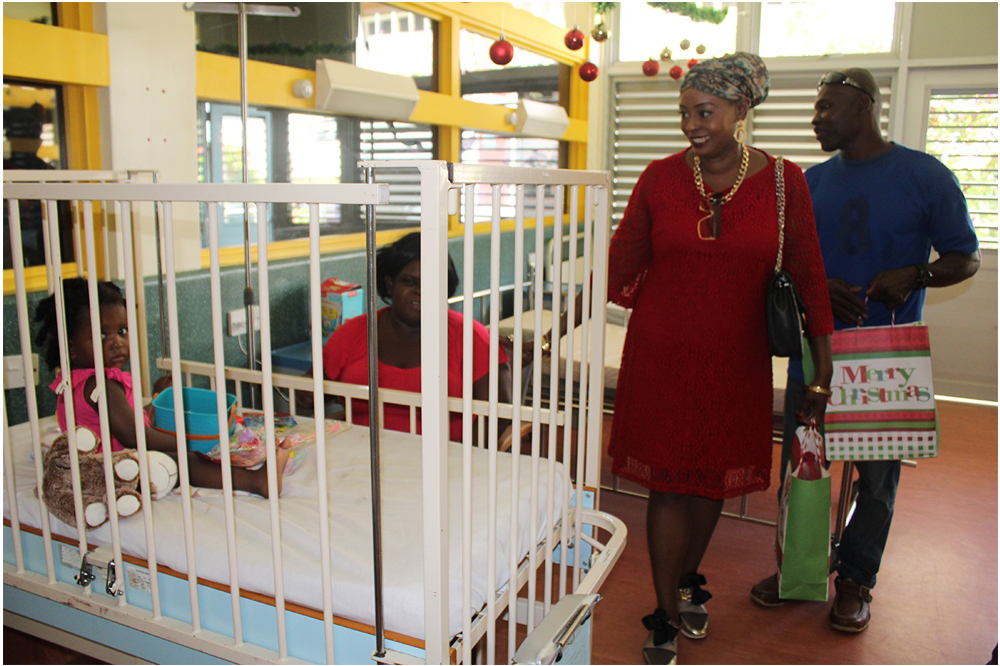 Law Chambers and Church group visit children's ward
While "Put Jesus in your Christmas this year" blasts through the speakers of Parang lovers; a church and law chambers are listening to this advice, teaming up to give toys and cupcakes to little ones this year.
Staff and patients at the paediatric ward of the Milton Cato Memorial Hospital (MCMH) were visited this Monday, December 21, by a small group from the Alpha Law Chamber, and the Miracle Centre Pentecostal Church of Arnos Vale.
The two institutions reside in the same building and cooked up this plan, working hand in hand to see it realized.
Equipped with goodies, the troupe made their way to the ward, where they met some nurses and just a few patients, as most of the beds were empty at the time.
As the young patients tried to get better, some of their family members could be observed worrying at their side.
Some of the children are treating symptoms but do not even know what illnesses they are battling, and there are those who don't know if they will have to spend Christmas in the hospital. One mother whose baby was born prematurely, and who has had to come to the hospital several times to treat her baby's symptoms, unsure of what is wrong, took the opportunity to beckon the group to the side of her baby.
She would later shed tears as they prayed over her child.
For others, they are luckier, and will be returning home for the holidays, but will be a toy or two richer.
The staff nurses took custody of the confectionary, and the other toys for distribution.
Counsel Michelle Fife who is one of the attorneys at the Alpha Law Chambers, along with lawyer John Coombs, led the group through the hospital. She was joined by staff members of her Chambers, individuals from the church groups, and a 16-year-old church member who baked the cupcakes.
"It came to us that we need to sort of connect with the church and reach out to the community. We recognize it's very challenging times in relation to health, and we just wanted to do something that would show sick children and parents that we are mindful of them at this time," Fife explained.
She said that it was indescribably, and a very fulfilling feeling to visit the ward.
"It's always a pleasure to give in whatever little way that you can," Fife noted, further, "my church background along with my practice, has really sort of demonstrated to me that importance of reaching out to members in the community."
"We also want to acknowledge the contribution of the staff on the ward, because it's not easy to have a profession where you're separated from your family at Christmas," the counsel said, adding, "also the public servants generally, nurses, police, and anybody that has to serve around Christmas, we acknowledge them."
The teen who baked the cupcakes, Tamara Edwards, revealed that she felt great baking them "because I know baking them it would put smiles on the children's faces and they would feel a sort of warm Christmas although they're not at home."
"We do hope to do it again next year and if not in the same format certainly in a format that can reach more people perhaps the maternity ward, supplied that will assist families that way," Fife said.
"As the inspiration comes to us then we would act accordingly," she concluded.