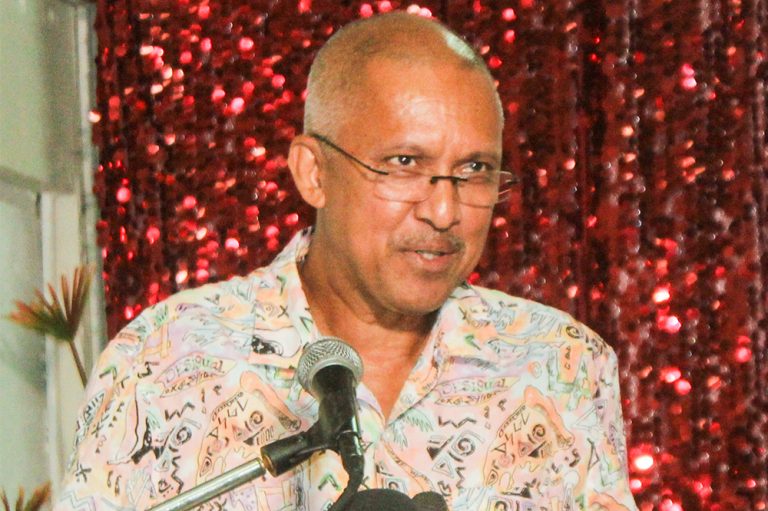 We have to expose our people to the right training – Bowman
Rodney Small's Steel Expressions event should be thought about in the context of St Vincent and the Grenadines's (SVG) cultural development with specific reference to production.
"Rodney is what I consider to be … what you get when you mix education with passion and creative development," singer and songwriter Lennox Bowman said last week.
The former chief executive officer (CEO) of the General Employees Cooperative Credit Union (GECCU), a long-time supporter of the nine-year-old Steel Expressions show, shared his views during the media launch of the 2020 version of the event which is this year being held under the theme, "Lifted" and is organized under the "RS Productions" banner.
Bowman said when one looks at the Education Revolution in SVG, Small, a graduate of the Edna Manley College of the Visual and Performing Arts in Jamaica, is a shining example of what can happen when we expose our people to the right training.
"I think for me, Steel Expressions and the nine years of it has been like Rodney's final project that has no end…," Bowman said while explaining that as part of Small's final course in Jamaica, he had to put together a show.
"Rodney never got out of that mode, so every year, this is Rodney's fix, Steel Expressions. Again, putting training into action," Bowman said.
He noted that whenever he goes to a Steel Expressions concert, it is obvious that the organizers embrace all the elements required to stage a good show.
"I am talking about the financing aspect of it, the technical aspects of it, the promotion, the protocol and the programming," Bowman commented while adding that the show has something for everyone.
"Lifted" is scheduled for Saturday, December 26, Boxing Day. The ninth year of production will be held at the Victoria Park and doors will open from 8 pm.
Commenting, Small said the objectives of the show include providing an avenue to showcase local talent, providing patrons with quality entertainment at an affordable cost in an all engaging ambience, raising funds to assist charitable causes and providing an income for persons in the creative and performing sector.
The 2020 cast is made up of among others, featured artiste pannist Rodney Small, five-year-old Jyasi "Lil JJ" Nash Jr., Aretha Shallow, Caywama Edwards-Cottle, Caydonna Edwards, Havlyn Gill, Brent Williams, Hance John, Ahjea Jackson, Kyron Westfield and a major surprise act. The RS Band will provide musical accompaniment.