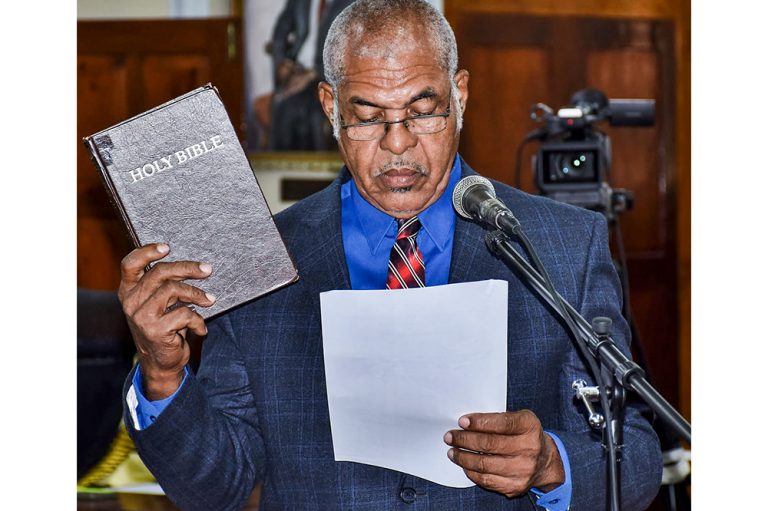 Daniel officially sworn in as Deputy PM
During his fifth consecutive term in Parliament, Montgomery Daniel will serve officially as the Deputy Prime Minister of St Vincent and the Grenadines; an achievement he never dreamed of when he was first elected in 2001.
Daniel rose at the first sitting of the 11th session of Parliament on Monday, November 30 to express gratitude to Prime Minister Dr Ralph Gonsalves and his colleagues for granting him the opportunity to serve in that capacity.
"Madam Speaker, when I was elected into this Parliament in 2001, never, ever did it cross my mind that I will be sitting in this parliament as the deputy prime minister of this country," he said.
Daniel has acted in the capacity of Prime Minister and Deputy Prime Minister on several occasions prior to his appointment this year.
The Deputy Prime Minister, who is also referred to as the "Ironman", is the parliamentary representative for North Windward, given his success at the polls in the 2020 General Elections.
"Madame Speaker, it is indeed an honour and a privilege to be elected to this Parliament for five consecutive terms and I am indeed grateful to the constituency of North Windward," he said.
In the 19 years that Daniel has been a member of Parliament, he has served as the Minister of Agriculture, then as the Minister of Housing. He now holds the ministerial responsibility for Transport and Works.
"I want to assure the people of St Vincent and the Grenadines that I will continue to do my best in this challenging ministry in these challenging times," Daniel said.
North Windward's parliamentary representative congratulated all returning parliamentarians as well as the new entrants to the House; one of who is Senator Shevern John, who opposed Daniel at the polls in North Windward on November 5 as the New Democratic Party's candidate.
Daniel said he was looking forward to working with all Parliamentarians for the next five years.
"Of course, for all of us who are given that gratitude of returning here to this parliament, I believe that the people of St Vincent and the Grenadines, through the different constituencies, that the people have given all of us that honour and privilege to return to do the work of this country by lifting St Vincent and the Grenadines higher," he said.
The Deputy Prime Minister also congratulated the newly elected Speaker, Rochelle Forde, who is the first woman to serve in the position in St Vincent and the Grenadines.
He noted Forde's previous experience in Parliament when she served as Senator on the government side of the House.
"You have now risen to higher levels and I know that of course, you can do very well in that position and I look forward to working with you for the next five years," he said.