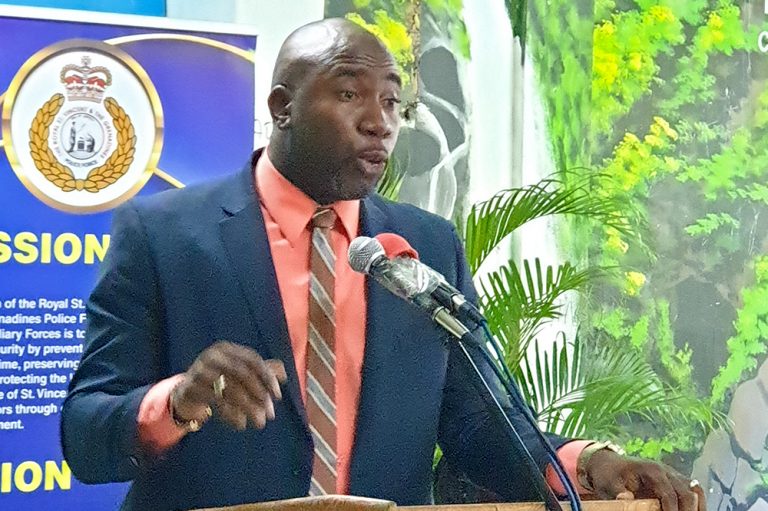 Buccament Bay Secondary School students urged to embrace steel pan
Students of the Buccament Bay Secondary School have been encouraged to embrace music through the steel pan as it can aid in their development.
On Thursday, November 26, the Royal St Vincent and the Grenadines Police Force (RSVGPF), in collaboration with the Pan Against Crime programme, handed over 26 steel pans and a drum set to the Buccament Bay Secondary School, officially making them part of the Pan Against Crime initiative.
Orando Brewster, parliamentary representative for Central Leeward, where the school is located, addressed the handing over ceremony and encouraged students to take up steel pan classes.
He said taking up music can aid in helping an individual become more disciplined while it can also help build teamwork, patience and encourage perseverance.
Brewster noted also that playing music is a good stress reliever while one can also become a career musician and make money.
Brewster, minister of National Mobilization, Social Development, Family, Gender Affairs, Youth, Housing and Informal Settlement, added also that young people becoming involved in activities like music and sports can help to prevent crime.
The minister said that some students may ask, "Why pan?" and the answer is that music can play an important part in their development.
"It increases personal discipline, your approach to certain things in life will be different. You will have a more careful approach and appreciate time," Brewster commented while also encouraging the students to take care of the instruments as they are costly.
"It takes discipline to manage and care for them," he added, and also noted that building teamwork is the only way one can make a harmonious melody with the pans.
He said that students must look at the pan as an initiative to build teamwork, promote perseverance and patience.
"The only reason I am here speaking to you is because of perseverance. Life was not easy for me. I came from a poor family and I was able to overcome the odds to be here," Brewster told students.
He said also that students must not be daunted by the fact that their mother or father never played an instrument as that does not mean they will not be able to play.
"Don't just look at them as pieces of metal, they are here for a reason," Brewster said while referencing local pannist Rodney Small who is making huge strides in pan music.
"I am sure when he started, he started in a setting just like this, and from this pan site here in Buccament some of you can go on to make money and more importantly you can make a career out of this instrument," he said.
He also asked the tutors to be aware that not all students are at the same level and some will need encouragement.
"….but with the right persons pushing, I am sure that in the next few years, the school will be a force to reckon with when playing pan," the minister said while thanking Sir Louis Straker (former Central Leeward representative) for initiating the process that resulted in the pans getting to the school.
The ceremony had in attendance among others, Deputy Principal Cheryl Shortte, commissioner of police (COP) Colin John, permanent secretary in the ministry of national security Hudson Nedd, Deputy Commissioner of Police Frankie Joseph and head of the police public relations and complaints department Inspector Junior Simmons.
Shortte said the pans will make a significant contribution to their goal of fostering positive behaviours and enhancing students' skillsets.