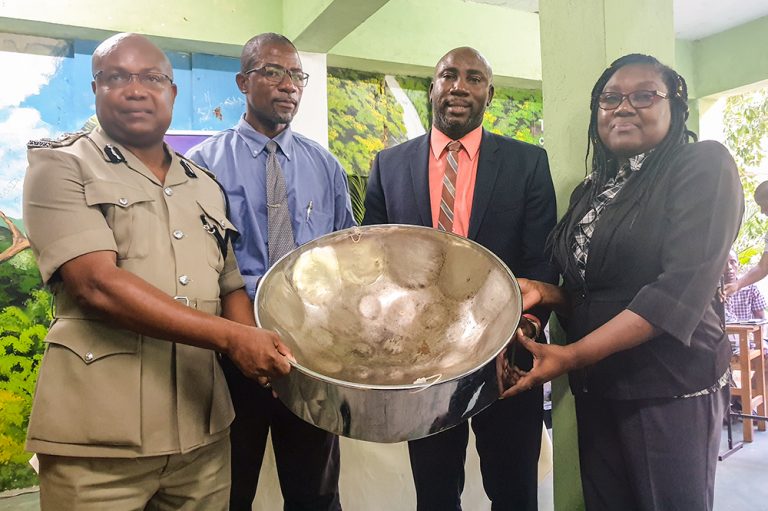 Buccament Bay Secondary joins Pan Against Crime family
The Buccament Bay Secondary School has officially joined the Pan Against Crime family and is looking to use the steel pan to effect positive change in the lives of students.
Last Thursday, November 26, the Royal St Vincent and the Grenadines Police Force (RSVGPF), in collaboration with the Pan Against Crime programme, handed over a set of steel pans and a drum set to the Buccament Bay Secondary School, making them an official part of the Pan Against Crime initiative.
Speaking at the ceremony, deputy principal of the school Cheryl Shortte said the pans will make a significant contribution to their goal of fostering positive behaviours and enhancing students' skillsets.
She said the idea of having pans was developed during discussions with the school's counselor as they were looking at ways to curb the behavioural problems that exist in some of the students.
"We were looking at ways to channel their energies into more positive behaviour rather than the negative ones we see exhibited," Shortte said, while noting that the idea was taken to former parliamentary representative for Central Leeward and former deputy prime minister Sir Louis Straker.
"Sir Louis was ecstatic and went about helping," Shortte said, while adding that former RSVGPF Band Leader Assistant Superintendent of Police (ASP) Daniel Hall (deceased) got the ball rolling but passed away before he could complete the task.
Shortte said the school was thankful that the police force kept the promise made by ASP Hall, "and so today we are here and ready to commence another phase in the journey to change the lives of students."
Shortte noted that at the school, they strongly believe in helping students succeed and they believe that success in the area of pan music could translate into success in other areas of students' lives.
"…And so we look forward with anticipation to the change that this new skill can bring in their lives.
"We expect that our students will be performing at cultural events across St Vincent and the Grenadines and make us proud, we are looking forward to that," Shortte commented.
The handing over ceremony was attended by Central Leeward parliamentary representative Dr Orando Brewster who is also the Minister of National Mobilization, Social Development, Family, Gender Affairs, Human Settlement, Youths and Housing; Commissioner of Police Colin John; Permanent Secretary in the ministry of national security Hudson Nedd; and Deputy Commissioner of Police Frankie Joseph.