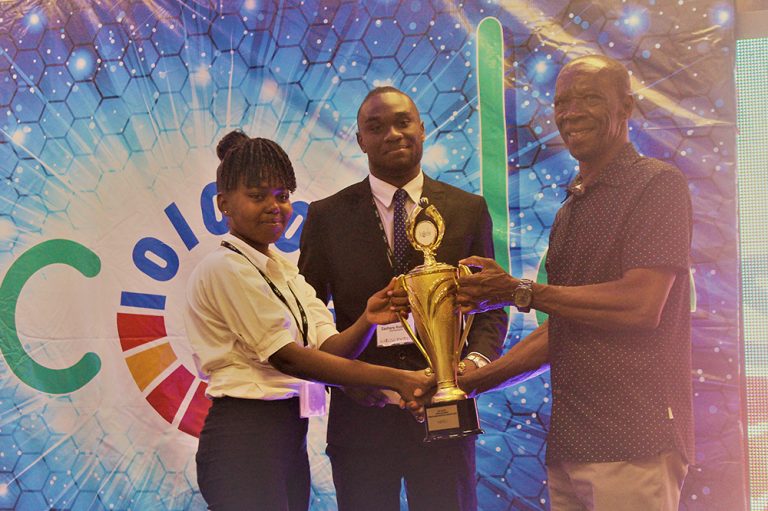 Duo's "Career Guidance" app takes first place in the Open Category in NTRC's iCode784 competition
An application to help one choose a career is the winner of the Open Category in the 2020 National Telecommunications Regulatory Commission's (NTRC) iCode784 competition.
Zachery Richards and Jevonique Edwards, a duo called "Charismatechs" presented the mobile application prototype during the competition's finale on Tuesday at the Methodist Church Hall, Kingstown.
Richards said the mobile application is called "Career Guidance" and seeks to help person decide what career is most suitable for them.
"You sign up and when logged in you are presented with a list of questions and the questions range from age, to your highest educational achievement, to hobbies, and interest, and depending on the way you answer them it would affect the recommendations given," Richards explained.
He added that the app gives you different recommendations and the most recommended career would have four green bars and the least recommended, but still compatible career, will have a low red bar.
He said the app is functional, but needs more developing and he is hoping to get it fully operational.
Richards said the app also recommends how to get into the chosen career, the name of the courses you have to take and where you can get the training.
He said that there is also a link to websites and lists of job vacancies in St Vincent and the Grenadines (SVG) and they are hoping to develop an algorithm to allow the app to scrape different websites and pool the information.
In commenting, Edwards, the other half of the duo, said she is surprised they won.
"We are definitely surprised but all the hard work paid off in the end," she said.
Second place in the open category went to Dawati Techs while third place went to Dem Island Boyz.
The other competitors were The Svatores, AgriPlace, LS and WonderMakers.
In the Open Category, the winning team took away $5000 while the teams that placed second and third received $2500 and $1500 respectively.
Additional prizes included smartphones, tablets and cases of soft drinks.
This year's competition was executed with the help of National Insurance Services (NIS), SVG Broadcasting Corporation, National Broadcasting Corporation, Xtreme Radio, King Computer Corporation, Tus-T Water, SEARCHLIGHT, SVG Brewery Ltd, Flow, Digicel, Internet Society St Vincent and the Grenadines, Hot 97.1 FM, Fanfare Events, KDLT Accounting Firm, I-Witness News and Kubiyashi Productions.