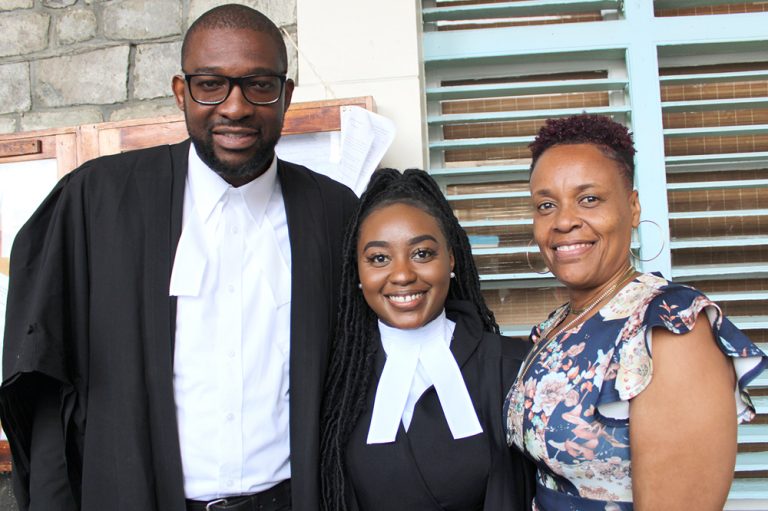 Deputy DPP confident in new lawyer's ability
With high praise from her mentor, who disclosed that he is comforted that such an honourable person is joining the legal profession, future prosecutor Kaylia Toney has been admitted to the Bar of St Vincent and the Grenadines(SVG).
"I'm confident that if the court grants this application, that Kaylia would not be adding to the numbers of the profession, but she will be making a substantial contribution to uplift this profession," Assistant Director of Public Prosecutions (DPP), Karim Nelson, told Justice Brian Cottle yesterday, November 16.
The court was hearing his application for Toney to be admitted to practice as a Barrister-at-law and solicitor in the state.
Nelson noted that Toney is great in all of the roles she currently has, and will be a great lawyer.
"I still consider myself to be a relatively young legal professional, and sometimes when I look around and I see the example that is being set by senior practitioners for us juniors to follow, it is very disheartening, but I feel very comforted when persons of the calibre of Miss Toney apply for entrance into this profession," he stated.
"Because my lord, if this profession is going to remain an honourable profession then we have to recruit honourable people and Kaylia is exactly that," he continued.
The counsel was commenting on Toney's character, as this is one of the three requirements set out in the Eastern Caribbean Supreme Court(ECSC) Act, section 71, to satisfy the court that the person is fit and proper to practice.
Toney paid the EC$4000 fee, and submitted proof of her education. She attained her first class honours Bachelor of Laws degree from the University of the West Indies, Mona Campus, and received her Legal Education Certificate from the Hugh Wooding Law School in Trinidad and Tobago.
"During her time at the Mona Campus, she received the Gold Scholar Award for maintaining a GPA of 3.6 and above throughout the program," Nelson disclosed.
She received an award for Excellence and Leadership in her final year, and served as a secretary for the St Vincent and the Grenadines' student association at the Mona Campus.
She was a member of the Hugh Wooding Law School's Choir, the Organization of Eastern Caribbean States(OECS) Students' Executive, the Entertainment and Human Rights Committee and a mentor for students.
"I was very pleased with her love and passion for the law, particularly in the area of prosecutions," the assistant DPP stated, disclosing that she has already applied to be a prosecutor and her application been looked upon favourably.
"I know Kaylia Toney to be a person of integrity, reliability, and honesty," he also said.
His call was seconded by the DPP, Sejilla McDowall, who concurred, and added, "What impressed me most was when I first encountered her in 2017, I described her then, and I define her now as a ball of kinetic energy."
Toney's energy, "is the kind of energy that is needed in this practice that sometimes is much too adversarial."
"But I expect that with Miss Toney's admission to the Bar, that with her disarming smile, and with her jovial spirit, that she would definitely be a welcome addition to the Bar," the