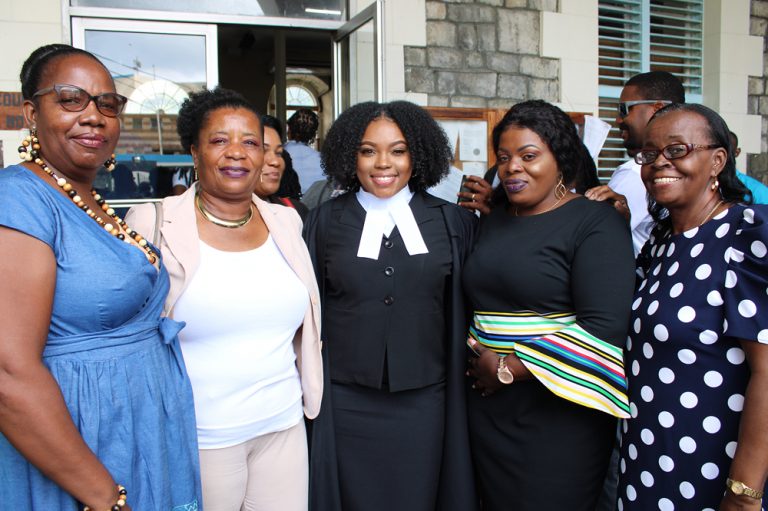 Bobb adds another feather to her cap
A former reigning Miss P'tani, determined firecracker Shackell Bobb, has added another feather in her cap, having successfully achieved her life goal of being accepted to practice at the Bar of St Vincent and the Grenadines (SVG).
"Shackell Bobb, if this application is granted, will be reintroduced to the public, as counsel, as Barrister-at-law and Solicitor," the Director of Public Prosecutions (DPP), Sejilla McDowall, stated about the soon to be newest addition to the DPP's office.
Bobb completed her legal education with a Bachelor of Laws degree from the University of the West Indies (UWI) Cave Hill, and Legal Education Certificate from the Hugh Wooding Law School.
At the Supreme Court yesterday, November 16, McDowall moved the call for Bobb to be admitted to practice before the SVG Bar, and was seconded by Assistant DPP, Tammika DaSilva-McKenzie.
"I say reintroduced because in 2014 Shackell Bobb answered another calling, she was thrusted into the limelight," as a contestant for Miss SVG, the DPP stated.
Bobb, a Richland Park resident and a Girls' High School alumni, was also the reigning Miss P'tani in 2011.
"On her journey to the Bar she has managed to combine her passions: sports, pageantry, and academics," McDowall noted.
The DPP also stated during her speech that Bobb, as well as the young women who were called to the Bar alongside her yesterday, come "to the Bar with a medley of strengths: beauty, brilliance, boldness and boundless potential."
"She is called from the stage, to the courtroom," the DPP said, "She faces the judge. This time your decision my lord would crown all her efforts up to this point."
And it has been quite a determined effort, reveals Assistant DPP Tammika DaSilva-McKenzie.
Bobb wished to intern at the Office of the DPP in 2019, but as there was no space, she went elsewhere. Nevertheless, she attended the Conference that they organized at that time, DaSilva-McKenzie disclosed.
Even before her exams were finished this year, Bobb applied to work at the Office of the DPP.
"When I tell you about persistence," the assistant DPP commented.
"Miss Bobb got her (job) interview, she was very early o'clock I must say, and at least once every two weeks – this interview happened in June – at least once every two weeks thereafter Miss Bobb followed up, 'Has a decision been made yet?' 'Has the decision been made yet?'," DaSilva-McKenzie recalled.
It was this persistence of hers that won over the hearts of her future employers.
"It is on this premise, not just one of her academia, not just one of her physical appearance, but, mi lord, of her prowess that I stand seconding this call," the counsel informed.
Counsel Ronald Marks, at whose Chambers Bobb interned at one point, described his former intern as having a fire in her, and a determination to achieve.
"Shackell's mother must be very proud today, because she has worked so hard, she has dedicated her life to her children, her blood, sweat and tears have borne fruit today," Marks stated.
Testimony to the bond that she shares with her mother — Bobb, in giving her maiden speech at the Bar, had to try her best to hold back her emotions when thanking her mother, and those closest to her.
Yesterday was her mother, Dianne Bobb's, birthday, and, she said, "I cannot think of a better birthday gift that you could have gotten."
She thanked her mother for always believing in her, and allowing her to spread her wings.
"I grew up and saw you struggle with six children, being unemployed at times. But you always defied the odds and found a way to continuously provide for us," she continued, expressing gratitude for the strength she demonstrated to them.
She also thanked God for allowing her to persevere through the battles, to achieve her life-long goal. "For as long as I can remember I have always wanted to become a Barrister-at-law and solicitor" and worked tirelessly towards it, she said.
Among those she thanked are also her sisters – Rockel and Marsha, boyfriend – cultural ambassador Sunil Ambris, sponsor – Monica Glasgow, and Kevin Franklyn.
She interned at the Attorney General's Chambers, Rene Baptiste's chambers, Marks and Marks Law Firm and learned from counsel Jemalie John.
Bobb also prayed, as did Chris-Ann Mofford before her, that she would serve diligently and with high ethical standards.
Justice Brian Cottle welcomed her to the Bar, stating "Today is only the beginning of what is going to be a very demanding and difficult period of your life. The law demands much of you and if you give all that you are capable of giving, you will achieve great things."