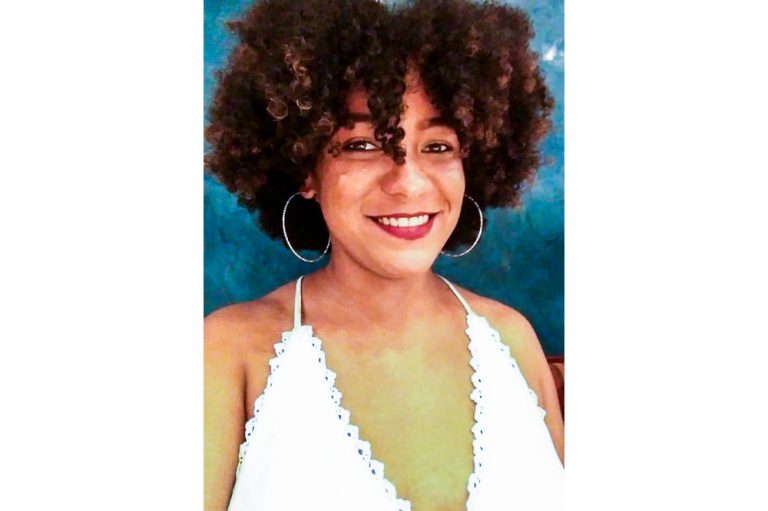 Vincentian national scholar shows versatility with popular dancehall remix
by Katherine Renton
A young, multitalented Vincentian, who used her free time to remix a song from a popular Jamaican dancehall artiste, has up to press time garnered 86,831 views and 21,003 likes for her video, which was reposted to the artiste's social media.
Dancehall fans may know the song "Call Me If", a recent release as part of the album 'Vent' made by Louis Grandison or "Dexta Daps", who has 954,000 followers on Instagram.
Angelina Questelles is a 24-year-old student at the University of the West Indies (UWI), completing a MSc degree in Biotechnology. Before this, she was awarded a national scholarship, and completed a BSc in Biology with specializations in Microbiology and Biotechnology.
Apart from her academic goals, Questelles has also, since she was a child, been attracted to music, singing whenever she was given the opportunity.
At first, she decided to put aside music until she completed her degrees, and then return to singing, but she noted "I really do love it and it's been proven to be one of those things that gets me through and keeps me going because I love it that much."
Therefore, she tried to do what she loved more, and, with the intention of exploring where her passion for music will take her, has been uploading informal singing covers to her Instagram page. However, up until this song, she hadn't covered a dancehall song.
"Dexta Daps" joins other Dancehall artistes who facilitate hashtag challenges on their social media accounts, wherein their fans upload videos of their songs, but done in a unique style.
In September 2019, Vincentian pannist Saeed Bowman, was reposted by artiste "Shenseea"(Chinsea Lee) for his cover of her song "Blessed".
In Questelles' case, she is a fan of "Daps", and particularly loved the song "Call Me If" when it first came out. The first video she filmed was her singing an acapella version of the song, but "the intention was always to try to cover it with some kind of music backing, because I had liked it (the Acapella version) but I wanted to do a bit more to it."
Also, the song is written and sung by a male, but "I'm a woman, so I kinda felt like I wanted to put a female twist to it." She found the instrumental version on Youtube, penned her own lyrics, which she chose to make clean (meaning not inclusive of anything offensive). "Dexta Daps", as do some other dancehall artistes, often expresses himself through explicit lyrics.
"It just so happened that it (the song) became a challenge a few days before, so I was like let's just do it for fun, and see what happens," the 24-year-old explained.
She uploaded this version last Saturday, November 7, and the Jamaican singer posted it to his Instagram story on Sunday, and then his feed on Monday.
"I'm watching the phone now (when she realized) and I'm like this can't be real, this is not real life," the aspiring singer revealed. Later than evening it had already racked up over 20,000 views, and comments with Vincentian flag emojis flooding underneath the post. Musicians indicated that they would call, and encouraged persons to sign her.
"I've seen a lot of persons message me personally saying 'you're really good', 'you're extremely talented', 'we cah wait to hear from you', 'I think you need to go to the studio'," Questelles revealed, on the topic of the effect of the exposure Daps has given her.
"Through not only this (video), but I think from the first 'Call Me If' cover, persons have messaged me about doing collaborations with them, both local persons and funnily enough and, really amazingly, persons who don't live here," the young woman noted.
"It's kind of like verification or a confirmation, if I ever did need it, to be like yeah, you really should… like you have something here, make use of it," Questelles revealed.
"I am really, really grateful for all of the support that the video has been getting both on his page and on mine, grateful to those persons who have taken time to watch all three of the videos (three versions including a full version are uploaded on her Instagram)," Questelles revealed.
"Those who comment, those who share and those who push the video as well for me, because I really did not expect it to be doing this well, but again it feels amazing and I'm so glad that I'm able to represent us as a country."
"I'm really grateful to artistes like him who are so established/successful and have such a large following, who do things like this to engage and share their platform with their fans, because it means so much to me to be given an opportunity and exposure which reflects well for me and for us in SVG," the young woman concluded.
For those wanting to find out more about the singer, she is active on her Instagram page, aye_m_q.