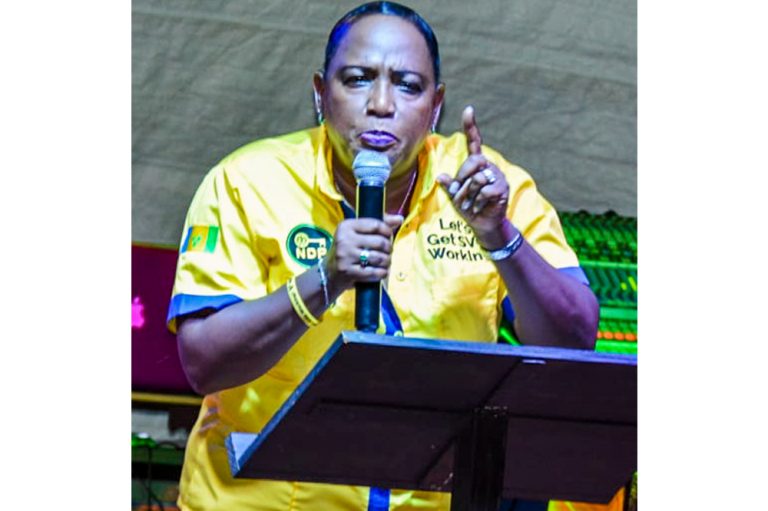 NMCM report of free and fair elections does not reflect reality – Baptiste
The preliminary report by the National Monitoring and Consultative Mechanism (NMCM) stating that the general elections of November 5 were free and fair has "really annoyed" New Democratic Party (NDP) candidate Kay Bacchus-Baptiste, who has said that it does reflect reality.
Calling in to the Nice Radio on November 11, Bacchus-Baptiste, who made an unsuccessful bid for the West St George seat revealed that she read an article on the preliminary report in the SEARCHLIGHT Midweek edition of November 10.
Among other things, Reverend Adolf Davis, Chair for the NMCM, outlined in the report that "Our preliminary reports indicate that the Elections were conducted in a manner that was free and fair. We give God thanks that, for the most part, the parties and the electorate approached the process of campaigning and voting with a maturity and dignity that we can all be proud of."
Bacchus-Baptiste, a lawyer, told the radio host and her fellow candidate St Clair Leacock that "It annoyed me because we all live in St Vincent, and these are the people who are supposed to monitor what is going on in St Vincent."
She said that she was going to write a letter to Davis, and is prepared to make the letter public.
"…Millions of dollars cash was spent in most of the constituencies as bribery, as a bribe," she alleged.
"It makes no sense purporting to be fair minded and at the end you give a report which does not reflect reality. He could not live in St Vincent," the NDP candidate continued.
The NMCM did not call her or any of the NDP stakeholders to find out what their thoughts were on election day, she said.
"How can you therefore make a report from a mere visit for a few minutes at one or two polling stations and then tell me it was free and fair?"
In her constituency, the lawyer informed that she has "credible reports" of politicians and prominent ULP persons coming into the constituency and giving away "millions of dollars".
Her sentiments echoed those of Leacock, who insinuated that bribery was responsible for the swing towards NDP not having manifested in two constituencies.
She submitted that the politicians visited around five shops and also went into the community of Pole Yard in Arnos Vale.
"I have persons in Pole Yard who admitted receiving money. Some money rolled up in a t-shirt," Bacchus-Baptiste informed. "I mean it was so wholesale, because they (the ULP) were aware of the swing," she commented.
"In the last four or five days they dedicated to giving away millions of dollars. Well of course, I believe they doubled and tripled that up in North Leeward and North Windward, because I'm told it's over 12 million dollars that they had to spend," she claimed.
Additionally, the NDP candidate also spoke about wanton use of state funds. National Insurance Service funds and National Lottery funds "cannot and should not" be used once Parliament is dissolved, "or even just leading up to it in the way in which they did", she said.
Leacock interjected to speak about the promotions of police officers and the mass recruiting before the elections.
"Exactly. Clear, clear, clear bribery," his colleague said.
Bacchus-Baptiste reiterated that she had to call out Davis and the NMCM for not referring to these factors and "just simply" declaring elections free and fair.
"St Vincent and the Grenadines did not have free and fair elections, the wholesale bribery is unprecedented," she asserted.
Bacchus-Baptiste continued, "I know that they have given away money before, but this election, to my mind, could only have been won with the amount of wholesale cash bribery that was given out and I'm not just saying that." She argued that she has witnesses.
She stated that the Prime Minister had accused NDP of bribery, while he was speaking on the radio, and asked him to open an investigation into the matter, if that is the case.
"I am calling on them; he has the Commissioner of Police, he has the DPP (Director of Public Prosecutions), he has all these persons. Investigate it then, since you're saying that the NDP bribed," she declared.
At the end of her call, after speaking on more issues, the lawyer turned her attention to the NMCM again, stating: "I expect them to be far more investigative if they are going to give a report."