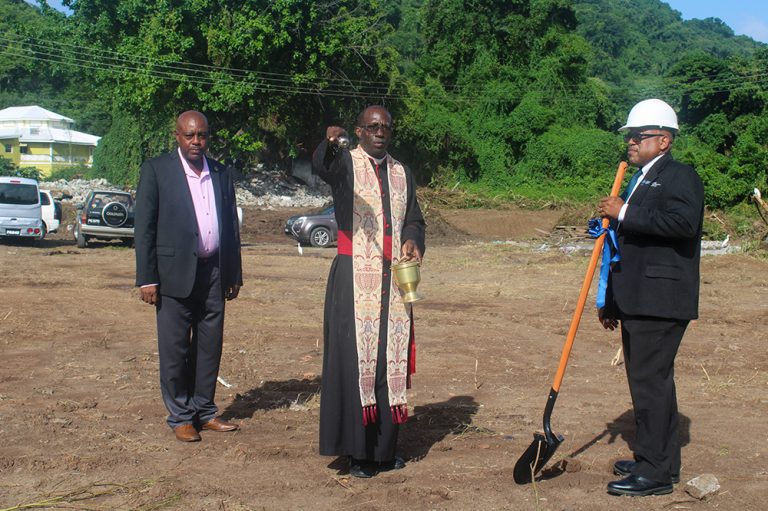 Coreas Distribution Limited hosts ground-breaking ceremony for their $27.7 million facility
AT LEAST 120 people stand to gain employment once construction begins on Coreas Distribution Limited's (CDL) state of the art warehouse and administrative centre in Diamond.
The company hosted an official ground-breaking ceremony on Tuesday, November 3 for the $27.7 million facility that will not only improve staff comfort, but also help to provide greater service to its customers.
Jimmie Forde, CDL's CEO noted that the heart of the company's operation is located in a 15,000 square foot warehouse on Bay Street in the nation's capital.
He added that the company's operations in Kingstown have been in existence for over 30 years with little change and that it had outgrown itself.
"There are serious space constraints. We hardly have enough space to house our staff. The congestion of our warehouse has resulted in high levels of damaged inventory and restricts our ability to expand," Forde said.
The CEO said CDL is SVG's largest distributor of food products and second largest importer of poultry and meat, but that the permanent cold and chill storage capacity was currently only 3000 square feet.
"At our current operation, [it] was once considered a blessing because of its proximity to many supermarkets in Kingstown. Now it's a nightmare with all traffic congestion around Kingstown," he said.
CDL's current warehouse and office space total 25,000 square feet. When the new warehouse is built in Diamond, it will occupy 64,000 square feet.
This large expansion will also see the cold storage capacity increasing more than three-fold to 9450 square feet.
Forde also said the new warehouse will include 4,600 square feet of airconditioned storage for items such as pasta, wine and biscuits – an accommodation that is not present at the current warehouse facility in Kingstown.
"It will provide much needed employment for the neighbouring communities, and our contractor, NH International has promised to deliver this project in 10 months," Forde said of the project.
Frederick Stephenson, the area representative for South Windward also delivered brief remarks at Tuesday's groundbreaking ceremony.
He described Diamond as this country's "most recently new developing area" and expressed pleasure in CDL's choice to expand in the Diamond area, which will no doubt create employment opportunities for persons in the area, both during and post construction.
A small branch of CDL's operation is expected to remain in Kingstown once the new facility is completed, to ensure continued convenience for some customers.