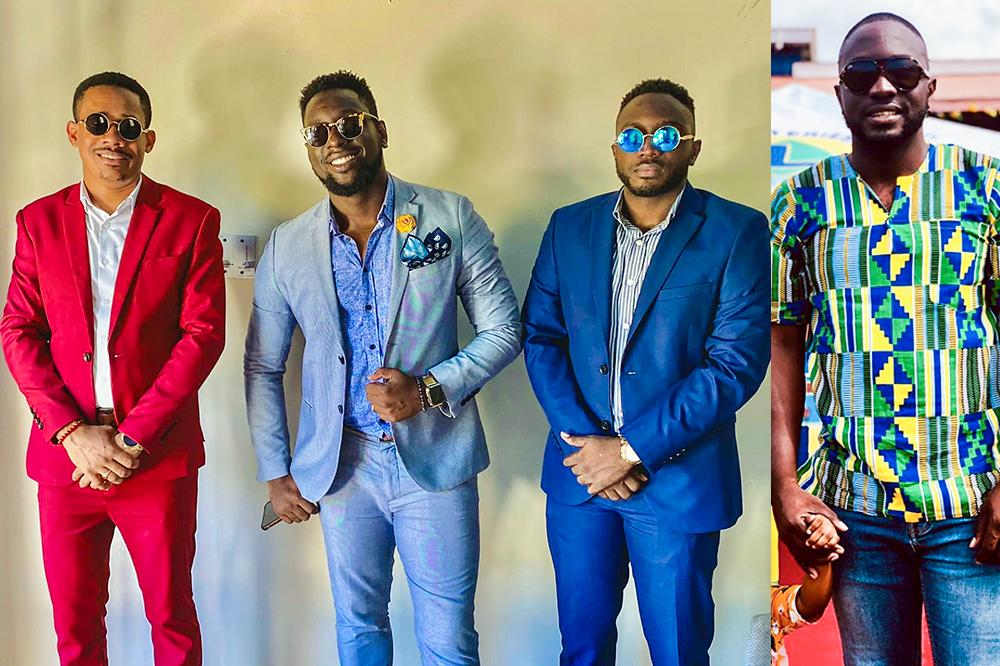 New Sports and Cultural Ambassadors named
A host of accomplished men are among those that have taken up titles as Sports and Cultural Ambassadors for St Vincent and the Grenadines (SVG) as at Tuesday, October 27.
Three of the new cultural ambassadors are: singer Hance John, pannist Rodney Small, and violinist/music producer Darron Andrews who each have established themselves in the music scene, and recently worked on "Hold the Faith", a song meant to motivate during the time of the pandemic. They are joined by musician/saxophonist Julian McIntosh who currently resides in Montreal, Canada.
Prime Minister Dr Ralph Gonsalves made the announcement on Tuesday, October 27 while delivering his address on the occasion of the 41st anniversary of Independence.
Sunil Ambris, 27 years old, and Kesrick Williams, 30 years old of Spring Village, West Indies cricketers, were named Sports Ambassadors.
The Prime Minister also said that he would appoint Peggy Ince-Hull, a former stalwart of netball for our National and West Indies teams, as a Sports Ambassador. However, Ince-Hull was made a Sports Ambassador in 2015.
All appointments were made with immediate effect.
Twenty-nine year old John was in attendance at the Victoria Park on Tuesday, with his daughter and girlfriend when the happy news was announced.
The singer has been belting notes since he was seven, and began his singing career by representing the Evesham Methodist Primary School in 2003 at the Junior Soca Monarch competition. He has been taking titles since then.
He said that he was proud and "very elated" with the news. He said that it was "something that over the years I was working towards and mirrored other artistes who possessed such ambassadorship, so it was a great feeling to know that I was amongst the cultural icons who are representing St Vincent and will go down in the history books as ambassador."
John said he felt very proud to receive the title with his young daughter being next to him in the Park. "in years to come that she could always reminisce that she was present when her dad gained cultural ambassador," he commented.
Further, it felt fitting for him to receive it in October as his father died on October 6, 2010. "I know if he was alive, he would have been very proud of this accomplishment and my hard work," he said.
His fans were also present, they assured him he rightfully deserved the accolade, which made him happy.
"We see the Cultural Ambassador role as not just a title, is a duty where we have to push our cultures and sell it to the rest of the world so that persons could be attracted to St Vincent," the community driven man exclaimed.
He asked that "parents as well to encourage their kids to get involved in the creative arts, whether it might be drama or even song writing, playing an instrument," and not just encouraging them to be lawyers and doctors.
To all the youth, interest in sport and culture, John asked them not to be discouraged, "There's a lot of sacrifices that we put on the table to really achieve what we got today."
"For my community it's a big deal as well, although they were not present in the Park, I got a lot of messages and so forth. I'm just happy and more concerned about the industry to grow now, in terms of the creative industry and persons with the importance of the creative industry economically and socially," the young man noted.
For pannist Small it is a "great feeling", as the accomplishment was one that he wanted to add to his list of achievements.
"Makes you feel good to see that your own country can recognize you in this light," he stated.
"It's a personal achievement but it's also an achievement for the music industry and by extension the steel pan industry art form," the 31-year-old pannist of 23 years from Sion Hill explained.
He said that as a Cultural Ambassador he will have to be mindful of a lot of different things, and that it will be a motivation for him to press on.
"I really want to use it, not just for my personal gain but to inspire other youngsters because I'm coming from a place where it was very dark, in terms of I didn't know where my career, where it was heading because as a youngster growing up, you're uncertain of what you really want to be in life," he disclosed.
"..Keep working, keep working, whatever you do, do it with love and I mean everything is timing. Don't let anything external motivate you because I know a lot of people would say that I'm going to work hard," he advised the younger persons.
When the Prime Minister made the announcement, he made reference to the song that Andrews, Small and John worked on together earlier this year, in the midst of the Covid-19 pandemic "Hold the faith".
Small revealed that "I really wanted to make a contribution during the Covid time, to motivate our people and to inspire them and to let them know that regardless of what we're going through we must hold the faith and we must stick together and get past the whole pandemic."
John welcomed the idea.
"We normally sit on my porch and share different ideas and he came there a Sunday evening and we started to vibe it and then we came up with what which is now one of the official songs out there during the pandemic time which is 'Hold the Faith'," Small informed.
They contacted Andrews, and went by his studio, where they recorded it as a trio.
Andrews, who posted a thank you message on his social media following the announcement, has declared that he started his journey saying "I am a musician but I am a Vincy first."
He is a self-taught keyboardist and violinist.
"Throughout my 20 years in music, I have seen a lot, learned a lot, travelled a lot, met a lot of people, damaged instruments, got valuable items stolen from me, fell down in airports, struggled with heavy luggage and equipment, lost bags etc, all for the love of music and country…," the musician recalled. As did his peers, he recognized the musicians that paved the way before him, and his fellow awardees.