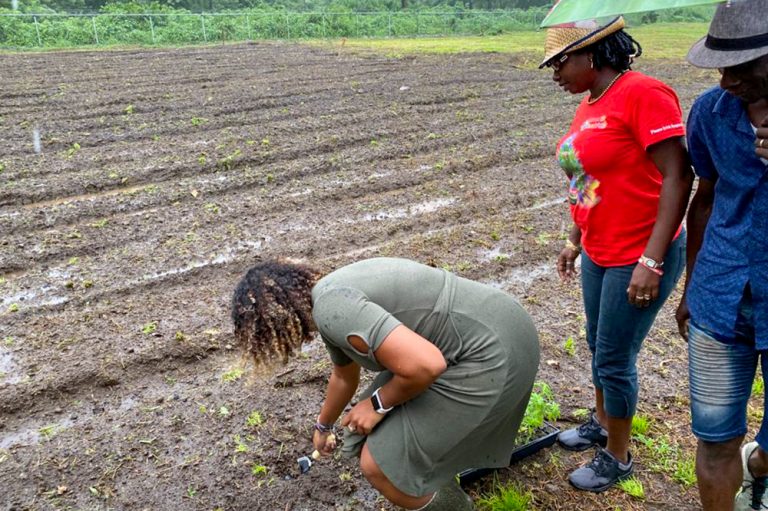 32 Islands Inc. enters the Medical Marijuana market
It was a rainy start during the presentation of Medical Cannabis licenses to both "32 Islands Inc." and traditional farmers in North Leeward and in the words of one of the speakers, "speaking both literally and figuratively", that he "prefers a rainy beginning and sunny ending, than a sunny beginning and rainy ending" in this business venture.
And it was indeed a rainy start on Thursday, October 29, as several persons huddled under a tent to witness the handing over of medical marijuana licenses to several traditional ganja farmers as well as 32 Island Inc. a locally owned and operated company with Alexa and Michael De Riggs (daughter and father) as principal Directors of the company formed a little over a year ago.
Representing her father at the handing over ceremony, Alexa De Riggs among other things "expressed genuine appreciation and excitement upon receiving our medical cannabis cultivation License" and noted that besides cannabis, ginger, turmeric and fruit trees will be planted on four acres of land.
Speaking about 32 Islands Inc. De Riggs said: "So why the name 32 Islands Inc ? As a family run business, we wanted our company and brand to acknowledge our Vincentian roots and the diversity of the islands that make up SVG. We want to pay homage to the environment, the sun, volcanic earth and other elements that not only make our islands unique, but will also make our product unique. Not many people can say that they grow medical cannabis in a piece of paradise like this, surrounded by a river, lush greenery, a waterfall, beach and at the foot of a volcano".
In a prepared speech sent to be read in his absence, Executive Director of 32 Islands Inc., Mike De Riggs expressed his gratitude to the government for granting the license to cultivate medical cannabis and thanked his Chief Operations Officer and farm manager Norville Abraham for preparing the ground work for the establishment of this farm.
Following the presentation of the licenses, there was the symbolic planting of some cannabis plants. Also speaking during the ceremony were Junior "Spirit" Cottle; Dr Jerrol Thompson and Dr Jean-Saville Cummings from the MCA; COO Norville Abraham and one of the 32 Islands Inc. Directors, Donald De Riggs. (Report submitted by: Donald De Riggs)