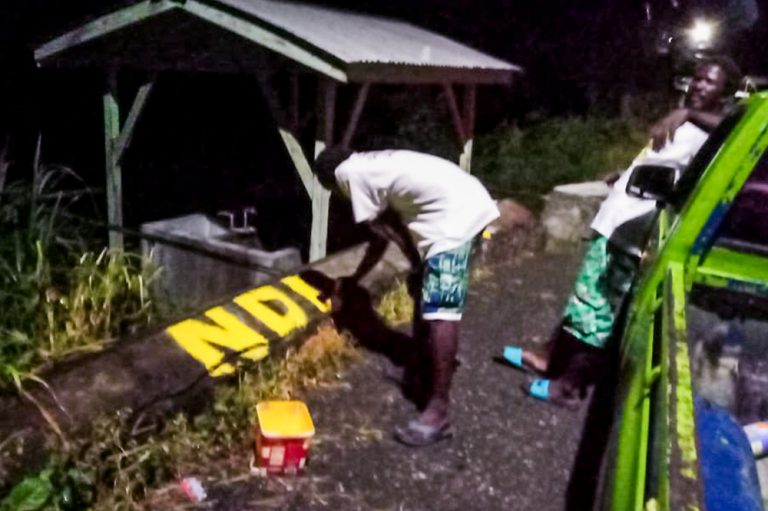 Painting of political symbols on walls, roads no big fuss – 'Patel'
The New Democratic Party (NDP) has come under fire for the painting of their colour and political symbols on public roads and walls but Roland "Patel" Matthews says the Unity Labour Party (ULP) is guilty of the same thing.
Matthews said the issue of road painting was made into something it isn't when according to him, Carlos James wrote a piece on it and submitted it to News784, a news site run by Ernesto Cooke. He said the article did not mention that ULP supporters are doing the same thing.
Carlos James is Matthews' opponent and the ULP candidate for the North Leeward seat in the November 5 general elections.
Matthews told SEARCHLIGHT on Monday that last week Thursday in Rose Bank, supporters of the ULP painted the streets and have been doing so in other places.
"In Rose Bank last week Thursday, the whole street was painted by ULP supporters to welcome Ralph.
"As you know, people paint in the night because of the fact that we not supposed to do it, but some people take it on their own, some supporters do it. I am not seeing the big fuss but I condemn it still," Matthews said.
On Monday, Jerrol Thompson, former ULP parliamentary representative for North Leeward, told SEARCHLIGHT that last Thursday, he and Carlos James were heading to Spring Village at around 1 a.m. when they came upon a group of NDP supporters painting NDP signs in the road and pulling down James's political posters.
He said Matthews's brother was there looking on and after intervention by him and James, they got the men to stop painting.
"I knew all them, Jeffrey White, one of Patel's brothers, and all of them who have worked for me in the past at my farm at Prospect.
"I was a little surprised and I told them there was a code not to paint the street…" Thompson said.
But Matthews thinks that the issue of painting is being blown out of proportion as it is a tradition to paint the streets and while they have agreed not to do it, sometimes you can't stop your supporters from doing these things.
He also noted that a more serious issue happened on Sunday in Gordon Yard when some of his supporters were putting up posters and a resident tore some down and shot at others with a shotgun.
He said the matter was reported to the Spring Village Police Station and an investigation was launched.