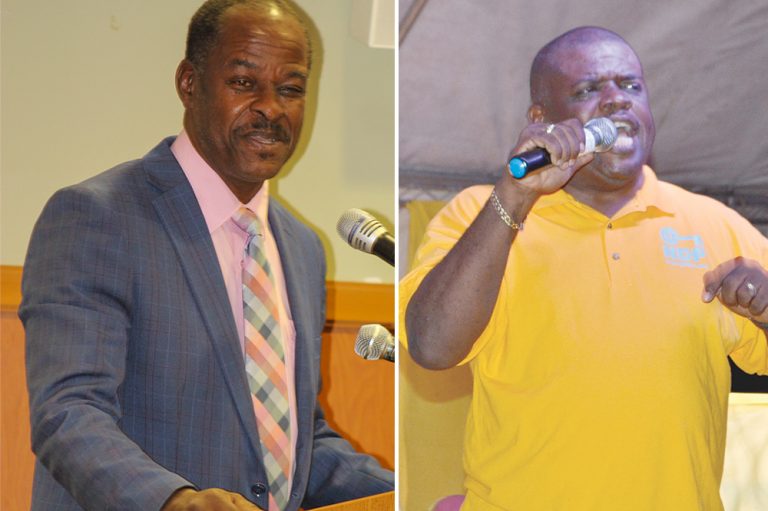 Medicinal Cannabis Authority CEO demands apology from Matthews
Jerrol Thompson, Chief Executive Officer (CEO) of the Medicinal Cannabis Authority (MCA) is demanding an apology from the New Democratic Party's (NDP) Roland "Patel" Matthews.
Thompson, a former Cabinet Minister under the Unity Labour Party (ULP) administration and the parliamentary representative for North Leeward from 2001 to 2010, said Matthews, the incumbent representative made comments at a political rally in Petit Bordel on Saturday October 24 that defamed him.
Matthews said during the NDP's manifesto launch: "…They say that the Jerrol Thompson who coming down here at night time campaigning with Carlos [James], his salary is $25,000 a month off ganja farmers, and no farmers getting a cent.
"I hope alyo run him ah nah. I hope alyo run Jerrol, because what Jerrol is doing, is to make sure he continue to receive big salary off ganja farmers. We can't allow that to happen, we can't allow that," Matthews said.  
He added that farmers have been promised amnesty, markets and money for their ganja crop and some have stored weed, only to have it spoil, "but Jerrol Thompson getting $25,000 a month, come on people, we have to get rid of that and make sure that our ganja farmers are making money from this lucrative industry."
Matthews added…"So now that we can make money from it, Ralph them want all the money, Jerrol want all the big salary, the ganja farmers ain't getting nothing…"
On Monday, Thompson told SEARCHLIGHT that he was appointed CEO of the MCA in 2018 and his take home pay is EC$11,025.
"I am not surprised that he (Matthews) would conjure up some notion to tell people that they should run me from North Leeward," Thompson, who is a medical doctor by profession, said.
He opined that he is being attacked because last Thursday around 1 a.m., he and Carlos James, the ULP candidate for North Leeward were driving to Spring Village when they stopped supporters of the NDP from painting the roads and pulling down James's political posters.
Thompson said he owns property in North Leeward where he was born and worked and it is unfortunate that Matthews would ask persons to chase him from the area while making a false pronouncement about his salary.
"He has conjured up that I make $25,000 and I am making all the money that supposed to go to the farmers.
"I am quite open to disclosure. $11,025 is my take home pay, but essentially I demand an immediate apology and retraction even though I feel to some people this may be a small issue," Thompson said.
Thompson said he has contributed and is still contributing to SVG in areas like his work on the COVID 19 task force, dengue and diabetes and he does this without demanding extra payment.
"I do it because I want to do it and I have a right as a Vincentian to campaign who I want to campaign for and no one should conjure up any false premise to make people feel that I am making undue monies and they should try and run me for that particular reason," Thompson said.
He added that while Matthews has the right to criticize him, the NDP politician should not create his own facts.
"I want an immediate apology and retraction from Roland 'Patel' Matthews and to let the people of St Vincent and the Grenadines and particular the people of North Leeward know that he did not tell the truth in relation to the various issues.
"I am not a person who believes in lawsuits and so forth. I do believe that some issues are nine days' talk but as a professional, my reputation is my bond with people and if people feel that I am doing things not out of the goodness of my heart, but for money and receiving money, I should not get that is what is hurting me," Thompson told SEARCHLIGHT.
"I don't like these sort of things," the former politician said while adding that he will be seeking to legally have Matthews do a retraction. 
"I would seek advice to how I should attain a retraction, but I have never been one who is inclined in relation to suits and so forth in relation to defamation and so forth, but it is clear defamation and my character and professionalism is my bond with the people," Thompson said.