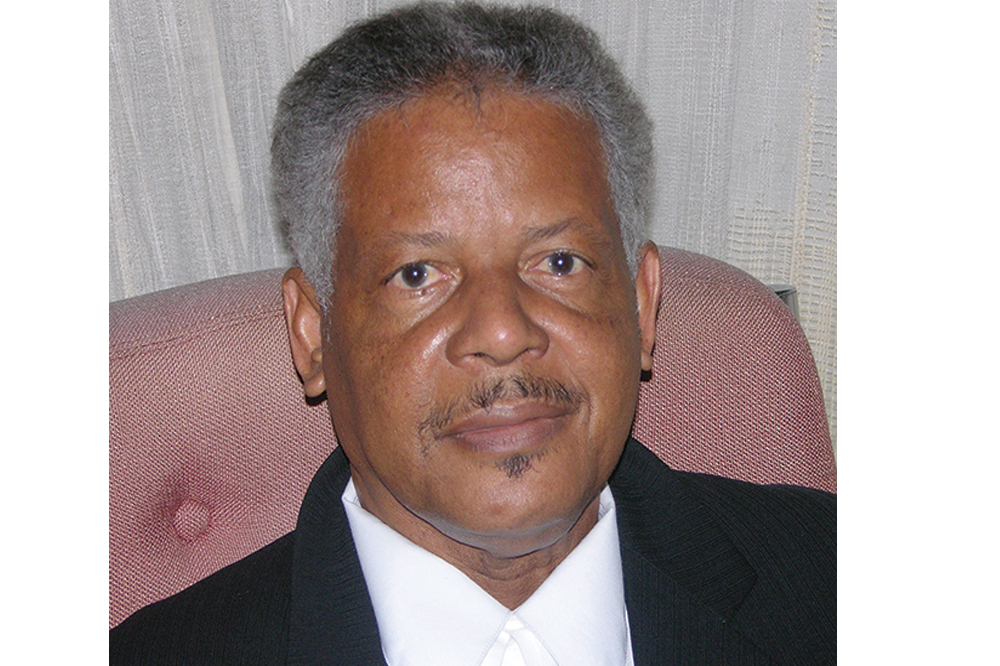 Fellow Bar members speak glowingly of Emery Robertson
Prime Minister Dr Ralph Gonsalves, and Queen's Counsel Parnell Campbell spoke fondly of their former schoolmate and fellow member of the Bar, the late Emery Robertson Snr, at a special sitting of the court in Robertson's honour this Tuesday.
One day before the lawyer was laid to rest this Wednesday, September 9, with an official funeral, multiple legal practitioners and Justices gathered at the High Court to pay tribute to their friend and colleague.
Many tears were shed throughout the course of the proceedings, by lawyers as well as the family members of the late Robertson.
The veteran lawyer passed away on August 13 at 76 years, just shy of marking 50 years at the Bar.
"Again we have gathered here in this courtroom to have another of these special sittings," Justice Brian Cottle noted. "They've been happening with a degree of regularity which should give those of us who are able to attend, reason for pause because tomorrow is promised to no-one."
The Prime Minister admitted that he was "really surprised" at Robertson's passing. "…Because other than his back he appeared to me to be in fine fettle, and of course full of humour," Gonsalves commented, recalling seeing him a few weeks ago.
He noted that he and Robertson got to know each other at the St Vincent Grammar School in 1959, where Robertson was two years Gonsalves' senior.
"He was always, as a school boy, someone which you knew immediately of high intelligence and very active in all pursuits. And like most of us, certainly including myself, full of mischief," the Prime Minister recalled.
In the days of everyone studying either law or medicine, Robertson chose to study law.
"When I came to practice law after many twists and turns," Gonsalves stated, "my first law office was actually in the very building in which his (Robertson's) Chambers were."
"Emery taught me many things and we were in and out of each other's Chambers, and we developed a very good friendship," he recalled.
He remembered him as being a master of evidence and procedure, and presenting novel points of law for consideration.
"He was a splendid lawyer, no question about it," Gonsalves commented.
Another aspect of the lawyer's life that was remembered, was that he also served as a Parliamentarian.
The Prime Minister recalled that Robertson contested elections on two occasions.
At one point, Robertson was a Senator with the New Democratic Party (NDP), and also served for a short while as an Attorney General after the NDP's success in 1984.
However, in 1987, Robertson chose to run as independent candidate after parting ways with the NDP.
Gonsalves disclosed one story of a political meeting Robertson had in Redemption Sharpes as an independent candidate.
With the popular song by singer Scorcher advising to "fork up the beaches" at that time, Robertson, with his symbol as an independent candidate being a fork, advised "magisterially" over the amplified system, "I tell you people, we gonna fork them up," Gonsalves reminisced.
"He was a good human being. I quite liked Emery, I considered him my friend even when we were on different political sides," the Prime Minister commented, as he stood in front of Robertson's family.
Robertson was also remembered as a "good family man", with a thoroughly legal family, as three of his four children also studied law.
"Farewell my friend Emery. We have had our contestations, now they are at an end. I hope like an ancient Viking warrior, to meet you at some appointed time in Valhalla," were the Prime Minister's closing words.
Parnell Campbell, who joined via Zoom, admitted that Robertson's passing came as a bit of a shock to him as well.
He too attended the Grammar School with Robertson, and they both eventually came to be in the same year.
"Throughout the years I have known Emery Robertson, he manifested all of the qualities which were drummed into us in the olden days," Campbell stated, "He remained every inch a gentleman throughout, I can't recall hearing Emery raising his voice in anger except in the heat of battle on the courtroom."
He was a very passionate advocate, Campbell relayed.
The queen's counsel also shared memories of his own about their school days, noting how sad Robertson was when he learned of the death of his look alike, the American President John F Kennedy. "Spontaneously we gave Emery our condolences, knowing what the President meant to him," he reminisced.
"When Emery graduated, he landed a very prestigious job at Barclay's Bank, which made us all very proud for him. A few years later he went off to London to do law and returned in 1970 and was called to the Bar in St Vincent and the Grenadines in August 1970," Campbell disclosed.
"When Emery returned as a lawyer, I recall going to see him the very next morning after he had been called, in his Chambers for some legal advice which he dutifully and willing gave to me," he continued.
When Campbell himself was called to the Bar, he admitted receiving "tremendous assistance" from Robertson, who was a seasoned member then, but always generous with advice.
There was a point when the process to become a Queen's Counsel changed, Campbell said, and one had to apply. The counsel said that Robertson rejected the idea of applying, and instead believed in being recommended by one's peers as was the procedure before.
"Had he applied he would have been a vigorous and vibrant member of the inner bar, notwithstanding that Emery's knowledge of the law was now legendary," Campbell vouched.
Friendly with all, enemy of none and a smiling countenance are attributes of Robertson's that have been passed on to his children, it is said.
"He will be missed," the counsel concluded. "We have lost a good soul in Emery Robertson."
René Baptiste, Kay Bacchus-Baptiste, Justice Pearletta Lanns, Vynette Frederick, Duane Daniel and Maia Eustace also made speeches at the special sitting.