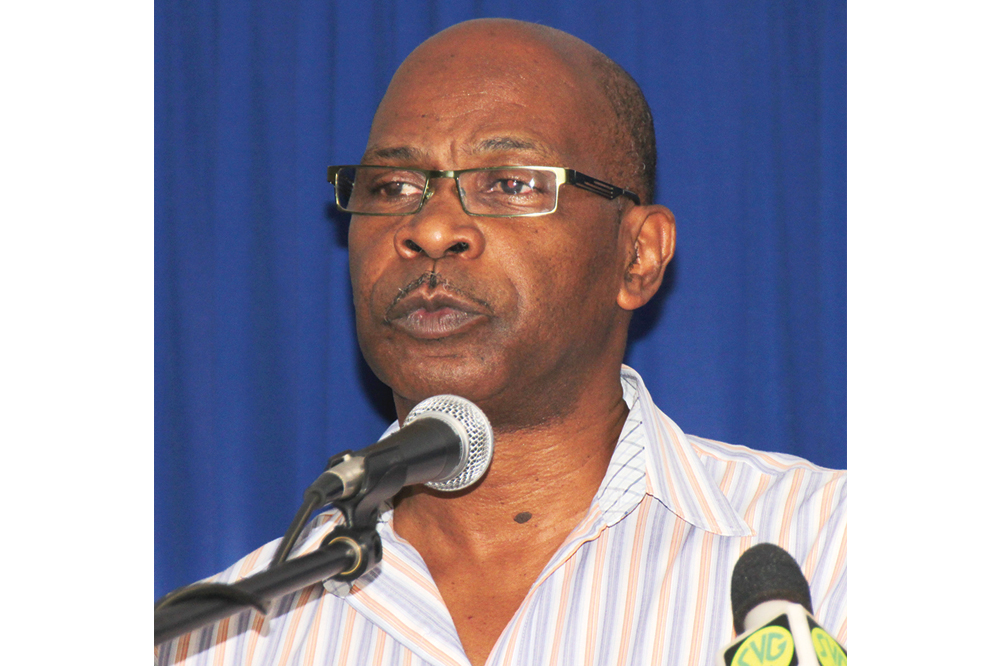 George lived a life with purpose, planning and performance – Pastor
The world is filled with people who make large and lofty promises but are limited in their performance. That was not Samuel Jeremiah George.
"I scoured the reports in the newspapers for some reference to the spiritual life of Samuel Jeremiah George and I was disappointed, and so I felt that before I get into the word…I will take the time to remind us that Samuel Jeremiah George was a man of faith," Pastor Walford Thomspon commented during the funeral of the well known broadcaster and public relations professional.
Pastor Thompson is the senior pastor at the Arnos Vale Covenant Assembly and was delivering the homily at George's funeral which was held on Saturday, August 15 at the Kingstown Evangelical Church.
The senior pastor said that the outspoken George lived for God.
"In fact, my friend Jerry was a man who was extravagant, not in the common usage of the word but in a sense that he was never satisfied with that which was expected or even justified, he wanted to go the extra mile.
"Jerry was not only my fiend, a member of our church, but he was also my consultant, my go to person because as was said before by others, Jerry was not just a verbalizer, Jerry was a concretizer," Thompson told persons gathered at the service which included George's wife Valerie and his daughter Shara.
The pastor said George always had his ears to the ground and he would call him at times of crises to find out what the church could do to help.
Thompson noted that during the earthquake tragedy in Haiti in 2010, he asked George what could be done, and George came up with ideas.
His suggestions saw the church putting together a mission team of Vincentians who travelled to Haiti with medication, nurses and French speaking teachers.
While in Haiti, the team journeyed to the southern peninsula where they helped build a school and administer help to persons.
Pastor Thompson said that while there, they received a vision that saw them helping to build 33 low-income houses in Haiti.
"He was involved in that," said Thompson who added also that George was instrumental in having a house built for a family on the Leeward side of the island whose home was destroyed during the 2013 Christmas Eve flash floods.
Thompson said George's life was lived with purpose, planning and performance. He noted that George also sang in the church's choir and engaged in evangelism by teaching young people at the Biabou Evangelical Church.
"He was a man of action and a man of God and his name Samuel is instructive, because when Samuel was born his mother said, 'I would lend him to God'. Jerry George was loaned to God for his service and for the glory and honor and praise of his name.
"Jeremiah was a man of action, and Jerry manifested that clearly to all of us. We thank God for his life, and I cried when I heard the news and that Tuesday was probably one of the worse days in my life," said Pastor Thompson.
George died on Tuesday August 4, 2020, at his home in Cane Garden.
"We need to live our lives in such a way that when we are gone the rest of the world will miss us," said Thompson.
Also addressing the gathering was George's daughter Shara. She said that although her father's death is painful, it is not tragic.
"Daddy lived and he lived well, he lived his life on his own terms with no apology. He was blessed to have experiences that many never will no matter how long they live," Shara told mourners.
She said she believes that if her father had the opportunity to choose, he would choose the way he died. She said she was not being morbid, as they never saw him old, frail, suffering and wasting away or unable to recognise them.
"He will always be the vibrant soul with that carefree laugh in our memories and he would want it that way."
She said he did what he loved up to the day he died and there was nothing left unsaid between him and his family.
The tribute from George's son Daryl, who resides in the United States, was read by George's wife Valerie.
Daryl said his father loved to express his views and when he spoke you were clear where he stood. Jerry was a firm believer in the maxim 'spare the rod and spoil the child', Daryl said.
In her tribute, George's wife Valerie said her husband made her a better person and challenged her to think of what were the most important things in a marriage.
She said he wanted a small funeral, which is why attendance was by invitation only and saw about 100 persons at the church and the proceedings streamed live for other persons to see.
"He was a consummate teacher he loved to share his knowledge," said Valerie.
George's last public appearance was on his online magazine programme 'Early In The Morning' which he hosts on his Facebook page from 6:00 a.m. on weekdays.
He introduced the programme on the morning he died, then after a three-minute presentation, he handed over to his guest. After coming offscreen, George never re-appeared on camera. The guest spoke for about 42 minutes and after she ended her presentation, the programme's screen went blank.
The programme remained live online for another 90 minutes before it was cut off.
He was discovered on the floor of his home by his neighbor Rommel DeFreitas who used a ladder to climb through a window, after his wife could not gain access to the house.