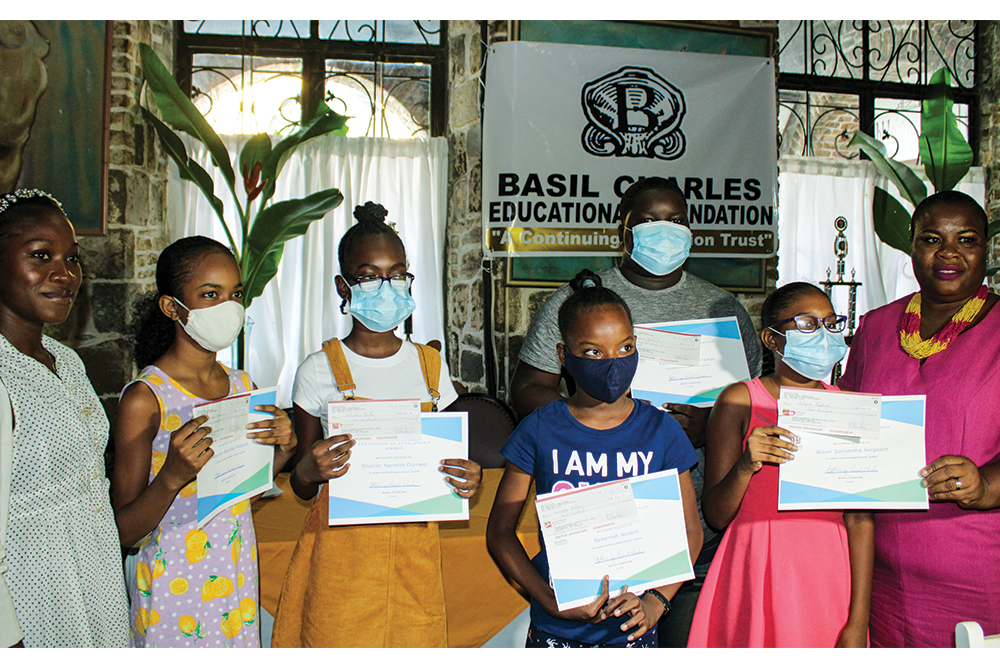 Basil Charles Educational Foundation celebrates its 25th anniversary
In the year of its 25th anniversary, the Basil Charles Educational Foundation has selected eight newly registered Secondary School students to receive much-appreciated financial assistance to assist for their education.
In total five scholarships and three bursaries were given out on Tuesday at Basil's Bar in Kingstown.
Recipients: Shanior Nanette Durrant, Nyeemah Nesbitt, Kolongi Keniah Garraway, Kayron Akellia Francis, Jelani Simmons, Eizzy Quess Roberts, Delron Shane Dells, and Aliyah Samantha Sergeant are all students who sat the 2020 Caribbean Primary Exit Assessment (CPEA) this year.
The five scholarship awardees can look forward to five years of financial support for each school term: $600 for the first term and $500 for the other two terms. Additionally, their lunch is paid for by the Foundation.
Bursary recipients will receive $500 at every school year.
The Basil Charles Educational Foundation, established in 1996 by businessman Basil Charles who once owned the world-famous Basil's Bar on Mustique, has aided over 1000 children with scholarships/bursaries since.
In his early life, 'Basil' himself had to leave school at 14 years old to get a full-time job to ensure that his family could make ends meet.
As stated by social worker, Karen Nero, the chairwoman for the ceremony on Tuesday, "He understood first-hand how hard it was for families with economic difficulties to meet the cost of Secondary Education."
His solution to this issue was "to start a scholarship program to help offset the cost of Secondary Education and to make it more accessible to those in need."
At the same time that the Foundation was established, so was the Mustique Blues Festival, which was intended to be a means of attracting donors.
"Most funds used for the scholarship and bursaries come from the Blues Festival, along with the nation's private and corporate donors," Nero explained, and the Foundation also receives funds from the companion records made from the recordings of the Festival.
The Foundation also has a hand in helping with other matters such as providing cots and meals for 17 Preschools.
For the parents of this year's scholarship recipients, finances do not come easy.
Phyleshia 'Susie' Francis, mother to Kayron Akellia Francis, explained that she is very grateful for the assistance.
"It will help a long way in her schooling, especially for passage," Phyleshia noted, "I was very worried because as a single parent it would have been a little hard for me."
Additionally, she used to have to prepare lunch for her daughter when she attended primary school, and so it "will be a great help" and save them a lot of time to have lunch paid for.
Kayron, who attended the Fair Hall Government school, and will attend the Bishop's College Kingstown (BCK) this term commented that she too is grateful, "because not everybody has the opportunity to have a scholarship, but I was one of the persons who got one."
Shanior Nanette Durrant, an 11-year-old former Petersville student who will be headed to the St Vincent Girls' High School (GHS) disclosed that she was happy to receive the scholarship, and is aspiring to be a doctor.
The mother of the future medical professional, Sharleen Bute, disclosed that they will focus their attention on buying books, and that although a computer is required for some assignments, they do not have one. Therefore, she must also focus on trying to secure a computer for her daughter.
Bute admitted that it is difficult for her financially, having been home since March because of the Covid-19 pandemic, and then being laid off from her pre-school job in June.
Representative for Basil's Bar Kingstown, Banton Bacchus, explained on Tuesday, "In this time of COVID-19 where we were hit on the Educational front… Basil's Educational Foundation stepped up to help a lot of persons by buying tablets and providing bursaries where it was necessary."
"Even though school was not in attendance we were still behind the scene in doing what best that we can do for the Foundation," he revealed.
The preparations for the Mustique Blues' Festival for next year have already begun, he relayed, and said that they are hoping for it to be "bigger and better." They will also bring it to St Vincent, and are hoping "that locals would come out and support it just for the children's sake."
Lafesha France, a success story and past recipient of the scholarships given from the Foundation, who works with the Foundation now, was also present at the ceremony.
The national athlete, past student of GHS, and top tourism student at A-level college will pursue further education in tourism or economics with a scholarship that she has recently received.
"I just want to encourage you guys to make the best of the opportunity, continue to work smart and hard," France stated, in congratulating them.