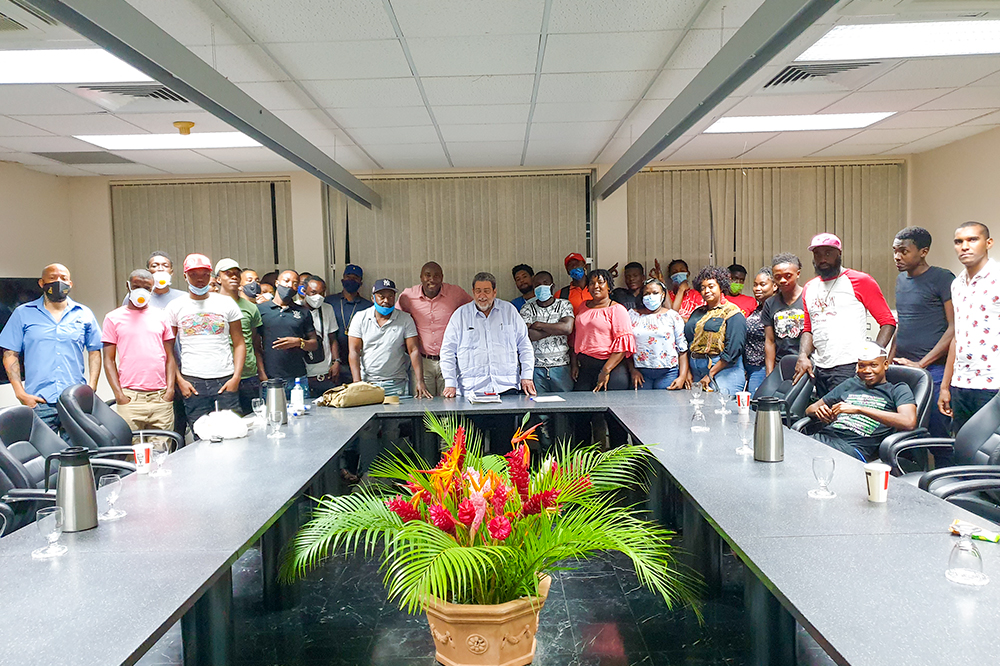 ULP Central Leeward hopeful, PM, lend ear to youth of the area
The Unity Labour Party (ULP) on Tuesday got insight into what some young people are thinking and how they feel about the current administration.
This, as Prime Minister Dr Ralph Gonsalves and Unity Labour Party (ULP) hopeful for Central Leeward Orande Brewster met with close to 50 persons from the town of Layou, the majority of them males.
"The youths have spoken, and the government has listened and it's definitely a good thing to hear from the youths of the constituency because the youths are the next generation.
"If we don't listen to them now, we would have to deal with the consequences later in the latter years," Brewster told SEARCHLIGHT after the meeting at Cabinet Room.
Persons at the meeting, many of them sportsmen, voiced their concerns in relation to jobs, roads and the need for certain areas of local government to function more effectively.
Several young men asked for assistance in farming, fishing and sports.
Brewster told SEARCHLIGHT that the discussion was fruitful as it spoke to issues in the constituency that would be addressed as he moved forward.
"…I have been brainstorming," he said, while disclosing that he has come up with the Central Leeward Impact Project (CLIP).
CLIP is expected to touch on various areas such as infrastructure development and creating sustainable employment and getting the youths trained in various disciplines.
"Sometimes you pass by and there is a lady with a leaky roof and she has the material, but no help to get it done, so I want to help with these sorts of things," Brewster said.
He encouraged individuals as well as non-governmental organizations' (NGOs) like the churches to have a hand in community development and not leave it up to government alone.
"When I start laying out plans and policies, I am sure the youths will be on board," Brewster said while noting that it is all about giving back to the communities in South Leeward.
During Tuesday's meeting, Prime Minister Gonsalves explained that Central Leeward is quickly becoming the new hotel hub. He said that the hotels being built in the constituency which will create hundreds of jobs.
Gonsalves also encouraged the youths to form themselves into collectives, while reiterating that the government's main focus is the upliftment of youths.