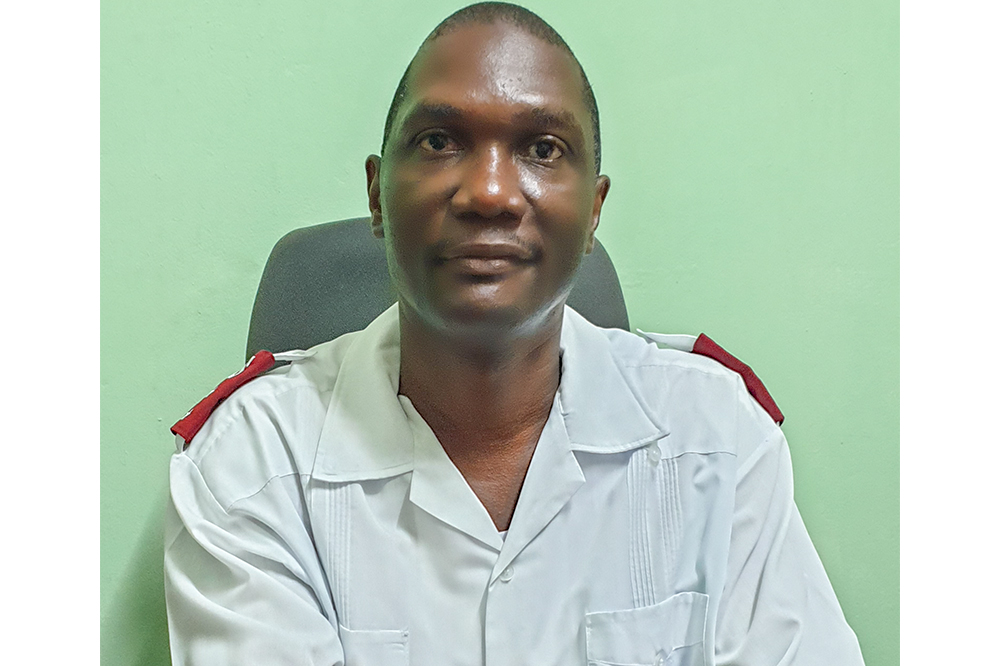 Salvation Army thanks public for their generosity
THE SALVATION ARMY has received consistent support from many persons and groups during this global pandemic and has been able to give hundreds of food baskets to those in need.
Captain Ernest Gachelin, at the Salvation Army base at Melville Street, Kingstown, expressed his gratitude to the public for their contributions.
During an interview with SEARCHLIGHT in April of this year, Gachelin had confessed that COVID-19 was slowing down the Salvation Army's mission, to the point where they have had to turn away persons who were looking to the organization for food.
Gachelin had made a request to businesses and individuals for donations, and persons responded readily.
"…The message that he (the reporter) sent away was very effective because people saw the message in the newspaper, and they responded to it, not only in this country but outside of the country as well," the Captain commented on Wednesday, July 15.
He said that persons from England, the United States of America, and Barbados have donated.
The first set of 250 food packages was distributed in May. The Captain has said that since then, they have given to persons several times.
"I want to say thanks to the public for responding to our request. Because we were in a position where we could assist people and since (the time of the request), we have received good support from the public," Gachelin noted.
He said that from the funds received, the women's group at the Salvation Army was also able to cook food for public on two occasions.
Gachelin noted that for their venture they partnered with the Church of Jesus Christ of the Latter-Day Saints in Barbados. Other businesses that assisted were St Vincent Electricity Services Ltd (VINLEC), RBTT bank, the First Caribbean International Bank, MASSY, Coreas, and the East Caribbean Group of Companies (ECGC).
The headquarters for the Salvation Army in Trinidad has also supported them by providing funds.
"We are happy that we were able to assist in a time like this, but still, the finance is still not where it is supposed to be…but we have to trust God to continue to open doors for us so that we can continue to assist those who are in need," the Captain revealed.
The pandemic is still impacting persons, who remain unemployed, he stated, and they don't know when it will end.
"We are hopeful that it's going to go away soon, but we have no guarantee because as I said, we knew that there was no active cases and then now we hear about six…," Gachelin said.
He reminded the public that COVID-19 is not a joke and needs to be taken seriously, and to adhere to the protocols set. The Captain said that we should protect ourselves by wearing a mask and not crowding in places. At a funeral he attended recently, he recalled that persons were behaving as if COVID-19 never existed.
"Take this moment as a moment also to give our lives to Christ," Gachelin advised, adding, "There's no time to waste again." Not knowing when the pandemic will end, therefore he said that what is important is persons put their lives right with the Lord.
The Salvation Army may be contacted at phone number 430-6321.