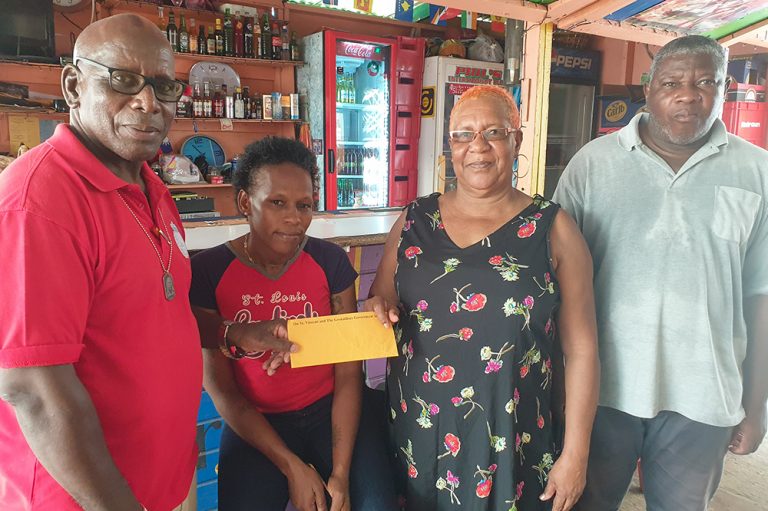 Ex-Police Association of SVG helps family in need
The Ex-Police Association of St Vincent and the Grenadines (SVG) has come to the assistance of Kerene Isaacs and her daughter Rashaika "Ungi" King.
In May, Isaacs and King got stuck in Cuba because of travel bans resulting from the COVID-19 pandemic. King had gone there for a surgical procedure to address breathing issues.
The surgery was paid for by the government of SVG, while the stay in Cuba was also being funded by the government.
But because the mother and daughter did not plan for the length of time they had to spend in Cuba, their dependents at home began to feel the pinch of losing the breadwinners.
Isaacs has seven children and King, four.
The duo reached out to the media about the situation and the Ex-Police Association decided to help the family.
Yesterday, former commissioner of police Michael Charles, president of the Association, handed over an undisclosed sum of money to Isaacs and King.
The handing over ceremony was held at the Phil's Bar at the entrance of the Vegetable Market in Kingstown.
"I feel good. I didn't expect this, so thanks to you guys a lot and I will spend it wisely and it would go a long way. I appreciate it," Isaacs said.
King commented, "I must say thanks for everything. Thanks for the people who donated the money and also thanks to Prime Minister Dr Ralph Gonsalves for sending me away."
Charles said when members of the organization saw the article about the family's plight, they discussed it during one of their meetings and decided they would do something for the family.
"I am happy that we were able to assist and as people of the same community we have to help each other," Charles said while adding that the money was raised through cake sales and donations.
Treasurer of the association Alfred Peters was also present.