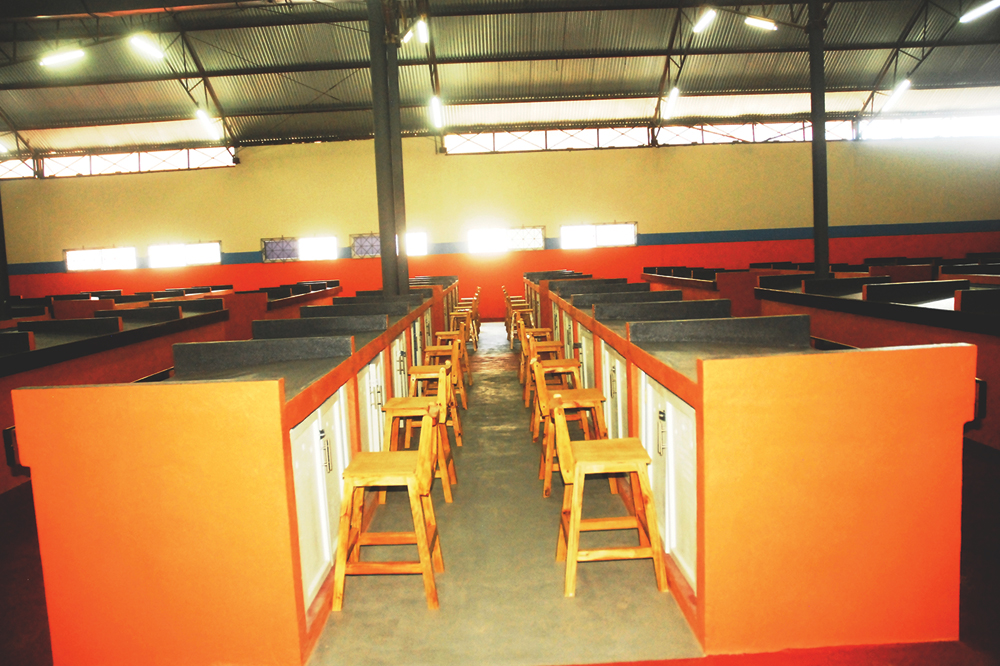 Accommodation for 99 vendors in Uptown Market
Prime Minister Dr Ralph Gonsalves, accompanied by Minister for Transport, Works and Local Government Senator Julian Francis, toured the 'Uptown Vendors Market' yesterday morning.
The 'Uptown Vendors' Market' is situated in the former Customs Warehouse on Upper Bay Street and consists of 99 stalls for vendors, temporary storage space, administrative offices, washrooms, and a garbage disposal section.
It was the first visit to the facility by Gonsalves, but Francis has been a frequent visitor during the refurbishment phase. It is the first of three such markets the Government is aiming to officially open by August this year.
It has been the aim of the Gonsalves led administration to clean and beautify the city of Kingstown, as he again pointed out this morning. Gonsalves was full of praise for the workmanship, as the project was completed in reasonable time.
The Prime Minister noted the battle to get the space needed, and that the Customs and Excise Department was unable to give up any additional space. Weeks later the newly refurbished facility is awaiting its first occupants and customers.
When added to the two other facilities – one opposite the Iron Man, and the other in the old meat market; approximately 260 vendors would be taken off the streets of Kingstown, and according to Gonsalves: "those spaces would remain empty."
The impact of the informal sector on the Vincentian economy could not be understated, as the Prime Minister noted the contribution of the 2,100 vendors in SVG, along with 106 cart-men.
On Thursday morning, as the Prime Minister was touring the 'Uptown Vendors Market', hundreds of vendors were at the Geest Shed to receive their second payments of the Government Stimulus and Recovery Package, designed to combat the socio-economic effects of the coronavirus pandemic.
Meanwhile Francis spoke of the system which would be employed in the allocation of stalls. This he said would be done by lottery. The stalls would be numbered, and those numbers written on pieces of paper and placed in a bag.
The vendors would subsequently dip for a number and that number would be the number of the stall the vendor would be assigned. However if there are vendors who would like to exchange numbers for whatever reason with another vendor, they would be free to do so.
Francis indicated that he had already asked the contractors to speed things up at the other two facilities, for the Government would like to have them ready by the end of July.
The Prime Minister expects that the provision vendors in the city of Kingstown would soon be conducting business in an environment comfortable to both vendors and customers, protected from the ravages of the elements. (contributed by Robertson Henry)