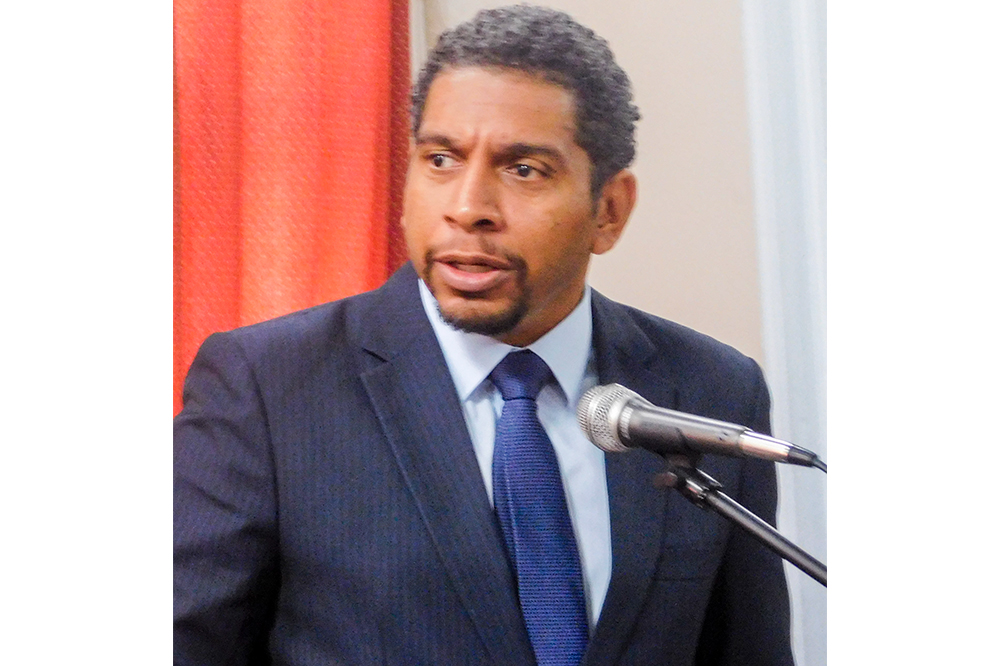 Thousands benefiting from COVID-19 Recovery Stimulus package – Finance Minister
Thousands of Vincentians in St Vincent and the Grenadines (SVG) have benefitted from the COVID-19 Recovery and Stimulus package programmes implemented by the Government.
A supplementary budget for the Stimulus and Recovery package was passed in the House of Assembly on April 7 and finance minister, Camillo Gonsalves gave an update on the progress of the programmes during a sitting of Parliament on Monday, June 22.
"In total, over 14,814 payments and donations have been made to Vincentians impacted by the COVID-related slowdown.
That number balloons to 23,003 if one also considers the 8,189 pensioners that received a pre-payment of two months pension benefits at the outset of the pandemic," the minister said in his statement.
Data from the NIS indicate that 395 businesses in the formal private sector have partially or completely shut down since March 1.
Gonsalves said these 395 businesses represent over 16 per cent of the total active employers registered at the NIS and to date, there have been over 3000 claims filed for employment benefits and Displacement Supplementary income.
"In and of itself, this increase in claims suggests that an additional six per cent of the labour force is now unemployed. Considering the impact of the pandemic on the informal sector, we can safely assume that the unemployment rate has increased by more than ten percentage points over the last three months," the finance minister said.
He also noted that the Government's revenue for May declined by more than 18 per cent. Additionally, Value Added Tax (VAT) collections fell by almost 50 per cent in that same period when compared to 2019 figures.
Gonsalves assured however that the Government is weathering the "economic storm" as well as can be expected, especially when compared to other countries in the region.
"While our revenue has decreased 20 per cent in May, the Eastern Caribbean Central Bank has reported that other OECS countries have experienced a 50 per cent decline. While our unemployment rate will likely exceed 30 per cent in the short term, the ECCB is predicting 50 per cent unemployment rates in some of our sister nations," he said.
Gonsalves told Parliament it is impossible for the government to accurately determine how many individual Vincentians have benefitted from various programmes in the Recovery and Stimulus package as a single individual may have received assistance through several programmes.
He however outlined the numbers that have been recorded for several of the programmes, which were designed to benefit farmers and fisherfolk, creative and cultural professionals, entrepreneurs and small business owners and persons in the hospitalities and tourism sectors.
According to Gonsalves, almost 2,600 people have received income support either through Displacement Supplementary income being paid out by Government or the Unemployment benefit offered by the National Insurance Services (NIS).
Additionally, 8,189 pensioners benefited from NIS' pre-payment of two months pension benefits which was implemented to facilitate upfront costs of pensioners.
Workers in the informal sector such as vendors who traditionally depend on trading close to schools are eligible for Interim Assistance Benefits of $300 per month for three months.
A special window was also created to make one-off payments to hand cart operators.
Gonsalves said on Monday that these benefits have been paid out to 1,644 informal sector workers so far, costing approximately EC$460,000.
"Additionally, a further 60 vendors who traditionally plied their trade along the sea wall were given a compensation package of $4,500 each to remove their structures and vacate the sea wall area as a prelude to the construction of the modern port and cargo terminal," he said. "The compensation, totalling $275,000, makes provision for three months income support of $715 per month, in addition to amounts for the value of their structure, removal allowance and timely removal bonus. This compensation, previously agreed by the Cabinet, was timed to maximise its benefit to those vendors affected by the pandemic-related slowdown in activity."
The finance minister noted that vulnerable Vincentians — the elderly, disabled and those experiencing increased financial vulnerability as a result of the pandemic — are also benefiting from a monthly payment of $200 for the remainder of the year.
This amounts for approximately 600 Vincentians.
Omnibus operators are also benefiting from the Recovery and Stimulus package with 351 operators receiving income support so far, with a further payment pending for an additional 451 operators sometime soon.
Gonsalves also noted that one-off income support payments totalling $230,000 have been made to 380 taxi operators and tour buses so far.
More than 400 cultural and creative professionals impacted by cancellations of national festivals will also receive various honoraria as well.
PRYME and PRYME Plus, grant programmes designed by the finance minister for entrepreneurs and small business owners have benefitted more than 250 entrepreneurs to date to the tune of $1.75 million.
As it relates to the six-month moratorium programme, Gonsalves said "2,437 borrowers are availing themselves of the moratorium, on loans totalling $303 million. The $303 million in loans under moratorium at the moment represent 18 per cent of the institutions' collective private sector loan portfolio".
Vincentians are also benefiting from moratoria on water and electricity bills.
And the minister said that five per cent or 1900 customers of the Central Water and Sewerage Authority have taken advantage of the moratorium.
"While the Saint Vincent Electricity Services (VINLEC) did not provide the number of customers benefiting from the moratorium, it did indicate that, between March 20 and May 20, there was a 52 per cent increase in accounts receivable for 60 days for domestic customers and a seven per cent increase for commercial customers. This upsurge in past-due bills represents an increase of $580,000 over pre-moratorium receivables," he said.
Other initiatives, including the Ministry of Agriculture's Love Box has benefitted over 3500 families and numerous farmers have also received assistance through the Zero Hunger Trust Fund.