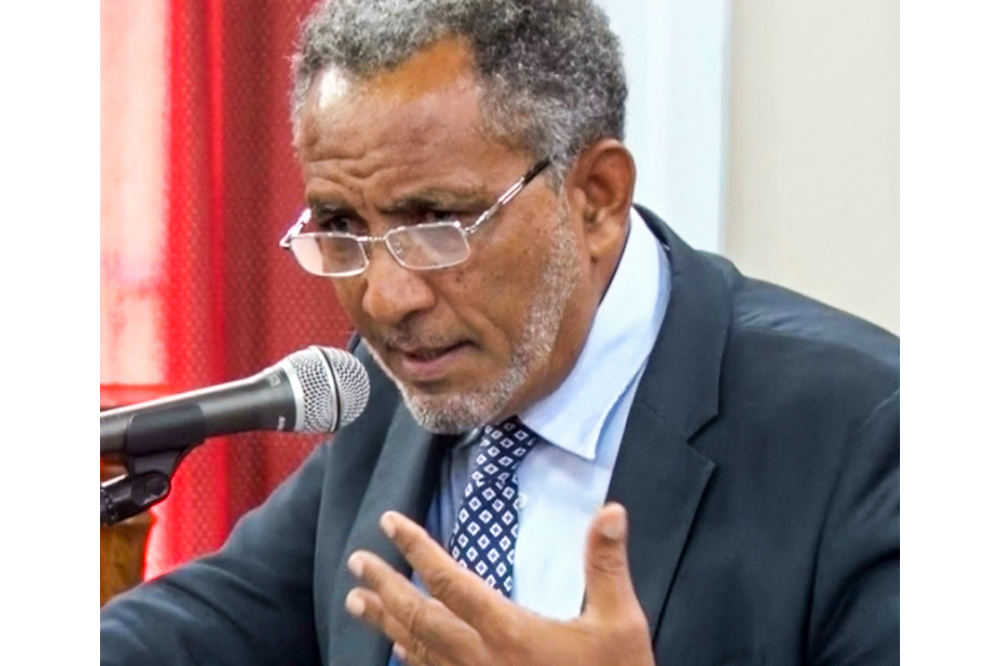 NDP against borrowing US$20 million in these times
"The challenge of taking on a US$20 million loan with 1.6% interest in these times is rather daunting," opposition leader Dr Godwin Friday told parliament on Monday.
The president of the New Democratic Party (NDP) made these comments while debating a Bill tabled by Minister of Finance Camillo Gonsalves, seeking to authorize Government to borrow US$20 million to construct modern parliament and high court buildings.
"A loan still has to be paid back and you're paying it back with interest, that's EC$53 million and Mr. Speaker, I know this matter was debated during the budget debate and it may seem that it may have been exhausted, but a lot has changed since then," Friday said.
He said the COVID-19 pandemic has crippled economies.
Parliament on Monday gave the government authorization to borrow the money from the Republic of China on Taiwan (ROC). The US$20 million will be divided among three components — US$10 million for the high court complex, US$7 million for the modern parliament and US$2 million for the refurbishment of the current courthouse and parliament building. A US$1 million contingency is also included in the project.
The Leader of the Opposition said the NDP cannot at this time support the move to construct these buildings.
"Because it's not just a temporary or intellectual exercise, it kicks us in the face every day and it occurred to me that as desirable as these two projects are, that it may not be the right time to embark on them now," Friday told Parliament.
He said it was noted that government revenues have gone down by around 18 per cent and the stimulus support measures for people who are struggling to make ends meet will have to be increased.
"There is an acknowledgement here and elsewhere that there is great uncertainty ahead. We don't know how long this crisis will persist. We don't know how much worse it would get," Friday said.
He said we must get our priorities right, readjust them, if even for a time, as we cope with what is an unprecedented crisis.
"We cannot assume that it is business as usual and we have to show that we appreciate the magnitude of the calamity that is affecting us," Friday told Parliament.
He said that times like these requires us to adjust things that are desirable but can be put off.
"I don't think that a new parliament building, it may look very nice, might be comfortable for us here, but to run the risk of sending the perception out there that we 'nice-ing' up ourselves while people are struggling, we can't have that characterize the nature of this honorable house," Friday said, while noting the project is a great idea but the timing requires us to reconsider.
"You don't buy a new car Mr. Speaker when you just lost your job. When you're confronted with hard choices, you have to give up certain things… this can be delayed," Friday said while adding that he does not mind sitting in the old parliament building for another year or two discussing matters that are intended to benefit people.
"You want to get some comfortable chairs, I would accept that…maybe get the AC units working again, but I really do have a serious issue with the timing now of these two major projects that will cost us over EC$53 million…they are not productive assets," Friday noted.
The opposition leader said he believes that things would get worse in the country and whatever resources we have, they should be used wisely.
"I know that you say jobs, but people are not going to appreciate the relative importance of the project when they don't know how to get through the next six months," he said, while noting that tourism, a main employer of people, is crippled right now.
He is of the opinion that the government should rethink its priorities because although the loan terms may sound like a "God send", there are people worrying about their jobs.
In response, finance minister Gonsalves said the current court house and parliament building is deteriorating rapidly.
"We all know which floorboards to dodge so our foot won't go through the floor. In wet weather there is serious problems with mould, problems with roof…," Gonsalves said while adding that the various problems have been chronicled privately and as part of parliamentary discussions.
He said there were times when "all manner of filth", had to be removed from the current building to enable persons to function in it.
"Is not one time that the exterminators have had to come in here to kill termites. Is not one time that plumbers had to come to dig raw sewage out of the ground in the parking lot and the first floor of this building. It's not one time. This building is falling apart. Let's start there," the finance minister stressed.
He said that the opposition leader says the time is not right but, "He that observeth the wind will never sow and he that regardeth the cloud will never reap.'
"If you wait for perfect weather, you never do anything. You never sow a single seed. And if you watch every cloud, you will never harvest. That is what we heard today from the honourable Leader of the Opposition," Gonsalves said.
He said he has a fundamental disagreement with Friday about how stimulus spending works in a time of economic crisis and contraction.
He said that according to British economist John Maynard Keynes, it is during a boom not a bust that you tighten your hands at the treasury, "because it is when things are tight that you have to spend money to come out of the tight situation you are in."
The finance minister said the project equates to spending money to put people to work and shoring up the Gross Domestic Product (GDP) as there are very few drivers of GDP.
He noted that drivers of GDP include tourism, agriculture and construction and the government has to drive GDP with agriculture and infrastructure development as tourism is currently crippled.
Gonsalves noted that while the NDP is not supporting this project, on Monday during parliament, four of their members asked about roads and community center and fixing them.
The finance minister said that infrastructure development is a useful fiscal stimulus in the context of a country like SVG.
He said that 400 Vincentians will get work and that repayment of the loan does not begin for three years, while employees are being taken out of a "sick building" and being placed in a good workplace.
"We can't let the building fall down to the point it cannot be rehabilitated," said Gonsalves.
"This loan at this time is precisely what we need…," the finance minister stated.