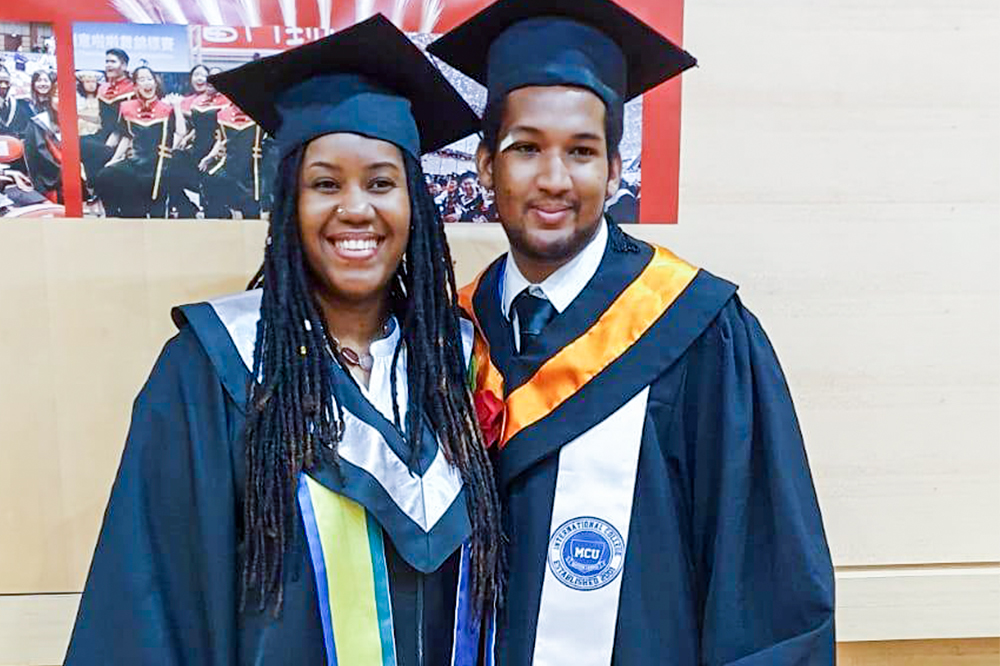 16 Vincentians graduate from universities in Taiwan
by Bria King
Sixteen Vincentian students in the Republic of China (Taiwan) recently closed another chapter in their academic journey, having graduated from their respective universities.
The cohort of students, who received full scholarships from the Taiwanese government across programmes spanning various subject areas, crossed the stage this month to collect their diplomas.
SEARCHLIGHT spoke with several of these graduates, who shared their experience of graduating during a pandemic and of the time that they have spent pursuing their studies in the East Asian country.
One Vincentian, Zuleika Lewis graduated from the Ming Chuan University with a BSc in Travel and Tourism; a degree she chose in the hopes of contributing meaningfully to SVG.
"…I think that St Vincent and the Grenadines can improve their tourism product and they need persons like me who are gaining a degree and becoming professionals, so I think that would help," she said.
Lewis, who may be familiar to some from her stints at two local media entities, has spent the last five years in Taiwan pursuing her studies and also learning Mandarin Chinese.
She believes that the Taiwan Scholarship is one that is highly regarded among Vincentians as one of the best, and that belief, coupled with the experiences of close friends led her to pursuing her tertiary education in the East Asian country.
"I would definitely say it was a great learning experience professionally and personally," Lewis, who originates from Mesopotamia, told SEARCHLIGHT.
Empress Zuleika, as she is affectionately known, has plans of pursuing a Masters degree one day. But for now, she is looking forward to returning home to SVG and working on her family business, Empressive Farms.
But due to the COVID-19 pandemic, she is not able to leave Taiwan just yet.
She noted that there were many things that couldn't be done at graduation because of the pandemic.
Lewis also said that Taiwan is considered to be one of the safest countries who handled the pandemic very well and so she did not feel afraid because certain things were done to reassure students that they were safe.
Jimari Prince, another Vincentian who also graduated from the Ming Chuan University also attests to this.
"On a day to day, when the outbreak first began, I would say that I was never scared because Taiwan's healthcare system is so good. There were a lot of news reports, there were a lot of updates, daily updates and if its one thing about them, they never leave out foreigners or visitors. They treat us basically the same as other Taiwanese so we have the same healthcare as a regular Taiwanese person," the 25-year-old said.
Along with the date being changed, Prince said several new measures were also implemented at graduation, which included limiting the number of family members and friends allowed in the hall.
And additional persons were placed in a separate area, where they were able to view the proceedings via live stream.
Prince, who hails from Rivulet, pursued a BSc degree in Applied Computing. While he has several memorable moments from his time in Taiwan, one that stands out to the recent graduate is the classroom sessions at university.
"As a part of your grade, there's a participation score that they actually focus on a lot, which is you actually speaking in class, asking questions, answering questions and it makes it a lot easier for you to pay attention, see what's happening in class and be engaged and I didn't really have that experience back in St Vincent so that was different, but it was a good experience. I'm not really a talkative person so that helped me," he said.
Prince told SEARCHLIGHT that he would definitely like to return to Taiwan in the future, but has his heart set on returning home when its possible as he hasn't returned to SVG in the last three years.
Studying in a foreign country is nothing new for Nateisha Campbell, who completed her first degree in Venezuela.
Campbell graduated from Taiwan's National Tsing Hua University this month with an MBA in International Technology Management and Human Resource Management.
And she encourages any Vincentian who wishes to, to pursue their education in Taiwan, even though it may seem daunting.
"I think they should really go for it, especially when you're young. You should take the time to discover what else is out there. It helps to open up your mind and your perspective on things. You don't want to limit what you know to just the Caribbean or just St Vincent," she said.
Campbell told SEARCHLIGHT that her latest degree allowed her to pursue two of her passions; technology and the development of people.
The graduate, who hails from Barrouallie said that she is looking to gain some international work experience, which she believes will help in her contribution to SVG in the future.
"I think it will be very valuable in our local market in the sense that if we can bring in external perception as well, perhaps it can help to just improve…when you go outside, you realise there are a lot of areas in which we can improve on and I think if we have more people with that international perspective…then it would be very beneficial to our local industries," she said.
Campbell completed a three-month internship in Vietnam at a Nike manufacturing partner last summer, where she worked on a project to redesign the Lean training programme for frontline workers.
She also has several accolades under her belt from her time in Taiwan, which include being the president of the Foreign Students Association at her university and a finalist in the National College Competition in Business Ethics Case analysis.
Campbell expressed gratitude to the Government of Taiwan for providing the opportunity for persons like her to be able to pursue their tertiary education.
"I've never considered it to be a small deal because it's very expensive to sponsor someone to come here and they have to take care of all of our expenses while we are here, so I'm very grateful for the opportunity," she said. "I just hope that more Vincentians will take the opportunity to apply for the scholarships, come to Taiwan to study and just take back some of the knowledge that they've learnt here, to St Vincent, as much as possible."
Other Vincentians who graduated this year include Twanie Fergus, Shaneek Dabriel and Shatika Cambridge, who all pursued a BSc in Medical Laboratory Science and Biotechnology at the Kaohsiung Medical University.
Brookanna Griffith also graduated from the Kaohsiung Medical University, but with a MSc degree in Medical Laboratory Science and Biotechnology.
Both Rolissa Ballantyne and Zevon Seymour attended the National Pingtung University of Science, where Ballantyne pursued an MSc in Animal Science and Seymour pursued an MSc in Biotechnology.
Antonique James graduated from the National Chiao Tung University with a BSc in Medical Engineering while Renauld Dellimore graduated from the National Taipei University of Technology with a BSc in Electrical Engineering.
Janika Williams now has a BSc in Environmental Biology and Fisheries from the National Taiwan Ocean University and Donneisha Edwards graduated with a BSc in Civil Engineering from the National Cheng Kung University.
Other Vincentian students who graduated this year are Shafana Williams and Cassica Hutchins, who graduated with MSc degrees in International Health from the National Yang-Ming University and a MBA in International Human Resource Development from the National Taiwan Normal University, respectively.
St Vincent and the Grenadines and the Republic of China (Taiwan) established diplomatic relations in the early 80s.
Vincentians have been receiving full scholarships to pursue tertiary education since 2004 and the scholarships are aimed not only at developing professionals and experts to meet the needs of SVG but also to promote knowledge, understanding and friendship between the two peoples.