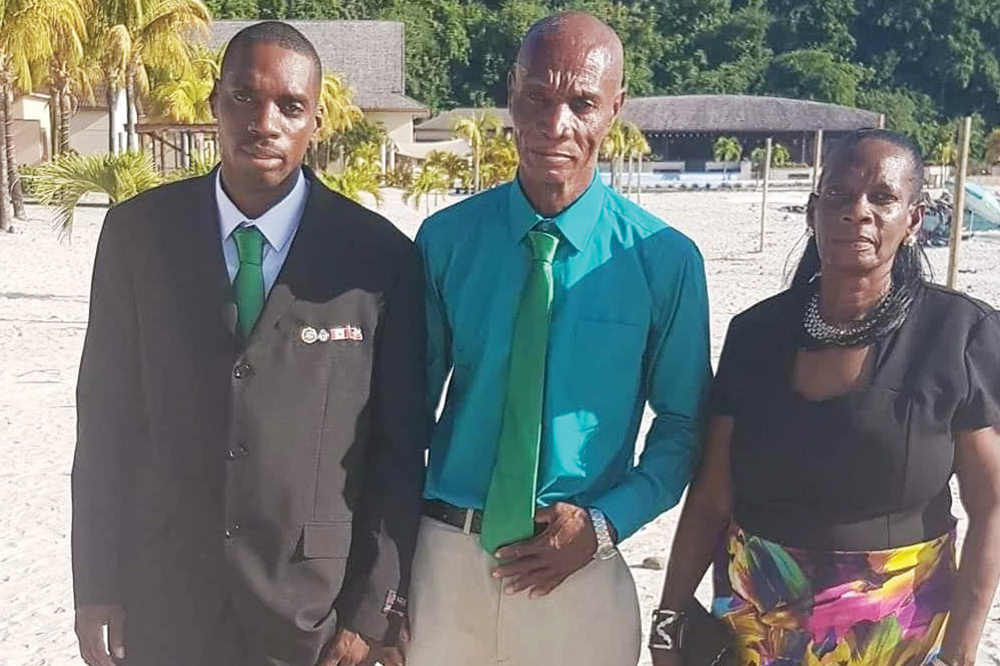 We don't have any hate, animosity towards son's killer – Chambers family
by Katherine Renton
Although Sergeant 209 Philbert Chambers died tragically in the line of duty and his family is grieving this loss, they are comforted by the life he lived and hope it will inspire the young people he worked with at the police youth clubs.
For over 11 years, starting in December 6 2008, Chambers served the citizens of St Vincent and the Grenadines (SVG) as part of the Royal St Vincent and the Grenadines Police Force (RSVGPF), before his life was cut short on Sunday, April 29, a month before his 31st birthday.
On Sunday, at around 8:05 am, Chambers and a party of police officers were executing a search warrant at the home of Gleason Lewis of Campden Park when Lewis is said to have opened fire.
It seems that Sergeant Chambers was on the frontline of the party of officers and was therefore directly in the receiving line of fire.
He died on the spot, and another officer, Police Constable 700 Verrol Sam was wounded by this onslaught. The police returned fire and Lewis was also killed by gunfire.
It is said that after the news broke "the whole" of Barrouallie made their way to the very top of Kearton's Hill, where Chambers grew up, to show support to his family.
The Sergeant, who is the ninth of 13 children for parents Coreen and Calbert "Sat-I" Bobb, is the first to leave this world.
The officer was very close to his family, and last visited them the day before his death.
Coreen, who will no longer get a call from her son every morning as she is used to doing, told SEARCHLIGHT at their family home on Tuesday that "He was a good son, the best son a mom could ever have and he loved the police force very much," and was very dedicated to it.
Chambers followed the footsteps of a number of his older brothers who were also police officers, one of whom served 20 years in the force. His brothers were also coordinators for youth clubs and one of his brothers is now serving in the British Army.
Chambers was viewed by many as a rising star in the police force, and achieved the rank of Sergeant this year, only two years after being confirmed as a Corporal in December 2018. For his last four years in the police force, he was also a detective.
He is said to have been passionate about his job, but humble. His sister Verlesha Chambers informed that he was happy for others when they were promoted and operated with the mindset "My time will come."
"He died doing something that he loved," his mother said firmly, and that they are trusting in God and gaining strength from the life he lived and example he set.
She said that they are praying that the youths he helped mentor will take the example and try to do better in their lives.
Over the years, Chambers served as coordinator to the Barrouallie and Chateaubelair police youth clubs and when he was transferred to Questelles in 2011, he formed a police youth club there.
One feeling that the family does not have is animosity towards his killer. Coreen revealed that it doesn't make any sense to feel hate towards him, because at the end of the day, he is also somebody's son.
She said that the person did not wake up that morning and think he was going to kill her son.
"He shot him yes…but he (Chambers) was on the job, so at the end of the day it's sad, it's a sad story all round, so I don't have any animosity against the guy because I know that his parents and his family are grieving just like us," she explained.
His younger sister of two years, Verlesha, also disclosed that she felt her brother's death must have been God's will. She noted that she had a cryptic dream on Saturday foreshadowing his death, which disturbed her and she prayed a lot about it and for his protection.
"We couldn't do anything about it, we could have said oh we should have done this, he should have done this different but that was his time," she stated, adding that her brother had already accomplished everything he needed to accomplish on earth.
"He died without pain and suffering, he just went out the world. The saddest thing is remembering all the memories," she commented.
The much beloved Sergeant is being remembered across the police force. The Questelles Police Station where he was stationed has set up a tribute in his memory where persons may express their sympathies at his passing. This is just one of multiple tribute stations set up at different places.
"Sgt. Chambers was a very jovial, diligent, committed and disciplined police officer who will be greatly missed by all," the RSVGPF indicated in a release.
[Changed at 11:43am on September 2, 2020, to reflect the true names of the late Sergeant Chambers' parents]