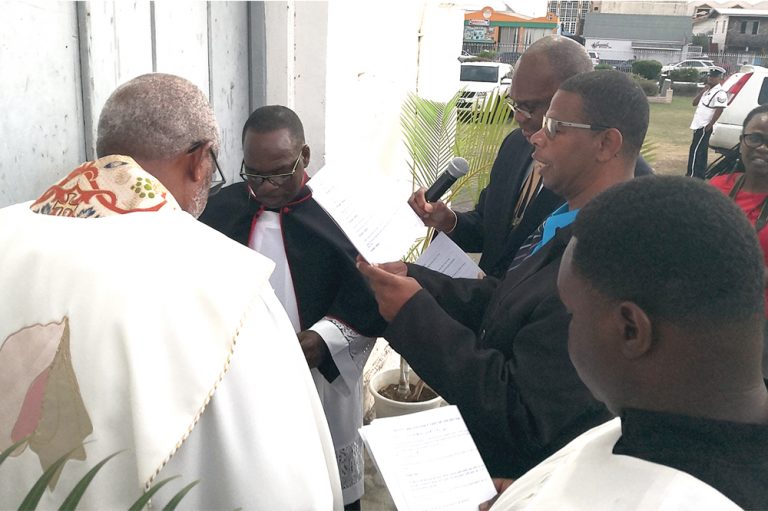 New Dean and Rector installed at St George's Cathedral (+Video)
A new dean has been installed at St George's Cathedral, the sixth in the history of the cathedral, which is celebrating the 200th anniversary of its consecration this year.
The Very Reverend Otis Samuel Nichols was installed as dean of the Cathedral and instituted and inducted as rector of the parish of St George and St Andrew during a service held on February 20 at the Cathedral church in Kingstown.
With a packed congregation as witnesses, Rev Nichols commited himself to the new appointment of trust and responsibility.
Nichols, 48, had his call to the priesthood through St Paul's Anglican Church in Calliaqua. He was ordained to the Diaconate on June 29, 1995 and to the priesthood on July 22, 1996.
He has served the Diocese of the Windward Islands at Holy Trinity, Georgetown; St Matthew, Biabou; St George and St Andrew in Grenada; Christ the King with St Francis in Carriacou; and at St Paul, Calliaqua and St John, Belair.
Reverend Nichols is now the Dean and Rector of the Cathedral Parish of St. George's with Ascension and Transfiguration.
Otis Samuel Nichols is the son of Annette Nichols and Samuel Aberdeen. He is married to Jenine Lisa (nee Regisford). They have three daughters – Janique, Otisha, and Angelique.
The new dean succeeds Reverends A Huggins, L Lett, U Smith, S Goodridge and P McIntosh as both dean and rector, while 16 other priests were installed as rector only, from 1798 up to 1969 with the last one being GCM Woodroffe.
The Officiant and preacher at the service was Bishop, the Right Reverend C. Leopold Friday.
At last week's service, the Venerable Michael Marshall and Reverend Canon Junior Ballantyne were also installed as members of the Cathedral Chapter, while recognition was paid to Douglas Williams, Patricia James and Denis Lambert (deceased) as honorary lay canons and Justice Francis Cumberbatch as Chancellor Emeritus.