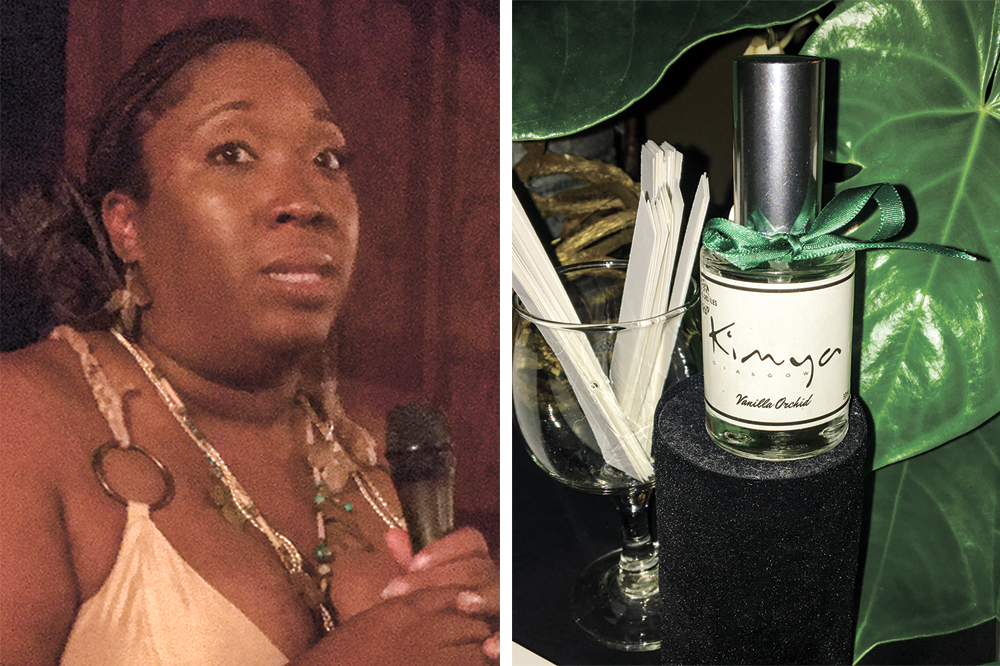 Kimya Glasgow launches signature fragrance
Kimya Glasgow can now boast that she is perhaps the first fashion house in the entire Caribbean to have its own signature fragrance.
Glasgow, a local designer officially launched her fragrance, 'Vanilla Orchid' on Wednesday, December 18 with a small cocktail at Flow Wine Bar.
The fragrance is a collaboration between the local designer and popular perfume brand in Martinique, Parfum des isle.
And it is an opportunity that Glasgow was able to take advantage of through the TEECA programme, which is run by the OECS Secretariat and the Martinique Chamber of Commerce.
"It is quite an honour because we are the first fashion house that they have collaborated with and they (Kimya Glasgow Designs) are actually the first fashion house in the entire Caribbean that has its own signature fragrance " she said.
Glasgow said that in fashion, fragrance is seen as the "invisible accessory". And she described her brand's signature scent as a "fresh and fruity eau de toilette with a scrumptious and sensual aura with of red fruits and pear and a subtle blend of vanilla and almond breeze".
She added that it was meant to be an elegant and noble fragrance that will match the brand's natural and eco-conscious nature.
And the designer intends to bring out more scents in the future and collaborate again with Parfum des isle.
Annette Mark, the executive director of Invest SVG was present at Wednesday's launch.
And she said that Glasgow's perfume is a unique product that will help this country to stand out on the world stage, particularly as Invest SVG is preparing to take part in the upcoming expo in Dubai in 2020.
"…it's something that's easy to travel with and it is not the normal run of mill product that you will find everywhere all over the Caribbean, so we are not competing," Mark said. "I heard Kimya say it is the first fashion house in the Caribbean that has its own signature [fragrance]. Now that is something that we can use to sell St Vincent and the Grenadines and in going to Dubai, that is what we are looking at. We are looking at product and services that will distinguish us from other Caribbean islands."
One individual who had a sniff of the fragrance said that she believed it to be a scent that would be long-lasting, not overpowering and one suitable for persons of all ages.
Another person present at the event described the scent as clean and classic.
And she said it was definitely a scent that she could associate with the resort wear and Caribbean style fashion designs that are usually featured in Glasgow's collections.
'Vanilla Orchid' retails for EC$160 and is currently only sold at Kimya Glasgow's store, which is located at the Cruise Ship terminal in Kingstown. It can also be purchased via her website, kimyaglasgow.com.