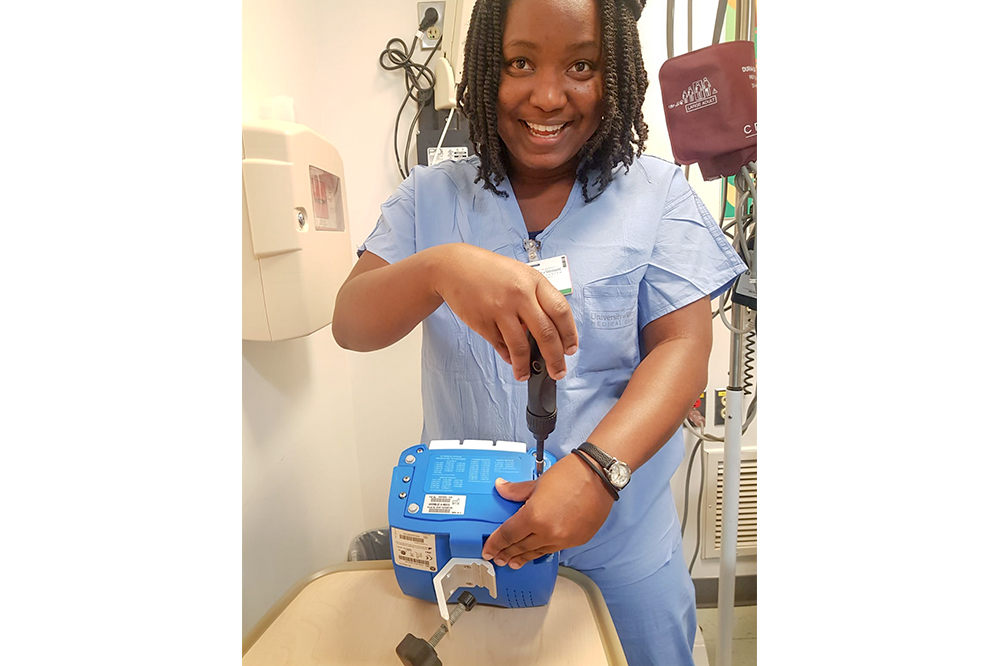 Vincentian completes internship in clinical engineering in Vermont, US
by Bria King
One Vincentian plans to put her experience from a clinical engineering internship to good use by helping her country become more developed in that field.
Kenichia Charles was the first Vincentian to become enrolled in the biomedical engineering programme at the University of the West Indies, St Augustine campus.
She was also the first Vincentian to graduate from the programme with the highest grade point average in 2018.
And in September this year, she achieved another first when she became the first Vincentian to take up the clinical engineering internship at the University of Vermont in the United States.
"The internship is about being trained by experts in biomedical engineering and biomedical engineering field; qualified, certified biomedical engineering technicians mentoring, training, orientation and for interns to develop a cross disciplinary and ethical perspective about the biomedical engineering field. They also offer a lot of practical experience, administrative exposure about healthcare technology management," the 23-year-old told SEARCHLIGHT on Wednesday.
Charles explained that the internship was an award for graduating from her UWI programme with the highest GPA. But due to financial constraints, she had to defer the opportunity.
During that time, she did her research, which led her to applying for a grant from the Hunter Brooks Watson Memorial Fund.
Charles, who is a teacher at the Buccament Bay Secondary School said that while the internship was a paid one, she still had to pay for rent, warm clothing and travel.
So she was excited and extremely grateful to hear that she was successful in obtaining the grant, because without the Fund, she would not have been able to take up the internship.
"…being awarded the grant is what brought me here because the amount I had provided, what I had requested covered everything for me and I think in terms of finances, that's the only reason I got here…," she said.
Charles spoke excitedly about her experiences, which also included being present for heart surgeries and monitoring machines during the process.
And she told SEARCHLIGHT that the internship, which ran for three and a half months, has helped her to develop both professionally and personally, and acquire a network that she could in the future tap into for the benefit of the health sector here.
"Technology continues to evolve, especially medical technology where patient safety is of utmost importance and in St Vincent and the Grenadines, we are a developing country," she said. "We have a lot of medical technology at home that is outdated and in me gaining this knowledge, I would be able to keep up to date and maybe contribute at home in terms of procuring equipment with the network that I have created here, more up to date equipment, in terms of maintaining our medical equipment that we have at home…"
The teacher also said that she has a lot of ideas that could be implemented in the health sector here and she hopes to be one of the people helping to maintain equipment and keeping them up to standard.
The young woman also had some words of encouragement for persons struggling to follow their dreams.
Having grown up less fortunate with an alcoholic mother and absentee father, Charles said that she realised at an early age that education was her way out.
She said there were times when she wondered whether she should go after her passion or if she should take the easy way out and stop making things difficult for herself.
"But then when I do some reflection, my life would really have no purpose if I don't go after my passion…I would've never thought that doing biomedical technology at UWI would get me here because I never knew about the opportunity," she said. "My successes, my accomplishments so far, have been through perseverance because I have encountered a lot of difficulties pursuing what I want; my passion and if not for perseverance, I wouldn't have been here."
Today is Charles' last day on the internship programme and she will return home on the weekend. She already has plans for her way forward.
"I will continue to teach and during school vacations, I will continue to volunteer and volunteer with the ministry of health in terms of maintaining medical equipment with their team there," she said.
Charles also plans to "do some corrective maintenance on the side, in terms of getting myself established and how I can move forward in terms of 3D printing, manufacturing equipment and …when I get back home, it's more of reflection and contemplating on how I'm going to go forward with all these ideas that I have."