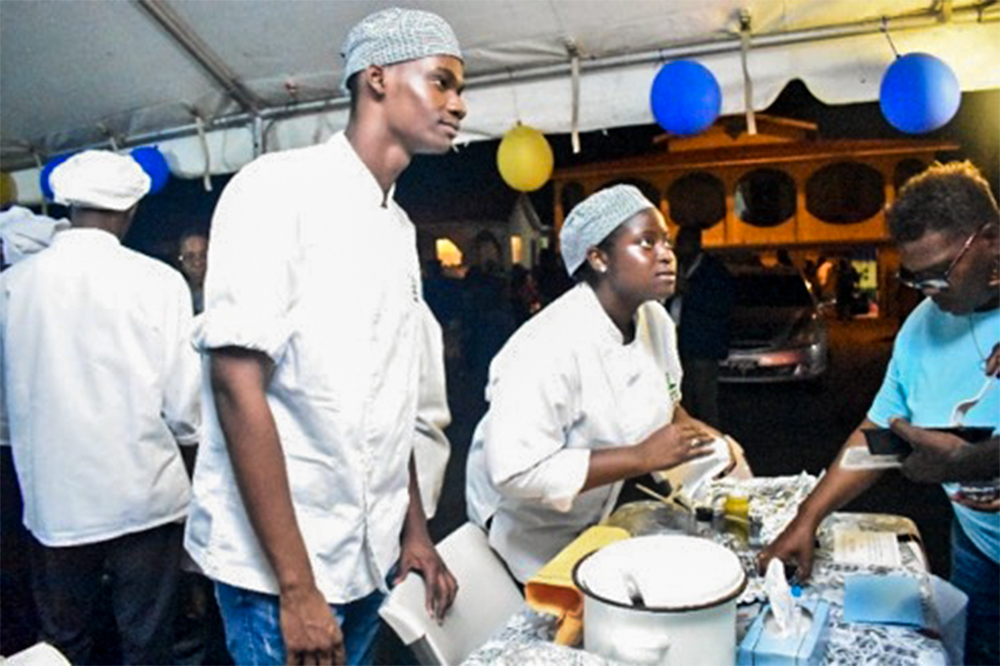 Barrouallie Technical Institute Hosts Culinary Festival
On Friday, November 29, past and present of the Barrouallie Technical Institute (BTI) were given the opportunity to participate in its inaugural Culinary Festival held at the Barrouallie Playing field.
The event, which was supported by the National Insurance Services; (NIS) was held to create an avenue for persons who attended the institute but remain unemployed. The event sought to assist the participants to become financially independent and empowered, to bring an awareness of the benefits of investing and participating in Technical Vocational Education and Training, and to encourage a spirit of entrepreneurship among our youths.
Trainees from the Kingstown and Georgetown technical institutes, past trainees of the Division of Technical and Vocational Education and Mishker Edwards of Qura Qu- J Rums, also took part in the Festival and expressed satisfaction with the support received.
Culinary Arts Instructor Danielle Connell, commended all participants for putting what she describes as the 'WOW" factor into the event.
According to Connell, "It was touching to see the innovative ways they took to the challenge and independently produced exactly what we were looking for; delicious Vincy dishes with a flair." She further noted that several aspects of their training stood out: consistency with onsite plating, smiling faces, and quality customer service. The bartenders were not left out as their professionalism and quality of drinks served also provoked a rewarding feeling. While attending the Institute the trainees participated in Caribbean Vocational Qualifications (CVQ) Commercial Food Preparation and Food and Drinks Service Level 1.
Kenroy Questelles, Director of the National Qualifications Department congratulated the institute for hosting such an event and encouraged the participants to continue on the part of self-sufficiency, Questelles also encouraged others to take advantage of the many training opportunities offered at the various Technical Institutes across SVG.
Principal of the Institute Pearlette Primus Hannaway congratulated the participants and thanked all those who contributed to the event and by extension the institute. She expressed the hope that the event will be an annual one. She said she looks forward to more support from Industry as it relates to supporting TVET related activities since Industry is the primary consumer of TVET graduates and should thus participate and contribute more to this sector.
The Barrouallie Technical Institute is one of four TVET providers in St Vincent and the Grenadines.