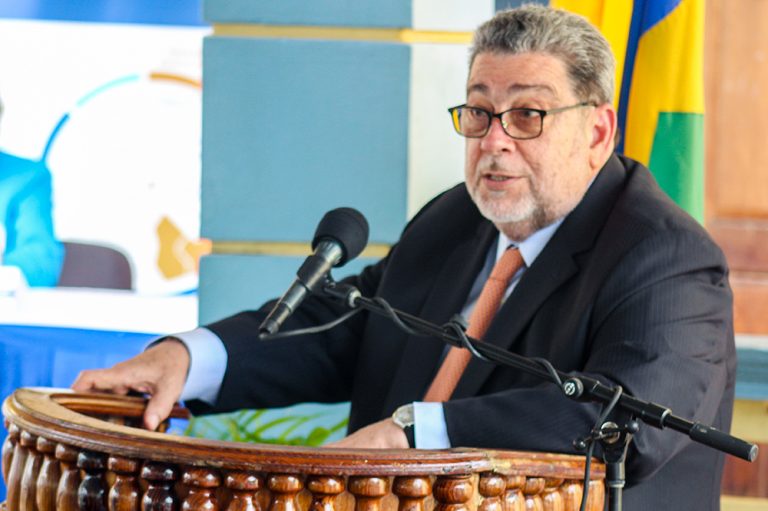 SVG will not get involved with CBI – PM Gonsalves
In the wake of an Al Jazeera investigation linking politicians in the Caribbean to a corrupt trade in diplomatic passports, the Prime Minister has reiterated his government's stance on Citizenship by Investment (CBI) initiatives.
"Everybody can go about selling passports if they want and selling citizenship. The government which I head will never do it," Dr Ralph Gonsalves told a gathering at the Questelles Police Station on Monday.
He was at the time addressing the launch of the Police Records Management Information System (PRMIS) which had in attendance among others, the United States (US) Ambassador to Barbados and the OECS Linda Taglialatela and Resident Representative United Nations Development Programme (UNDP) Barbados and the OECS Magdy Martinez-Soliman.
The Prime Minister said that this country would not get involved in CBI on grounds of principle and practicality and the US and many other countries agree with this stance.
"The principle is very straightforward. The highest office in the land is that of citizen. It is that which binds all of us together in a political society called a state, we have rights and obligations to each other, that's the highest office.
"Higher than Governor General, higher than Prime Minister. It is not a commodity for sale and the passport is the outward sign of the inward grace of citizenship and that to is not a commodity for sale," Gonsalves recited.
The Minister of National Security said many persons claim that a CBI program makes a lot of money but there are many ways to make money that are wrong.
"Why not, you want to organize state sponsored prostitution and use it as a tourism tool to promote, to bring in people here?", Gonsalves said.
He noted also that CBI programs are not sustainable, and he does not see how a country can be taken seriously if 20 per cent of its citizens have bought passports.
Gonsalves said because of the numbers involved, it is difficult to institute good screening practices.
"I know the due diligence capacity of these small countries. They can do due diligence on one or two investors coming in, build hotels and the likes, but for hundreds of passports applicants?", Gonsalves questioned.
He added also that persons say they will ask the Federal Bureau of Investigations (FBI) for help, but the FBI, "doesn't have time with you."
"Somebody might stamp it alright, on the face of it. They might just Google to see, research by Google, and you give them a passport? Well I'm sorry, I shall be saying this ages and ages hence," Gonsalves reiterated.
He says that he knows there are concerns all over the world when it comes to CBI programs.
Al Jazeera's report, dubbed, "Diplomats for Sale", speaks of politicians in Dominica and Grenada willing to accept secret campaign contributions from wealthy foreign businessmen in exchange for diplomatic passports through their CBI programs.
The 18-month investigation also looked at how dozens of wealthy international businessmen have been made ambassadors by several Caribbean states to represent them in countries around the world and at the United Nations (UN).
The opposition New Democratic Party (NDP) has said if they gain power, they will initiate a CBI program for SVG.