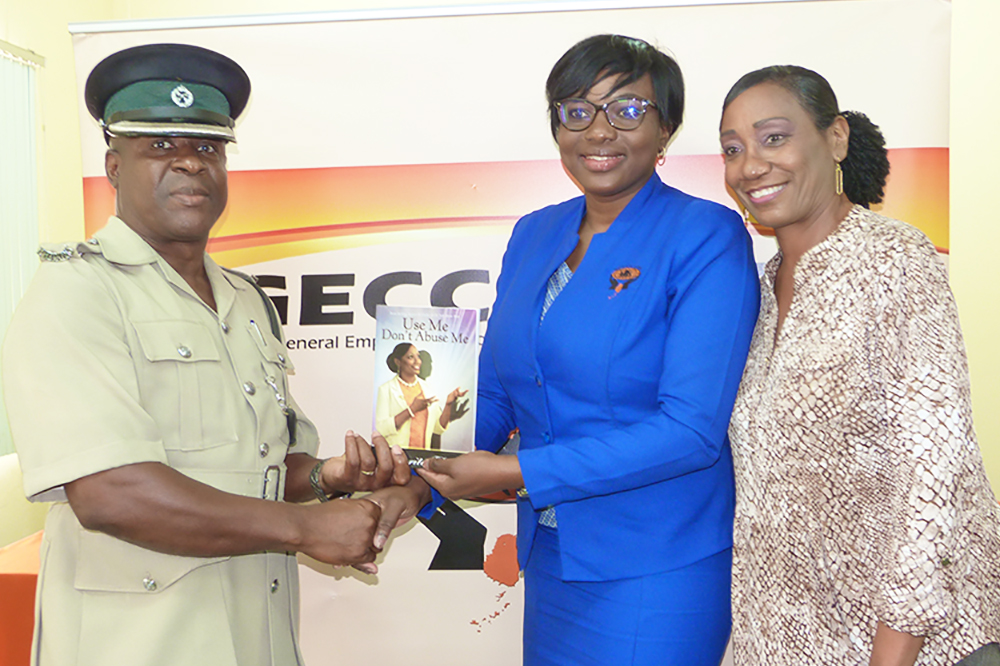 GECCU stocks prison library with self-help books "Use me, Don't Abuse me"
The prison library is now fully stocked with the self-help books "Use me, Don't Abuse me" after the donation of 15 copies of the resource by the General Employees Co-operative Credit Union(GECCU).
The Senior Marketing Officer at GECCU, Danny-Lee Francis, on behalf of the CEO Lennox Bowman, commented at the GECCU conference room on August 11 that they were very pleased to be donating the copies of "Use me, Don't Abuse me," written by talk show host, author, motivational speaker and life coach, Carita Dee.
"We hope that other financial institutions would come on board and really help the prison in terms of their rehabilitative efforts for all the inmates, females and males," she expressed.
It is the first time that the institution has donated to the prison, but Francis commented "I hope it would not be the last, and as Mr [Brenton]Charles (Superintendent of Prisons) said earlier we really want to help in terms of stocking of the library because we that know through education, through reading, people would expand their thoughts, their thought patterns and hopefully it would be a real initiative in the rehabilitative efforts of all the prisoners at prisons."
GECCU's donation came at the request of the author herself, who started moving on the initiative after her visit to Her Majesty's Prison, when she spoke to the inmates.
"Once we got in and started speaking to the prisoners and realizing, I mean amazingly, that it fit, that the book and the motivation fit then… from there we started the whole campaign of which GECCU and other institutions came on board to support the prison," the Vincentian born life coach who spent her formative years in the United States and then time in Barbados, stated.
Dee stated that the book not only talks about physical and emotional abuse, but "abuse of our time, abuse of our talents, abuse of our money, our children."
She believes that it is the mindset of the inmates that needs to be changed. "A lot of times when we go in and we talk to prisoners we give them a plate of what we feel is palatable, just regular stuff that we think will help with the rehabilitation, not realizing that this book is of a spiritual nature and as a man thinks of so is he," she explained.
"As I was talking to the prisoners many of them have expressed that they thought it was just timely, that it really made them think," she revealed.
She could not single out a chapter, and stated that the entire book is cohesive. "We are spirit, soul and body so we need all the elements coming together and that's one of the things that I really enjoyed when I went into the prison here; are fantastic the way that they're bringing all the elements together, spirit, soul and body," Dee commented.
She disclosed that Her Majesty's Prison is operating under those principles and the prisoners: "They're being well fed, their emotional arenas are being catered to, their bodies."
SOP Charles was present personally to receive the donation, and he expressed that the prisons was "truly delighted" for it.
"We're hoping that as they (the inmates) read these books and as we attempt in varying rehabilitative efforts that our inmates would get on board, take advantage of what is being offered, and as they leave the prison that the rest of society," helps them to integrate back into society as well.
"I hope it will change some mindset you know we have quite a bit of people back there who are in for offences, violence against women and other people, and if we just look at the title, "Don't abuse me" should help change some minds, turn them away to do more uplifting and positive things," Charles disclosed.
The books will be part of the prison library which the Superintendent assures is functioning although not at the level that the prisons desires.
"We're getting some help from the public library, they've been working with us, getting it properly stocked and so forth, and catalogued and they're using it to some degree, but we want it to be used more and so forth," he revealed.