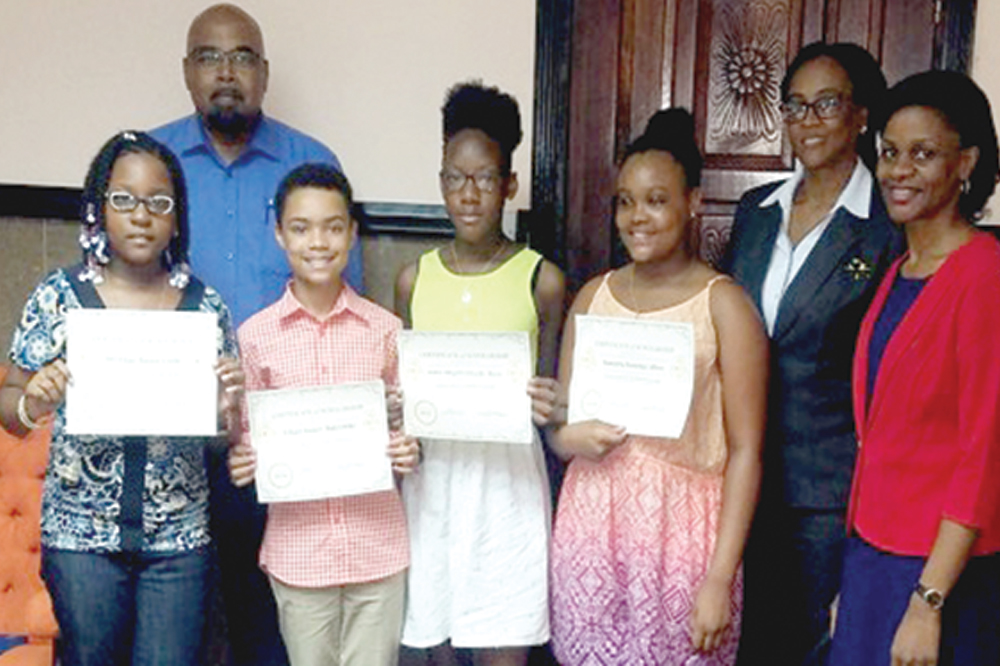 Students awarded Building and Loan scholarships
The St Vincent Building & Loan Association on August 20 handed over cheques to four new scholarship holders for the academic year beginning September 2019.
These students were selected from the successful applicants who sat the CPEA examinations. The ceremony took place at the Association's office and was attended by members of the Board of Directors, the new scholarship recipients, their parents, past scholarship recipients, the media and members of staff.
The programme began with prayer by a member of Staff Pethion Greene – Internal Auditor, followed by opening remarks from Ava Weekes – Manager Customer Service. Weekes highlighted the many products and services offered by the Association to the students and parents and gave a history of the St Vincent Building and Loan Association scholarship program indicating that the scholarship can either be merit-based or need-based. The scholarship is for five years and extended for an additional two years for persons who continue studies at the St Vincent and the Grenadines Community College.
There are currently 15 scholarship holders and their payments range from $1000 to $1400 for each academic year.
Adiah Holder, one of the top performers for the 2019 CSEC examinations is a proud SVBLA scholarship holder. She addressed the gathering and encouraged the students to work hard to make themselves, their parents and the Association proud. Holder shared her perspective from a student's outlook and shared some valuable tips with the new scholarship recipients.
Cassie-Anne Laidlow, a past scholarship recipient and part-time employee of the Association also addressed the audience as someone who was afforded the opportunity to work with the Association while pursuing medical studies. Laidlow reminded the new recipients that mentors are available when academic advice or a good lecture is needed as the Association has staff with various expertise and that they should utilize these resources. She was grateful that the Association allowed her to have summer training and internship opportunities. She left the students with food for thought: "Education is what survives when what you've learned has been forgotten. Do not wait to strike until the iron is hot, but make it hot by striking".
The 2019 recipients are Jaden Edwards-Barry, Ethan Balcombe, Devenae Lyttle and Samara Allen who will be attending the St Vincent Girls High School, St Vincent Grammar School, the St Joseph's Convent Kingstown and the Bethel High School respectively. Their cheques along with SVBLA branded items were presented by Directors Lucille Browne and Colin Bacchus. Holder was also presented with a bouquet of flowers in recognition of her achievements at CSEC. Jaden Edwards-Barry thanked the Association on behalf of all the recipients and the parents also expressed their appreciation.
The Board of Directors, CEO, Management and Staff of the Association wish the students all the best and encourage them to continue to work hard and strive for excellence as they embark on a new journey for their Secondary Education.