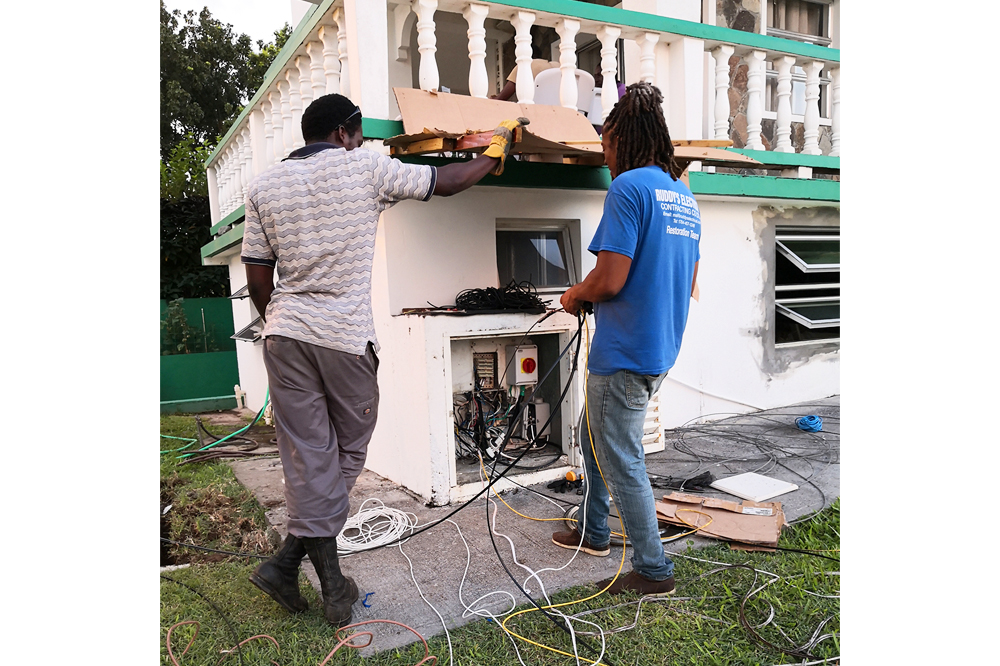 Direct lightning strike wreaks havoc at We Fm
Full service expected to resume by weekend
Full functionality is expected to resume at We FM 99.9 by this weekend, after the radio station was knocked off the air by a direct lightning strike early Monday morning.
"I was still hearing it up to 10 hours after," managing director of We FM Julius Williams told SEARCHLIGHT, as he described the ear-splitting explosion that echoed through his property at Lower Questelles when the lightning hit at about 2:15 am.
When day cleared and Williams finally emerged from his home, located about 30 meters from the radio station, the first thing he noticed was three craters in the concrete pavement, one about 24 inches wide. The lightning had also knocked away about 10 feet of concrete balusters, and blown away the two metal covers of a manhole, exposing conduits containing electrical and data cables and water pipes.
Williams said when the lightning accessed the manhole, it generated a high voltage to all the electronic equipment at both the radio station and the nearby residence, blowing everything apart.
He said he lost almost every piece of electronic equipment, including 13 computers, air conditioning units, televisions, computer monitors, a PBX system, light fixtures and a refrigerator.
"All the telephone boxes, electrical outlets and main switches were fried, burned black, beyond recognition," Williams said.
An electronics engineer, Williams said all lightening protection devices on the property were rendered useless. He noted that all the computer monitors were damaged, even those that were turned off. "Once a cable was connected," it burned, he said.
The entire compound is being rewired and over 200 meters of upgraded underground data and electrical cables will be run from the utility pole in the street to the studio.
Williams said he is using the opportunity presented by the damage to upgrade his infrastructure. Additionally, he will replace most of the copper wire coming to his data systems with fibre optic cable.
"Lightning likes copper and anything with DC current in it; the DC circuits were the ones affected mostly, " he said, adding that lightning does not affect fibre optic cable.
On Tuesday, when he spoke to SEARCHLIGHT, Williams was unable to put a dollar value on the damage, as he was still doing his assessments and ordering replacement equipment.
"We are still checking stuff, work is still ongoing," he said.
The radio station was off the air for most of Monday, but by Tuesday, music was being broadcast, and some programming resumed on Wednesday. The telephone lines needed to facilitate call in programmes were restored late Wednesday night.