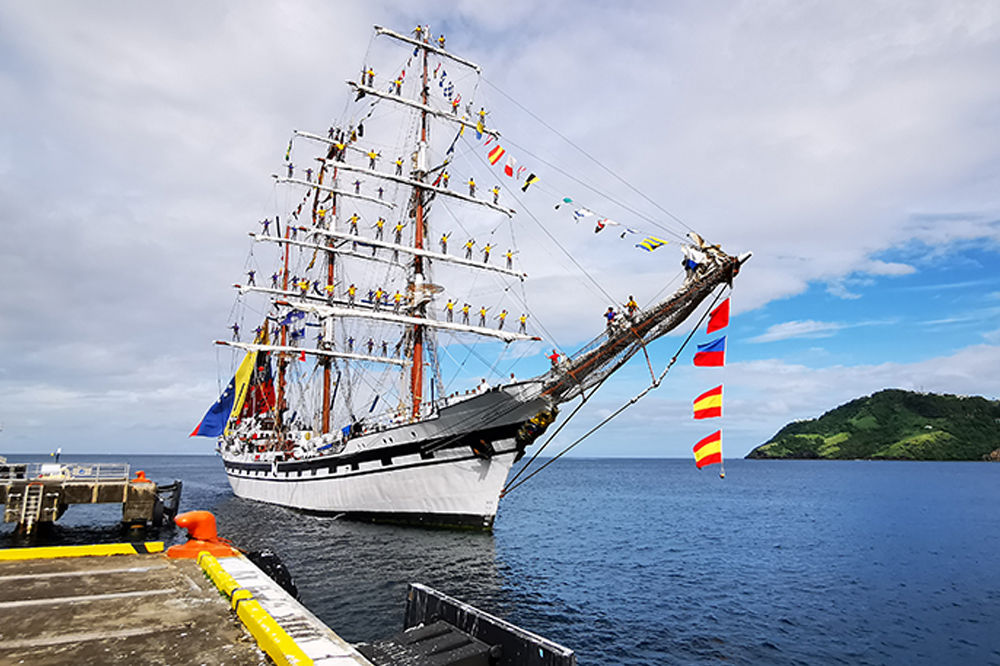 Venezuela school vessel visits SVG
On Saturday, August 17, the Simón Bolívar School Vessel (BE-11) of the Bolivarian National Armed Forces of Venezuela arrived at port Kingstown as part of its XXXI edition of the Foreign instructional cruise "Caribbean 2019".
The 190 crew members of the "Ambassador Without Borders" were received by Prime Minister Dr Ralph Gonsalves; the head of the Venezuelan Mission in SVG, Francisco Pérez Santana; the Ambassador of Cuba to SVG, Vilma Reyes Valdespino, diplomatic corps accredited on the island, members of the Vincentian Cabinet, solidarity groups and friends of Venezuela.
Prime Minister Gonsalves said "there is a strong friendship between St Vincent and the Grenadines and Venezuela, at this moment when the Venezuelan people are fighting for their independence, sovereignty and defending themselves against imperialist attacks."
Francisco Pérez Santana, head of the Venezuelan mission in SVG explained that the "young people who belong to the Bolivarian National Armed Forces of Venezuela, who made this trip through five friendly countries are making a great sacrifice on this instructional cruise because at this time the Venezuelan people are under a terrorist and inclement attack led by US President Donald Trump.
"
Commander of the Simón Bolívar School Vessel, Alexander Rivera Sojo said that "this is the second time that we are visiting St Vincent and the Grenadines; the first time was in 2017. We say a heartfelt thank you for the reception that you all have given in this humanitarian land, full of gallantry, temperance and with a deep spirit of overcoming adversities…. we will continue to fulfill the historical responsibility delegated to us with loyalty, commitment and delivery, guiding the steering wheel of this great vessel to safe harbour …"
On a tour of the ship's facilities, Prime Minister Gonsalves met with some of the cadets and chatted with them urging them to "read and study to be free."
In the welcome ceremony of the School Vessel, the Cuban pianist Zahily Laildow performed the song "Venezuela" and the Vincentian musicians Mitchell Enrique Israel and Matthew Ernesto Israel played the pan as part of the Vincentian cultural show.
During their visit, the crew of the ship will participate in an exchange program, tours of tourist sites and sporting and cultural meets. The Simón Bolívar School Ship will remain in Kingstown until August 21 and will be open to the public for free guided tours from 9:00 a.m. to 12:00 p.m. and 2:00 p.m. until 6:00 p.m.