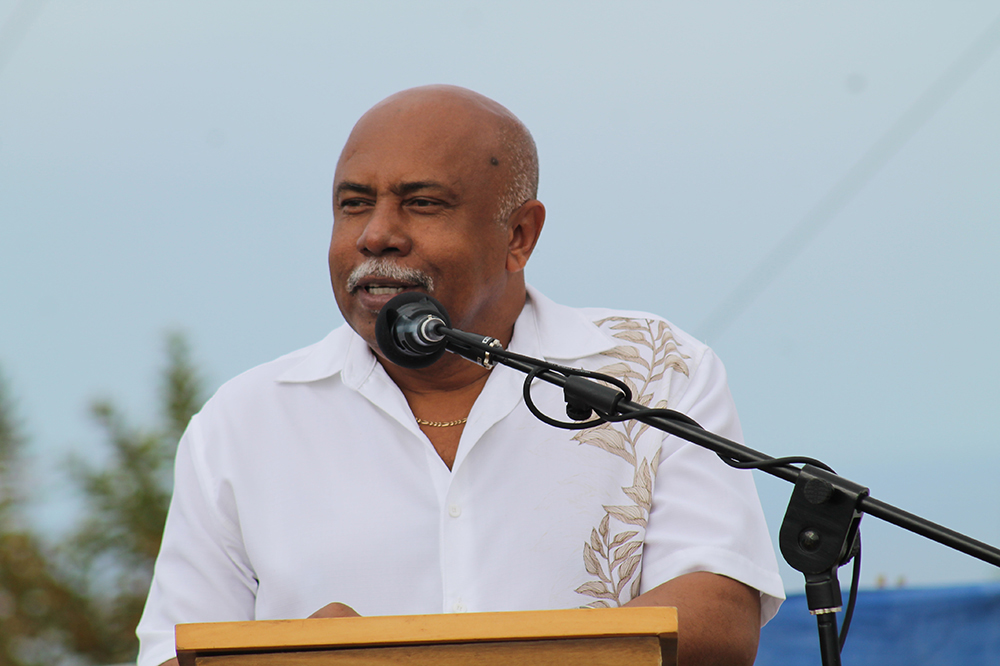 Garifuna Contingent receives praise from Minister of Tourism
The Garifuna Homecoming Contingent has received praise from Minister of Tourism, Sports and Culture Cecil McKie for their interest in and love for St Vincent and the Grenadines (SVG).
The contingent was made up of Garifuna descendants from throughout the Americas.
McKie spoke of the input of the group on Thursday August 1, Emancipation Day, during an event at the Chatoyer National Park which was being held to launch the "Sports Against Crime" program.
McKie said a Caribbean Airlines flight brought the group to SVG from New York and when the plane landed at the Argyle International Airport (AIA), shouts of excitement were heard.
He noted that members of the group will go to the communities of North Windward, North Leeward, Central Leeward and Greiggs, Garifuna communities, where they will hold workshops.
"In other words, they have come here to work, to meet their people and to light that candle so that they will keep coming again and again", said Mckie.
He noted also that over 500 overseas Garinagu had shown an interest in coming to SVG during Emancipation month but that would have created a challenge, so they were asked to come annually in smaller groups.
McKie noted also that the government entertained the group with a luncheon at Hotel Alexandrina and the group received a history lesson from Prime Minister Dr Ralph Gonsalves during a cocktail ceremony.
"We welcomed persons from the Garifuna Diaspora. This was part of our renewal and emancipation, and they are intricately linked," McKie noted.
Also present at the launch of "Sports Against Crime" was Consul General of Belize to the United States (US) Herman Longsworth; Los Angeles physician and Honorary Consul of SVG to the US, Dr Cadrin Gill, and Rosita Alvarez (spokesperson of the Garifuna Homecoming Contingent).
Alvarez said the group was in SVG on Emancipation Day to celebrate freedom and they look forward to a long and fruitful continuous collaboration with SVG.
"We will be coming again with more Garinagu to be here with you guys around Emancipation Day or on Emancipation Day," said Alvarez.
Álvarez also praised local calypsonian Zamfir "Man Zangie" Adams for his "Hail Garifuna" song.
She said when the song and video were released, it was one of the most watched songs among the Garifuna people overseas.
"We were so proud that a video of that nature representing Garifuna was on the Internet, on Facebook thanks to him very much," said Alvarez who also sang high praises of Minister Montgomery Daniel.
Dr Gill, the first doctor of Garifuna descent from St Vincent and the Grenadines said the Chatoyer National Park should be looked at as a mecca and as a reminder that a lot of Garifuna were disenfranchised by the colonialists.