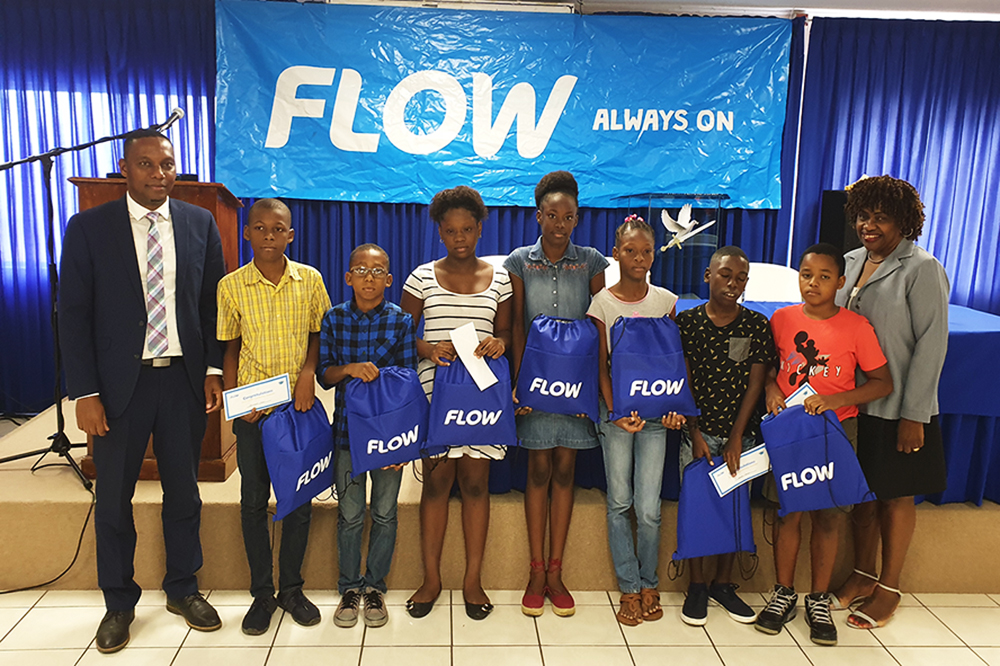 FLOW awards three scholarships, four bursaries to students
FLOW's scholarship initiative has now seen the telecommunications provider pump over EC$1 million into helping the children of their employees and customers get a proper education.
This Wednesday at Frenches House, seven students received help from FLOW through the company's scholarship program. Three of them received full scholarships while four were awarded one-off bursaries.
The seven students are among several others who FLOW has been helping through its scholarship initiative which spans 35 years.
Receiving the scholarships were Desvorne John, Amara Adams and Nyles DaSouza. The bursaries went to Samella Young, Keonzo Young, Ananda Henry and Otavio John.
Speaking at the ceremony, FLOW's Country Manager Wayne Hull said the scholarship program shows the commitment of the company to education.
"We are happy we can give this level of support to education," said Hull who added that this year, they have invested over EC$60,000 in scholarships, prizes and grants to students at secondary school and at the St Vincent and the Grenadines Community College (SVGCC).
The Country Manager also revealed that this year, FLOW re-examined the cost of attending the SVGCC and found it has risen, so the SVGCC scholarship has been increased from EC$1600 to EC$2000 a year.
He however told students that keeping their scholarship is dependent on their grades.
"Over the years, only a small amount of students have not lived up to the standards. It is important to maintain a passing grade every year and get promoted to the next form and maintain a good conduct record to maintain the scholarship," stated Hull.
The three 2019 scholarships were awarded to the child of one staff member and the children of two customers. The students were rewarded based on their performance at the Caribbean Primary Exit Assessment (CPEA) and to some extent FLOW also looked at their financial need.
It was noted by the Country Manager that FLOW also gave scholarships to the winners of the 2018 Lion Clubs South Public Speaking Competition; and they collaborated with the Ministry of Education to provide a full scholarship to the student who performed the best at CXC/CSEC after remediation.
FLOW's Dazilon Arthur said the scholarship ceremony was a proud moment for FLOW.
"Today we stay true to our commitment to invest in the education of our nation and the development of the youths. We are proud that over 35 years later, this scholarship fund is still going strong and continues to change the life of hundreds, if not thousands of students and their families," said Arthur.
Also commenting was Senior Education Officer Kay Martin-Jack who noted that it is always good when employers take interest in employees and when businesses look out for customers.
She said it was commendable that FLOW was partnering with parents to make sure children have the opportunity to excel in their educational pursuits.
Speaking on behalf of the parents, Amoy Munroe, the mother of scholarship holder Jeshari Munroe, thanked FLOW for its commitment.
She said over the past 35 years, FLOW has shown that it supports the idea that education can change the world.
"Having wisdom and understanding is better than silver and gold…I will like to implore you to use every opportunity that presents itself for your own growth and development and always strive for excellence," said Munroe.
Scholarship holder Keshante Smart also thanked FLOW for its generosity. She said FLOW has invested in their education and helps lift some of the financial burdens from parents.