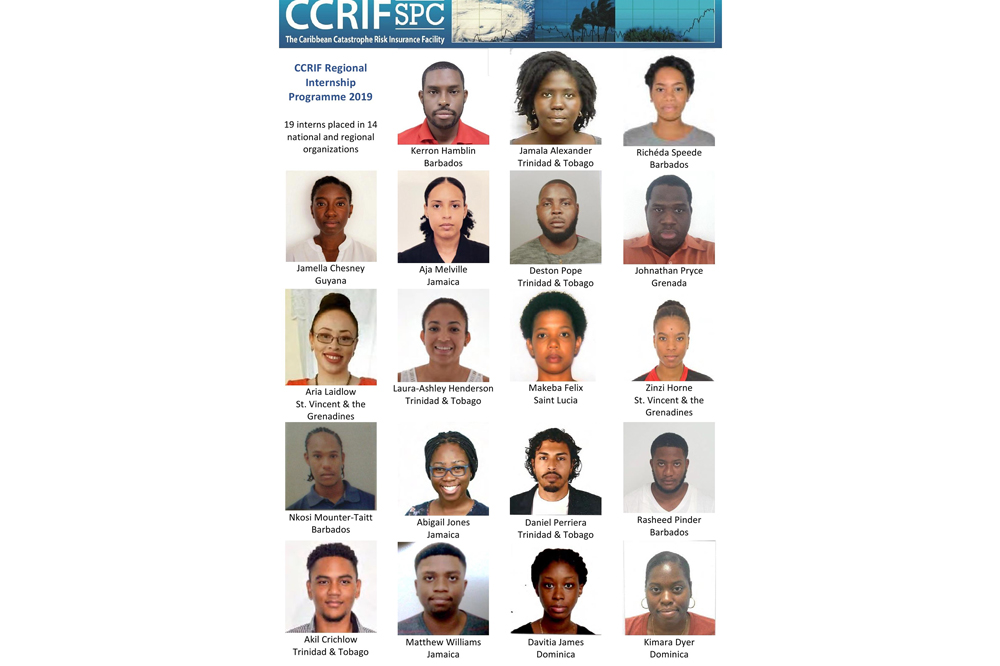 CCRIF grants 19 university graduates an internships at host organizations
Under its Regional Internship Programme for 2019, the Caribbean Catastrophe Risk Insurance Facility (CCRIF) has placed 19 young university graduates from seven Caribbean countries as interns in 14 national or regional host organizations to gain work experience and assist these organizations with undertaking key assignments or research.
Each year CCRIF allocates US$75,000 to the programme which is used to provide each intern with a stipend for the two-month internship and for airfare and accommodation for those interns placed in organizations outside of their home country. This cohort brings to 104 the total number of internships implemented since the programme was launched in 2015, with CCRIF investing approximately US$335,000 over the period.
CCRIF's Regional Internship Programme provides opportunities for recent university graduates from the Caribbean who have earned degrees in disaster risk management, environmental management, actuarial science, geography, civil engineering, climate studies and other related areas to be assigned to national and regional organizations where their educational experience can be enhanced through practical work assignments and research projects.
This year's host organizations comprise 14 organizations:– 10 regional institutions: the Caribbean Disaster Emergency Management Agency (CDEMA), Caribbean Institute of Meteorology and Hydrology (CIMH), Caribbean Regional Fisheries Mechanism (CRFM), Caribbean Meteorological Organization (CMO), Association of Caribbean States (ACS) and The University of the West Indies' Centre for Resource Management and Environmental Studies (CERMES), Centre for Marine Sciences Discovery Bay Marine Laboratory, Seismic Research Centre (SRC), Climate Studies Group Mona (CSGM), and the Department of Geography at the St. Augustine Campus; and four national agencies: the disaster management agencies in Barbados and the Cayman Islands and the meteorology offices in The Bahamas and Trinidad & Tobago – and some host organizations such as CRFM, CIMH and the Trinidad & Tobago Meteorological Service will receive more than one intern this year.
The 19 interns will work on a range of projects, including among others:
An impact assessment of climate change on the sandy shorelines of the Caribbean – to be undertaken at ACS
Implementation of a national hazardous materials plan and earthquake plan – at Hazard Management Cayman Islands
Assessment of existing linkages between climate change and poverty in the fisheries sector – at UWI CERMES
Studies on coral micro-fragmentation and artificial reef development towards reef restoration at – UWI Discovery Bay Marine Lab
Examining the costs of the October 2018 flood in Trinidad and Tobago – at the Trinidad & Tobago Meteorological Service
Numerical weather prediction verification – at CIMH
Economic valuation of fisheries and aquaculture infrastructure – at CRFM
The CCRIF Internship programme is part of the Facility's wider Technical Assistance (TA) Programme which was launched in 2010 – three years after the Facility was established. The TA Programme was developed to provide an ongoing mechanism for grant support within the Caribbean region for capacity building initiatives and the development and implementation of projects to improve the effectiveness of risk management. The main aim of the TA Programme is to assist Caribbean countries to deepen their understanding of natural hazards and catastrophe risk and the potential impacts of climate change on the region.
The Programme has three components as follows:
Component 1 focuses primarily on support for tertiary level scholarships and professional development programmes
Component 2 focuses on regional knowledge building and involves the development and implementation of strategic regional projects in support of disaster risk management (DRM) and other areas of direct and indirect interest to CCRIF
Component 3 is centred on support for local disaster risk management projects and programmes
Since the inception of CCRIF in 2007, the Facility has made 38 payouts to 13 member governments on their tropical cyclone, earthquake and/or excess rainfall policies totalling US$139 million. At the same time, the Facility has made a total investment of US$3 million under its TA Programme since the Programme's launch in 2010.