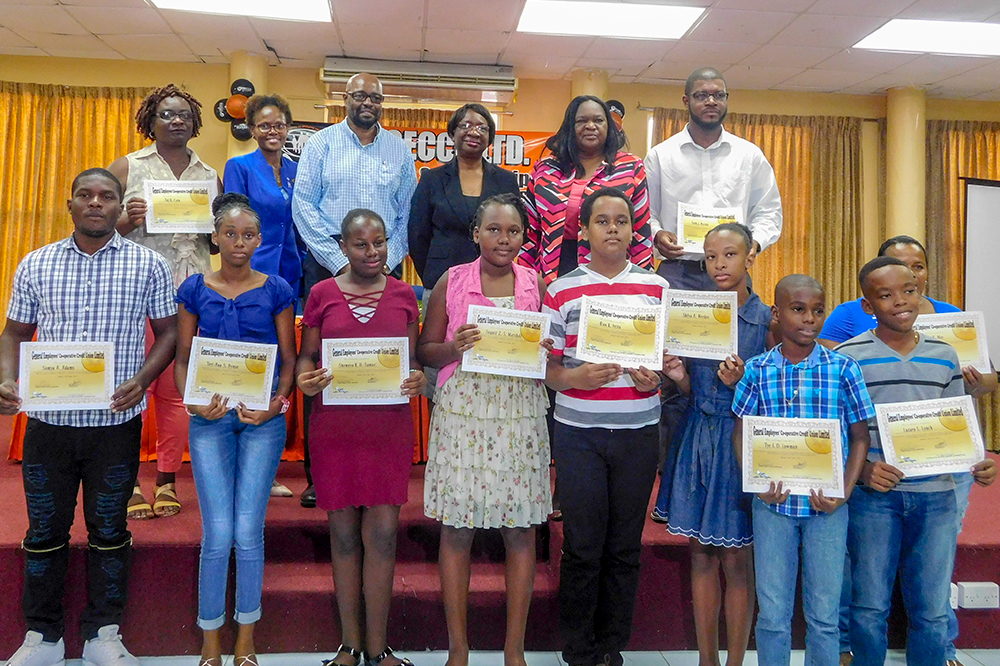 GECCU scholars warned against complacency
A subset of students entering secondary school in the upcoming school year has been challenged to think globally and not be complacent in achieving their goals.
This was the main message of the feature address at the General Employees' Cooperative Credit Union Scholarship awards ceremony, which was held on July 23 at the Methodist Church Hall.
"Always think about the world stage, not just about St Vincent, not just about your classmates, not just about your other school mates…but think globally and if its one thing I would like to leave with you, one thing you remember about all my ramblings here this morning, it would be just four words: be competitive, not complacent," Jadric Cummings, the feature speaker said.
Cummings, who is a lawyer and managing partner at Cardinal Law Firm, was a recipient of a GECCU scholarship in 2001.
And he said that he hoped the scholarships would motivate recipients to continue to perform at the highest levels throughout their lives.
"What I wanted to focus on this morning is perhaps what is my greatest flaw and something I think is a bit hackneyed and common place in our generation and that is complacency," the lawyer said.
He said that complacency tends to make individuals rest on their laurels and rather than doing this, one should seek to broaden the way they think.
"Think competitively. So you no longer think about what Alex next to you does or whoever, but think about the Alexes in the next school and Alexes in the next country because the world is so connected that you're no longer competing with the persons in your class or the persons in St Vincent, you're competing against the person that's in the world," Cummings said.
Thirteen students received full scholarships from the credit union this year while 135 students were given one-off cash bursaries.
Seanté Marshall, one of the scholarship recipients delivered thank you remarks on behalf of fellow awardees.
And she assured that the scholarships would serve to motivate and drive recipients to excel and not succumb to mediocrity.
"The journey of education is plagued with many obstacles and challenges and financing this journey has proved to be one of the most difficult of these obstacles…," Marshall, the country's top performer in the Caribbean Primary Exit Assessment (CPEA) for 2019 said. "We are however filled with pride and gratitude to be deemed worthy enough to be relieved of this burden and be able to focus on attaining success. Rest assured we are cognisant of what is required to maintain these scholarships for the next seven years."
Marshall said that the scholarships were a reflection of the hard work and determination that each recipient has invested into their education so far and that they will prove that they are all worthy recipients, not only academically but in the way that they conduct themselves.
Mineva Glasgow, chairperson for GECCU's scholarship committee and Brian Alexander, the newly elected vice president also delivered remarks at the scholarship event.