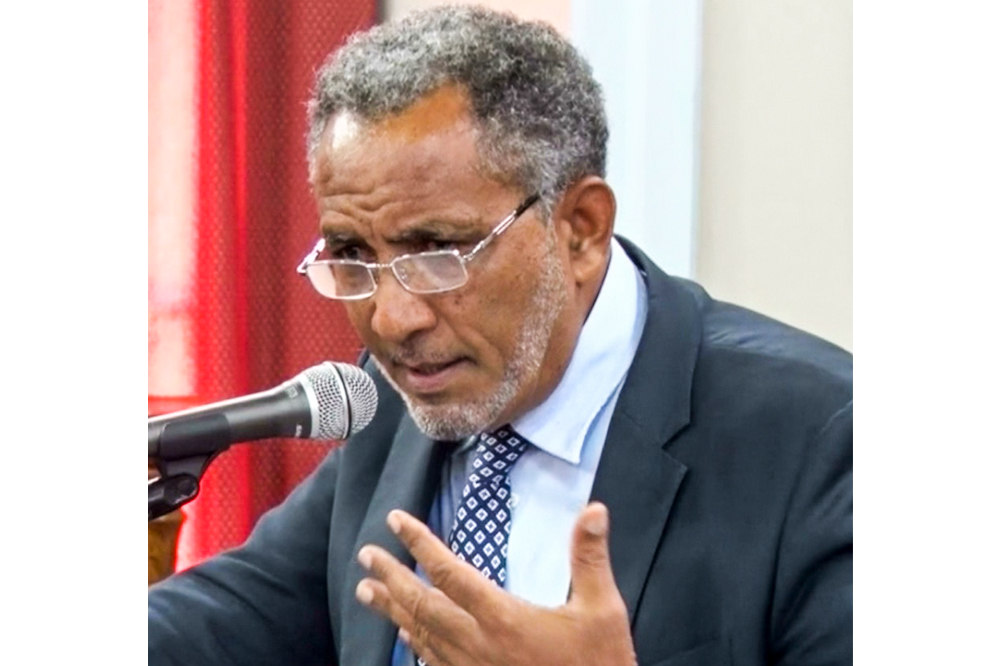 Drug Amendment Act contradictory says Dr Friday
The Drugs (Prevention of Misuse) Amendment Act passed in Parliament on July 25 is contradictory in some instances.
This view was expressed last week by opposition leader Dr Godwin Friday as he contributed to the debate on the Act.
Friday described the piece of legislation as the most anticipated of the three cannabis bills to come to the House as it refers specifically to the "ordinary man".
"Mr Speaker, I am glad to see as well that the Prime Minister has come around to accepting that we should at this time move forward with measures to decriminalise possession of small quantities for recreational purposes," Friday said.
However, he pointed out some examples of what he described as contradictions in the amended law.
Under the law, it is still illegal to possess and smoke marijuana, but being caught in possession of two ounces or less is now a ticketed offence that can attract a maximum fine of $500; and individuals who are caught will not be liable to being arrested or detained.
In addition to only being a ticketable offence, the amendment provides for Vincentians to smoke the herb in the privacy of their homes and in places of worship of the Rastafarian faith without punishment.
The amendment also said that the Minister may designate a list of public areas where the smoking of cannabis may be allowed.
"Well here is the problem Mr Speaker, here is the problem…we are saying that it is possible for someone to have in his possession two ounces or less of cannabis, but where will the person get it from? They have to get it from an illegal trafficker as it is now, if he can't grow it himself," Friday said. "You have to purchase it from somebody who is doing it illegally because you can't grow it yourself. So how you have a regime saying you are making it more permissible for persons to smoke in a public place or to possess up to 15 grammes but they have to buy it from somebody who produces it illegally?"
The opposition leader referenced other countries in the region such as Antigua, where persons are allowed to have up to four marijuana plants on their private property.
And he said that if the government is going to pass legislation that allows for possession of small quantities of marijuana in some instances then "have small quantities that you can grow it yourself so therefore, you don't have to go and purchase it from a trafficker and encouraging, in a sense, by this legislation, the use and trafficking at the same time".
Friday said he did not understand why it was so complicated for the government as he believes that allowing persons to own plants will reduce incidences of trafficking which are still illegal and should remain as such.
According to the amended act, if a police officer meets someone with two ounces of cannabis or less and that person admits to possession, then they will be given a card with health and education information about the use of marijuana.
And they can be fined $80 to be paid in a one month period.
However, if the individual denies possession of marijuana, then he or she will be summoned to court and if the substance, after scientific testing, is proven to be cannabis, then the magistrate will deal with the matter accordingly where they can attract the maximum fine of $500.
The opposition leader said there may be several reasonable instances in which an individual can choose to not accept liability. He further said that one such instance could be if someone is found in possession of a quantity and they are not sure if it's exactly two ounces or under.
"… If it is found subsequently … that it is cannabis, but it is under … two ounces …, then I would assume there is a plea that can be made to accept the notice even after the fact, because it will be Mr Speaker, in a sense, penalising the person for not really understanding the exact quantity you have in your possession," he said.
Friday also described the $500 fine as excessive in this case and said that the fine should be equal to the $80, as if that person were to admit to the offence.
He also referenced smoking in public places which also makes a person liable of paying $80 if they admit to the offence.
"Again Mr Speaker, you would think that most persons will accept the lesser liability of $80 but $80 for somebody who doesn't have $20 is still a lot of money to admit to and so this is a potential to create great hardship still to persons who are using small quantities for recreational purposes," the opposition leader said.
"And if the intention Mr Speaker is essentially to not penalise for what is essentially an activity that is permissible, then the fines — and don't forget Mr Speaker, there's no limit for how many times a person is brought before the court — so if there is more than one ticket that's issued over the period of time, then $80 can amount to quite a severe fine."
Friday said it would be out of place to have a situation where there is a legal industry that ordinary people who have small quantities for their own recreational use would continue to be treated as criminals.
St Clair Leacock, the parliamentary representative for Central Kingstown; Saboto Caesar, the minister of agriculture; Senator Kay Bacchus-Baptiste; Camillo Gonsalves, the minister of finance and Senator Carlos James were among the parliamentarians who contributed to the debate.