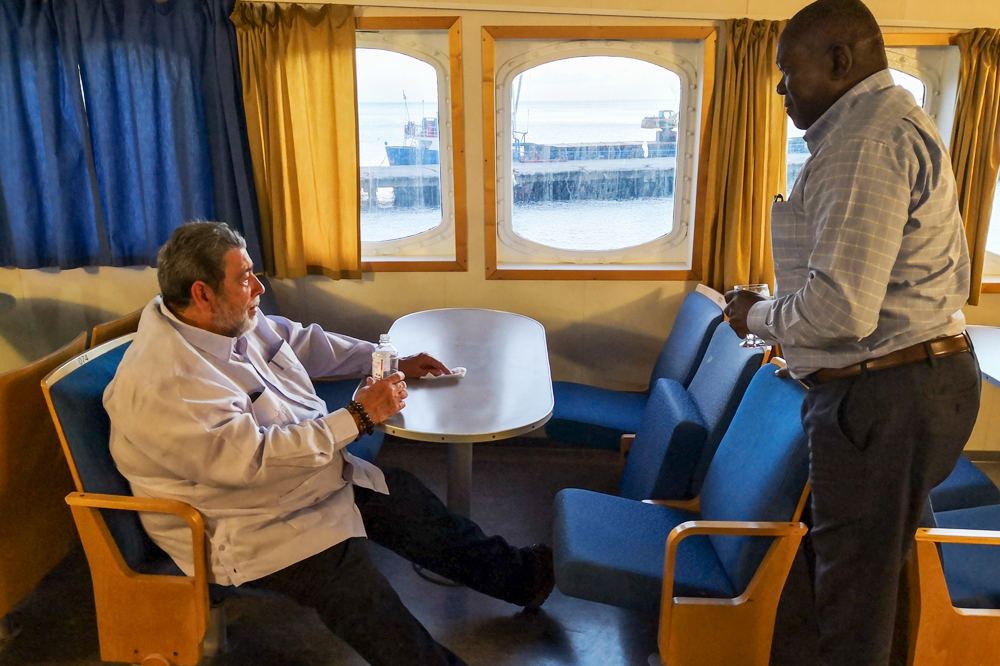 Inter-island ferries assisted in every practical way – PM
The ferries that ply the waters of the Grenadines provide the nation with what the Prime Minister considers an essential service.
That is why ferry operators are assisted by the Government "in every practical way."
During a welcome reception for the MV Gem Star 2 on July 11, Prime Minister Ralph Gonsalves told SEARCHLIGHT that the owners of the vessel, Augustine "Gussie" deRoche and his wife Ann, will not be required to pay the 5 per cent customs service charge or import duty on the vessel as these had been waived by the Government.
"Their profits from the operation on the vessel will also not be subject to corporate taxes," the Prime Minister said, adding that the other ferries that move people and cargo between St Vincent and the various islands of the Grenadines also benefit from this concession.
Further, Gonsalves said, the ferries do not pay taxes on the diesel they use.
He said other multi-island Caribbean nations could learn from the St Vincent and the Grenadines model because when governments try to run a ferry service, it is not as efficient as when the private sector does it and it loses money.
Edmond Jackson, the director general of finance and planning, who was also present at last week's reception said he considers the inter-island ferry service in St Vincent and the Grenadines one of the best examples of public private partnerships.
"The ferries are privately owned, but supported by many concessions from the Government,"he explained. "It is an untold story," he added.
On July 16, the MV Gem Star 2 began a twice-a-week ferry service between Kingstown and the Southern Grenadines, taking up where its predecessor, the MV Gem Star left off three months ago, when it was destroyed by fire.
The Gem Star 2, which was purchased in Spain by the deRoche family, has a length/beam of 56/12 meters and a gross tonnage of 1,117. Larger than its predecessor, the Gem Star 2 also boasts a very large cargo hold and comfortable air conditioned indoor accommodation for passengers.
Built in 1977, the vessel underwent extensive refurbishment three years ago, the deRoches told SEARCHLIGHT. It has a new interior and can travel at an average speed of 9.9 knots and a maximum speed of 16.6 knots.
Fares for transporting cargo will remain the same, but there have been small increases in the one-way fares to Mayreau and Union Island from St Vincent, which now stand at $60 and $70 respectively. The fare from St Vincent to Canouan remains unchanged at $50.
The ferry will depart Kingstown every Tuesday and Friday at 11:30 am and stop at Canouan and Mayreau on its way south to its ultimate destination, Union Island. The ferry will leave Union Island at 7:30 am on Wednesdays and Saturdays, arriving at Kingstown at 2 pm.