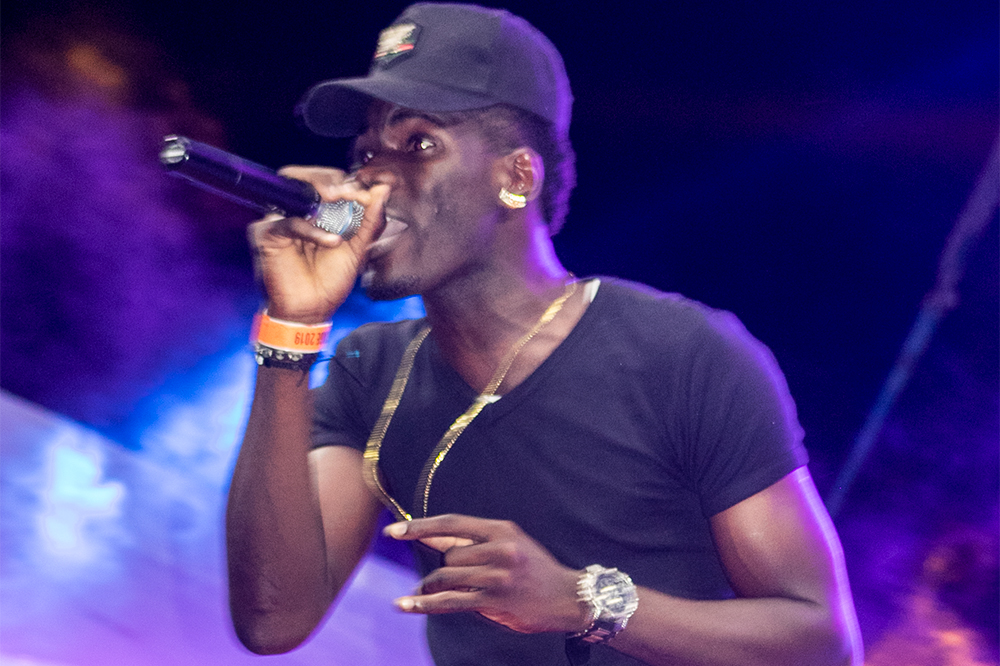 'Bloody Hell Crazy' singer ready to create magic
Derron Jamal 'Magikal' Rouse was walking out of the Victoria Park last year, after Delroy "Fireman" Hooper had been crowned Soca Monarch for the 10th time, when he heard someone saying: "Vincy people bloody hell crazy, bloody hell mad".
That comment, made by someone speaking with a British accent, caused Magikal's creative juices to flow, and the result is that the up and coming artiste has one of the most popular songs for Vincy Mas 2019.
The track, "Bloody Hell Crazy" has pushed the Campden Park resident into the National Soca Monarch finals slated for tomorrow Saturday July 6, where he will attempt to win his fourth crown for Carnival 2019.
He has so far taken the North Leeward Soca monarch crown, the South Leeward crown and the Georgetown Soca Monarch accolade.
Speaking about the popular hit, Magikal explained on Tuesday that last year, while at last year's soca monarch show, a friend asked him when he was going to see him on the soca monarch stage "mashing up the place".
"I tell him man next year for sure, but come like when he asked me that, it hit, it hurt me. I literally feel it. So I was asking myself what I could sing to make Soca monarch," said Magikal.
"… All when I in the park jumping up for Skinny and Fireman, that was in my head, just trying to find something," he added.
"When I heard the foreigners saying…I just take it and run with it. I singing it all going home. 'Vincy people bloody hell crazy, bloody hell mad' and then I recorded the hook on my phone and that is how it come up," he said smiling.
The budding artiste, who is also a national footballer said he has been singing for about eight years under different names, but this is the first year that he has ever had any success and the first time he has used the name Magikal as he sang under other names including "Derry" and "Mad Rouse".
He said when he went to record "Bloody Hell Crazy", Zavique "Caspa G" Morris was with him as they are "musical brothers" and Caspa G helped him smooth out the song by adding some lines.
"I will not be a one hit wonder," he boasted, while revealing that he had other songs to release for Vincy Mas 2019 but decided to hold them back for 2020 because of the huge success his 2019 hit is having.
Of the National Soca Monarch competition, Magikal told SEARCHLIGHT, "It is something I planned for and always wanted to take part in. Year after year watching Soca monarch and saying I want to reach on the stage and I finally reach there, and I am happy.
"Expect the unexpected. That is rule number one because everybody expecting something and is not that they going to see, they going to be like 'wow'," said the 'Bloody Hell Crazy' singer.
He said he is coming to win like everyone else and is confident hitting the big stage.
"Fireman is just a human like me," he noted.
Magikal also offered some advice to the youths and the up and coming singers.
"Just continue do what you doing, don't give up and do quality work and believe in yourself. Put God first and don't forget the people who been there with you from day one," he stressed.
On show night, Delroy "Fireman" Hooper will defend his crown against Magikal, Zavique 'Caspa G' Morris, Claydon 'Dymez' Roache and Elrico 'Da Pixel' Hunte, Kenville 'Fonando' Horne, Vilroy 'ZJ Tuffa' Jack, Lornette 'Fya Empress' Nedd, Kamara 'Keido' Foster, Kemmy Christopher, Tracy 'Scarbz' Cozier and Juniel 'Lola' Alexander.
The winner of the Soca monarch crown will get EC$25,000 and a car compliments the Carnival Development Corporation (CDC).