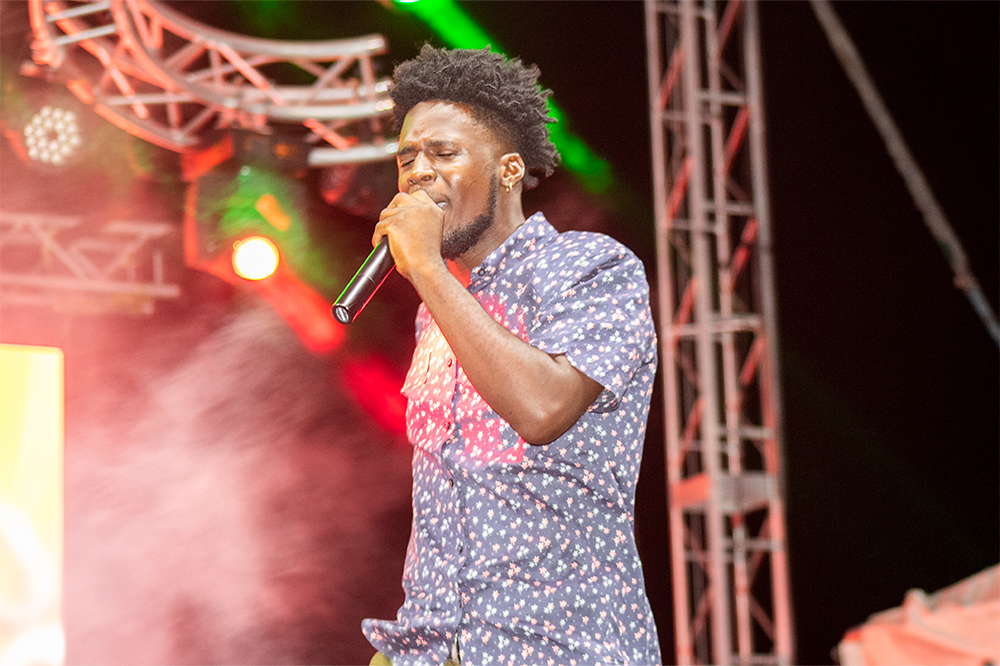 Caspa G ready to take home soca crown
"Hmm, hmm, wey you do? Yo drink the rum without chaser now yo cah find yo shoe".
Those words, from the 2019 Soca hit "Rum Diaries" by Zavique "Caspa G" Morris, are among the most repeated for the Carnival season.
And, Morris is grateful for the fans who keep showing him love and those in the industry who never doubted him.
Morris, from Redemption Sharpes, has been in the industry for just three years, but this year, he has managed to make a huge impact on Vincy Mas.
On May 4, during the launch of Vincy Mas 2019, Morris won the award for "Young trending Soca artiste" and since then he has not stopped mesmerizing crowds.
On June 15, Morris took his second crown for 2019, the "Shell Down Boss" accolade, a competition held as part of the "Black Rave" show of Gamal "Skinny Fabulous" Doyle.
Now, the young artiste, who on June 22 sang his way into the Saturday July 6 Soca Monarch finals, has his eyes on the National Soca Monarch crown and the EC$25,000 prize money that comes with it.
"It is a great feeling, a great achievement for me still, but at the same time it's nothing to what I looking to achieve," Morris said of his achievements so far for 2019.
Speaking specifically about winning the Shell Down Boss title at Black Rave, Morris said he always expected to win, but did not expect to have to work as hard as he did.
"Magikal gave me a run for my money," Morris stressed.
Magikal is Derron 'Magikal' Rouse, another young artiste who this year is doing well with his song "Bloody Hell Crazy". Coincidentally, Rouse and Morris are friends and Morris assisted Rouse with the writing of "Bloody Hell Crazy".
Morris said that from as long as he can remember, he wanted to do music as his father Myron "Warlord" Chance is a disc jockey and as a result he grew up around music.
Music is so ingrained in the youngster that he does not write down his songs but instead memorizes them.
"All my songs are by me. I make up the lyrics then put them together and remember them," Morris explained while noting that his recordings are done at Lester Iroha's 4th Dimension Studios.
This year, Morris has six releases: three singles and three collaborations. They are "Rum Diaries", "Andale", "Woman run the World", "Whole Thing" (Collab with Shady Layne), "Gallis" (Collab with Hypa 4000) and "Shut Down" (Collab with Skinny Fabulous).
He said he is grateful for the success of his songs as when he started singing in 2016, his song "You Think Ah Joke" did not make an impact. He added also that in 2017, "Dutty Cup" was popular but did not reach very far and again in 2018 "Bad Boy Whine" and "Go Hard or Go Home" were rotated heavily but didn't make it into the Soca monarch or Ragga finals.
"My plan is to take the crown (Soca Monarch). I didn't make it last year and I tried harder this year," Morris told SEARCHLIGHT.
Morris, who said he could have easily been in prison or involved in things that are not wholesome, is calling on youths to set positive goals and focus on them. He said he turned his life around as he wanted to be a positive role model.
"It's just me wanting to achieve goals and dreams and trying to inspire youths and peers in the community of Redemption Sharpes because you done know how up dey stay," said the former Questelles Government School and Intermediate High School (IHS) student who grew up in Rilland Hill.
"Always believe in yourself and don't make nobody doubt you. Always put your best foot forward and any thing you do, try do it the best you can.
"A lot of people doubted me and call me crazy, but I never focussed on that," Morris advises.
The youngster who has gone through several traumatic experiences including losing a female friend to cancer and falling out a window and injuring himself is looking forward to great things. As part of his Shell Down Boss winnings, he will do a collaboration with Machel Montano and he is looking forward to this.
"Thanks to Skinny for paving the way for the younger artistes. The collab with Machel is really great for me. Thanks to Hypa 4000 and Lester for always believing in me," Morris commented.
However, highest on the artiste's agenda is seeing his mother once again.
"She migrated 15 years ago, and I would just like to feel how she hug feel again. I know what I could have been in and I feel all that, my change, make my mother feel proud," Morris said.
Persons looking forward to seeing Morris perform can catch his sets at Pumpin and Bumper Fest.