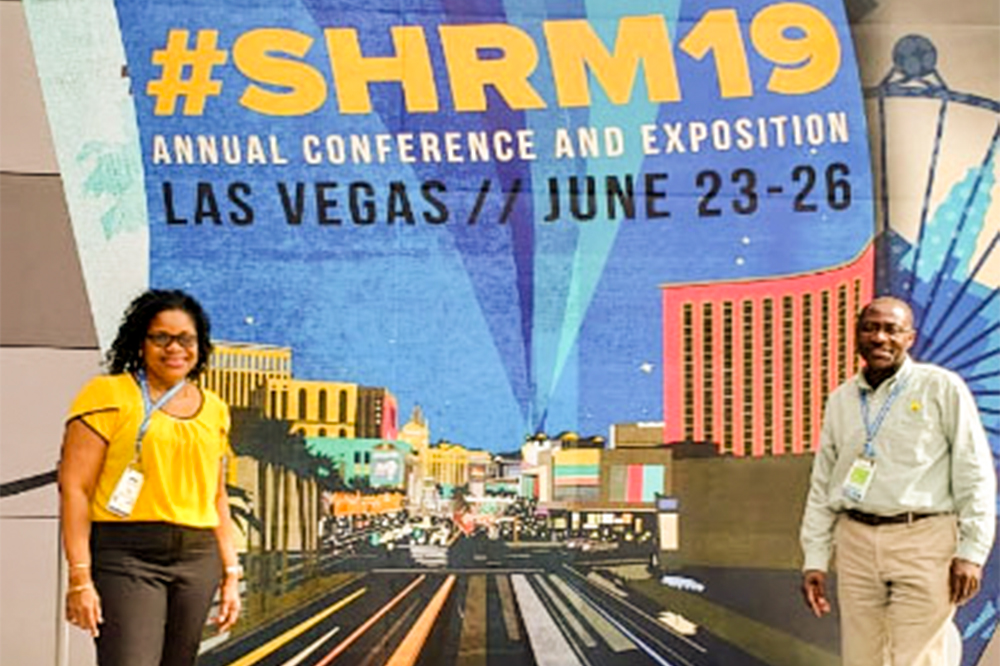 VINLEC represented at Human Resources Conference in the US
Two representatives from the St Vincent Electricity Services Limited attended the SHRM 19 Annual Conference & Exposition in Las Vegas.
Manager, Human Resources and Administration, Jillian Williams and Manager, Customer Services Ag., Stanley Harris attended the event which commenced on June 23.
The Society for Human Resource Management (SHRM) is a professional human resources membership association. SHRM promotes the role of HR as a profession and provides education, certification, and networking to its members.
The comprehensive programme at the Conference and Exhibition was designed to give the participants a full range Human Resource education, from the basics to the innovative ideas. The Conference had a number of thematic tracks to make it easier for each conference participant to find the presentations that were suited to their needs.
Among the themes presented were Workplace Strategy, Technology, Business Acumen & Metrics, Compliance, Global HR, Leadership, Communication, Talent and Compensation & Benefits.
Manager, Human Resources and Administration, Jillian Williams says that the Conference was engaging and that the issues presented are relevant to the VINLEC work environment. She attended sessions which examined Business Acumen & Metrics, Leadership and Navigation, Communication, and HR Expertise.
Over the past few years, VINLEC has been represented at the Conference by "non-HR Managers" as the Company recognises the current issues in the human resource field and the changing role of supervisors and managers in terms of HR functions.
VINLEC's participation in this event is in keeping with the Company's efforts to provide continuous training, on and off the job, so that the skills, capabilities and knowledge of employees can be enhanced. The Conference & Exposition ended on Wednesday June 26.