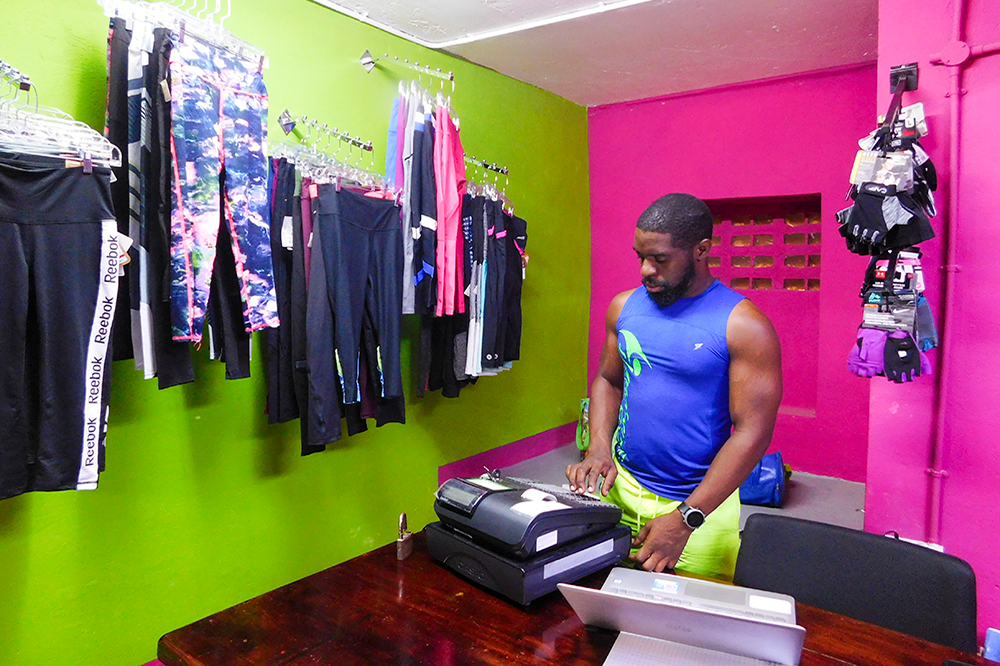 New fitness apparel store opens in SVG
Just a year ago, Keyon Constance opened the Islandwide Fitness Gym and began offering bootcamp style training in a gym setting.
One year later, he has expanded his business, not only to offer workouts to his clients, but also fitness apparel for all fitness enthusiasts in the country.
The gym owner officially opened his fitness apparel store on Wednesday at the gym located on the corner of Granby and Sharpe Street, obliquely opposite the Seventh Day Adventist Church.
"This store comes at the perfect time because this month makes it one exact year. I'm happy to say its actually growing," he told SEARCHLIGHT this week.
Before opening his store, Constance sold branded t-shirts to his clients, but now, he has expanded to include fitness gear from popular brands including Nike, Reebok, Puma and Adidas.
He said that fitness among Vincentians is a growing trend and he opened his store to cater to everyone in need of quality apparel that is suited for any kind of workout.
"The tights that I notice a lot of ladies wear down here are the tights you wear under pants or tights, the regular everyday tights, not active apparel tights. So these are the correct tights to work out in," the trainer explained. "The tights that we have are supposed to be the quality tights…meaning if you're wearing tights and you go for a squat or bend over to for a squat, you're not gonna see your knickers and they are the correct type of tights to work out in."
Constance's store is stocked with a variety of female tights, shorts, joggers, and track pants, workout tops, active jackets and sports bras.
As a result of his larger clientele among females, Constance admits to catering mostly to women.
However he ensured that men were not left out and has stocked male shorts, workout shirts as well as protein powders in a variety of flavours.
And apparel prices begin as low as EC$25.
Commenting on the availability of workout gear locally, Constance said "If you go to the stores, you can easily buy anything but to feel comfortable to work out in, its not easily accessible. We have access to online shopping, that's fine, but we don't have access to instant shopping; instant meaning you can just go in the store and pick up that quality or that brand."
He said that persons can buy workout apparel in his store, where prices and quality can be compared to the best offered online. He added that customers are not subjected to shipping costs as they would if they were to shop online.
The personal trainer further said one's fitness gear should match the type of workout or activity that they engage in. And shopping at his store means there is "somebody here to tell you and explain what you do and what type of bra, pants, tights are best for the activity you're doing".