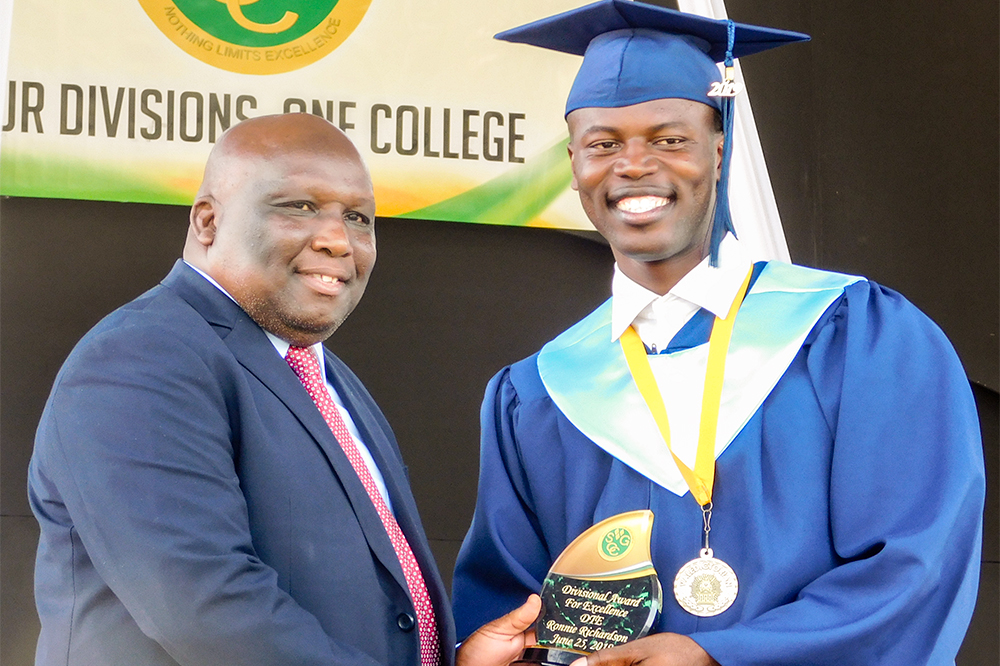 Hard work and dedication pays off for teacher
by Bria King
With several red pens in hand, Ronnie Richardson sat in a classroom at the Bishop's College Kingstown a little after 4 pm on Wednesday, peering down at one of several stacks of exam papers he intended to mark.
It was one day after the 29-year-old received the Divisional Award for Excellence at the St Vincent and the Grenadines Community College graduation, where he graduated from the Division of Teacher Education.
And while he closes out this educational chapter with a 4.3 GPA, the road to success for this scholar has not been an easy one.
Richardson, who has been a teacher for a decade, sat the Common Entrance exam twice and still did not muster up enough marks to pass and matriculate to a secondary school.
"The first time I did the Common Entrance, back then you had to get 150 marks out of 300 to pass so the first time I did it, I got 146…when I went again, I got 148 which is an improvement of two, but I still couldn't make the mark," he explained. "I should have gone to seniors but I think around that time they were starting to have the discussion about universal access to education so my mother went to the Ministry of Education and asked them if they could put me in a secondary school."
The son of Jolene Richardson and Brian Clouden was given the opportunity to attend the Barrouallie Secondary School.
And Richardson told SEARCHLIGHT that when he got there, he tried his best to perform well academically so that he could always be in the top 10 performers of his class.
"I had a dream that because I had failed Common Entrance, whichever secondary school I go, I am going to do the most subjects just to let people know that I am not dunce," he said.
So, when he got to the fifth form and everyone else was signing up for nine subjects, he went around asking teachers to sign him up for an extra subject.
After hearing "no" from many of the teachers, the Office Administration teacher agreed to sign him up for the exam two weeks before the official signing up.
Richardson graduated with 10 CSEC passes and went on to the SVGCC where he studied Law, Psychology and Sociology, as he had dreams of becoming a lawyer or a teacher.
At the time, he had hopes of receiving a National Scholarship.
Although he did not achieve that goal during his first go at the SVGCC, Richardson believes that he now has a good chance of obtaining a national scholarship through the government's policy to award students from the community college in all disciplines.
"Upon receiving the scholarship – and I'm claiming it in Jesus name – I want to go off to pursue my studies. I am not sure the programme as yet, but I am thinking something regarding History," the teacher said.
Richardson, who has a passion for singing, has been teaching History and Social Studies at the Bishop's College Kingstown since he was 19.
And he went on study leave two years ago when he enrolled at the Division of Teacher Education.
The teacher attributes his faith in God and time management to his successes.
"I would finally get my taste of being an island scholar that I have been praying for, for such a long time. So God don't always answer your prayers the same time, but I believe that he would give you little things to test you to see how faithful you would be," he said.
"Going to college, I could have stopped going to crusade, I could've put off church a couple times to do school work. I could've stopped my choir and all of that, but I decided to still hold on. Like I said, God put me here so he must give me the strength to put me through."
As a choir director, Richardson said he never stopped attending meetings, he would always make time for his extracurricular activities and would shuffle his school work to specific times if he knew there were other engagements that needed to be met.
He added that if he could give any advice to students, it would be to trust in God and manage their time well.
"I have seen it work for me and I know it would work for everybody else. It may not be in your timing or how you want the answer, but he will answer," he said.
Richardson also credits collaboration as a major facet in achieving goals and listed several classmates who were with him along the way.
He also thanked the principal of the Bishop's College Kingstown Cecelia Akers-King, Erene and Brian Archibald, everyone at the Buccament Bay Secondary School where he did practice teaching, members of his choir, many of his extended family and the community of Barrouallie for their support throughout his journey.