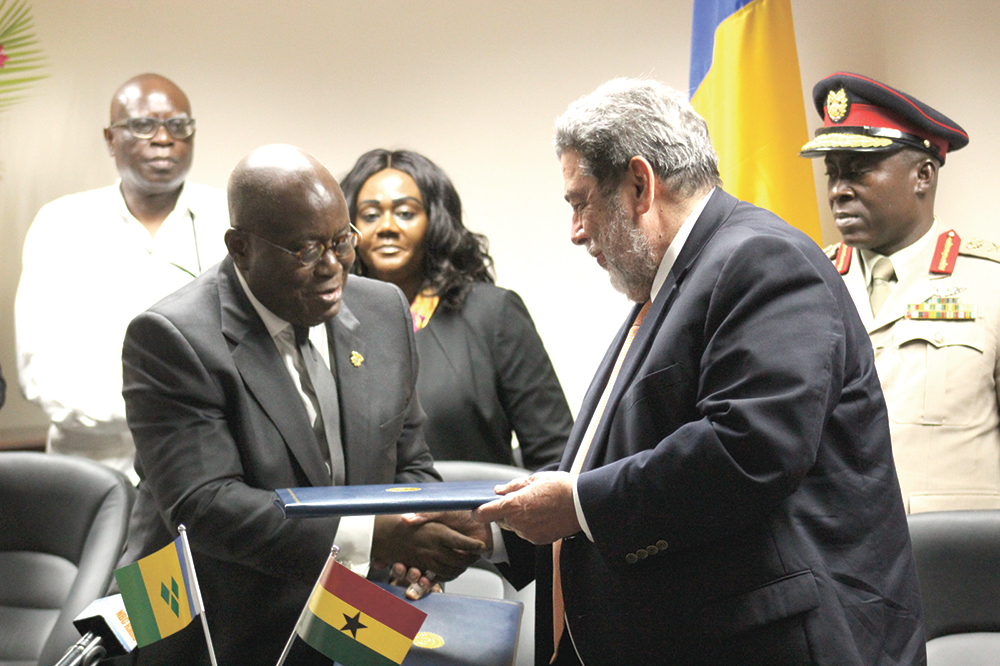 Visa waiver between SVG and Ghana not yet ratified
The visa waiver agreement which was signed between this country and Ghana late last year is not yet operational.
During an official state visit of Prime Minister Dr Ralph Gonsalves to the West African nation on November 26, 2018, a Memorandum of Understanding between the Government of Ghana and the Government of St Vincent and the Grenadines (SVG) on visa waiver was signed.
The agreement was signed by the Prime Minister Gonsalves and Minister of Foreign Affairs, Ghana, Shirley Ayorkor Botchway.
However, according to an official of the Ministry of Foreign Affairs here in SVG, that agreement has not yet been ratified.
"The process has not yet been totally completed, it still has to be Gazetted," the official said.
And until ratification, Vincentians travelling to Ghana will be required to obtain a visa to enter Ghana.
Last week, during a visit of Ghanaian President Nana Addo Dankwa Akufo-Addo to the Caribbean, visa waiver agreements were signed by Ghana with Jamaica, Barbados and Guyana.
Akufo Addo was on a five-nation Caribbean tour, which also included Trinidad and Tobago and St Vincent and the Grenadines, to promote the "Year of Return, Ghana 2019," which is a major landmark marketing campaign targeting the African–American and Diaspora market to mark 400 years of the first enslaved African arriving in Jamestown, Virginia.
Ghanaians, even before the visa waiver agreement, do not require a Visa for travel to SVG, however there is a visa requirement for citizens of SVG to travel to Ghana.